La guerra híbrida de Rusia contra Occidente
BRUSELAS – El FBI y la CIA concluyeron que Rusia ejecutó una campaña de ciberataques y desinformación para influir en la elección presidencial estadounidense a favor de Donald Trump. Tal vez nunca sepamos el grado de efectividad de la ciberoperación rusa, pero sí sabemos que el Kremlin obtuvo el resultado que quería. La revista Time se equivocó al nombrar a Trump persona del año: este fue claramente el año del presidente ruso, Vladimir Putin.
El ataque a Estados Unidos puede ser preanuncio de futuras intromisiones electorales en Europa, donde las autoridades trabajan a toda prisa para contrarrestar ciberoperaciones rusas, antes de las próximas elecciones generales de 2017, que incluirán a los Países Bajos, Alemania y Francia. Diversos ciberataques sucedidos en Europa guardan una inquietante semejanza con la presunta invasión rusa al Comité Nacional del Partido Demócrata estadounidense.
A principios de 2015, un grupo conectado con el gobierno ruso penetró en el Bundestag alemán, robó archivos confidenciales y se los dio a WikiLeaks, que los publicó. La Oficina Federal de Protección de la Constitución de Alemania acusó a Rusia de orquestar ataques similares contra sistemas informáticos del gobierno alemán. Entretanto, en noviembre, la Comisión Europea también sufrió un ciberataque a gran escala, y si bien todavía no se conoce la identidad de los culpables, hay muy pocas personas u organizaciones capaces de llevar a cabo una operación de esta clase.
Estos ciberataques son sólo un elemento de la guerra híbrida que Rusia está librando contra Occidente. El Kremlin también apoya a organizaciones nacionalistas de extrema derecha y movimientos populistas de toda Europa; por ejemplo, otorgó préstamos al Frente Nacional de Marine Le Pen en Francia y dio a políticos del Partido de la Independencia del Reino Unido espacios en horario central en Rusia Hoy, la cadena televisiva estatal rusa.
Aunque finalmente el presidente de los Estados Unidos, Barack Obama, se comprometió a responder al ataque de Putin contra la democracia estadounidense, debería haber hecho más (y haber actuado mucho antes). En cuanto al próximo gobierno de Trump, los europeos no deben esperar ninguna ayuda suya. El jefe de estrategia de Trump, Stephen Bannon (ex presidente ejecutivo del sitio web de desinformación Breitbart News, perteneciente a la "derecha alternativa" estadounidense) ofreció abiertamente ayudar a Le Pen a ganar la elección presidencial francesa del año entrante.
Fuentes oficiales rusas admiten que sólo este año gastaron 1200 millones de euros (1250 millones de dólares) en campañas de medios en el extranjero. En la UE, han aparecido miles de sitios web que publican noticias falsas; en muchos casos, no está claro quiénes son sus dueños. En Hungría, la cantidad de sitios web de desinformación se duplicó en 2014; y en República Checa y Eslovaquia, unos 42 sitios web nuevos están contaminando el ecosistema informativo de la UE. Menos subrepticiamente, el Kremlin gastó cientos de millones de dólares en financiar herramientas de propaganda (como la agencia de "noticias" Sputnik), en momentos en que la economía rusa está en crisis.
Subscribe to Project Syndicate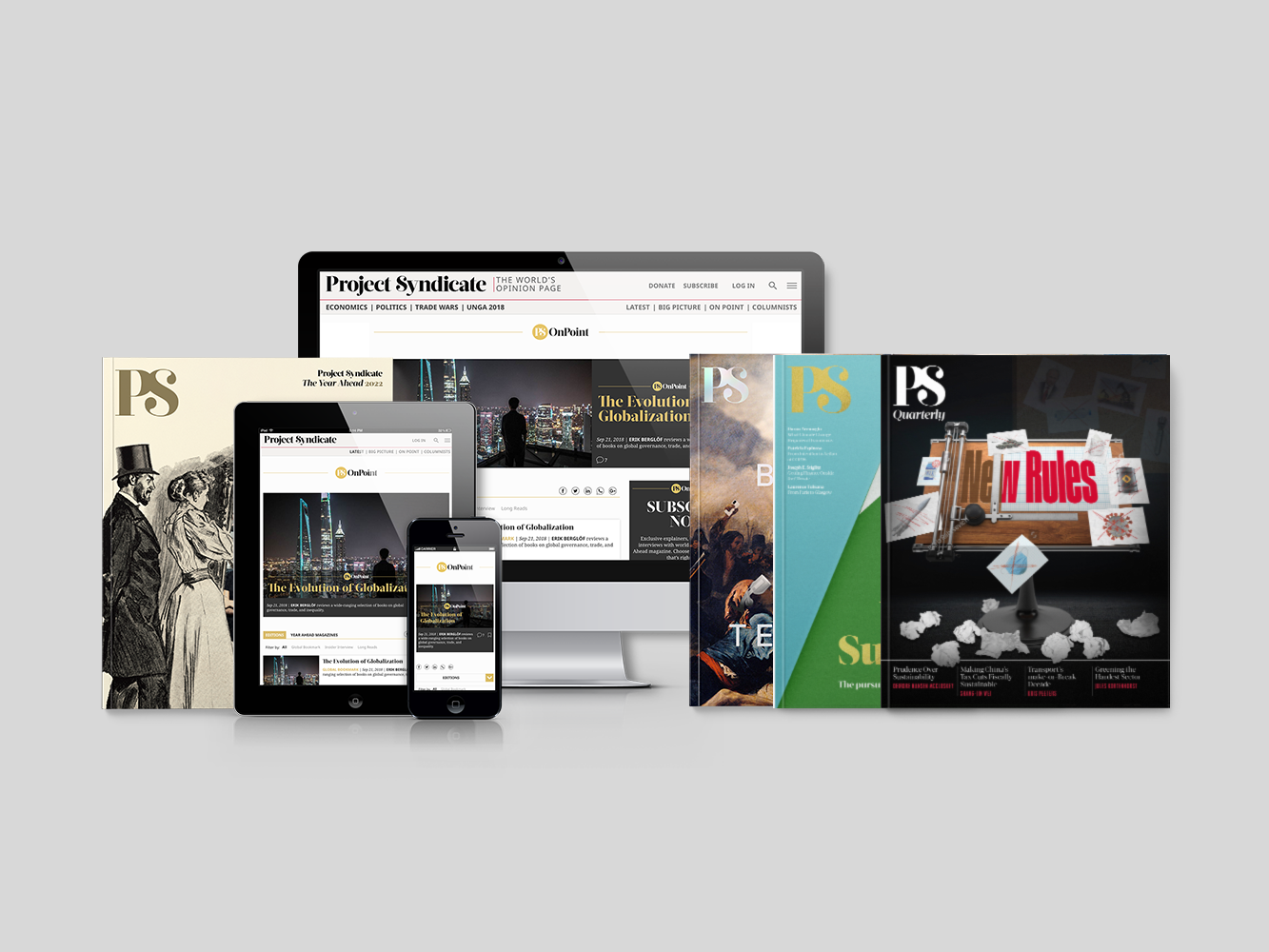 Subscribe to Project Syndicate
Enjoy unlimited access to the ideas and opinions of the world's leading thinkers, including long reads, book reviews, topical collections, short-form analysis and predictions, and exclusive interviews; every new issue of the PS Quarterly magazine (print and digital); the complete PS archive; and more. Subscribe now to PS Premium.
Las campañas rusas de desinformación son complejas y variadas, pero la misión de todas ellas es debilitar la confianza en las autoridades democráticas en Occidente. Uno de los métodos es la publicación de mensajes abusivos por parte de trolls en las redes sociales. Y estas también son un instrumento clave de una estrategia rusa basada en el revisionismo histórico (un ejemplo típico es afirmar que Rusia ganó sola la Segunda Guerra Mundial); en teorías conspirativas, promovidas por movimientos nacionalistas europeos y estadounidenses, que acusan a Occidente de (entre otras cosas) ser el instigador de la guerra en Ucrania; y en la negación de la realidad (como la presencia de tropas rusas en Crimea y Ucrania).
Para defenderse de esta acometida, Occidente debe promover la libertad de prensa, recompensar la responsabilidad y disponer medios legales para el cierre de canales de desinformación sistemática. En este sentido es un buen presagio la reciente enmienda del presupuesto 2017 de la UE con el objetivo de reforzar el equipo de comunicación estratégica (StratCom) del Servicio Europeo de Acción Exterior, que adolecía de una gran insuficiencia de fondos, a pesar de la importancia crucial de su misión de descubrir y refutar campañas de desinformación. Pero la UE y la OTAN también deberían aprender de la elección estadounidense, reforzar las ciberdefensas colectivas europeas y presionar a los estados miembros para que amplíen sus capacidades propias en la materia. En el frente político, hay que dejarle claro a Putin que la interferencia extranjera en elecciones nacionales tendrá serias consecuencias negativas para los intereses económicos rusos.
Además de la acción gubernamental, es necesario que el sector privado y las organizaciones de la sociedad civil hagan más esfuerzos para verificar la exactitud, imparcialidad y credibilidad de las noticias publicadas en Internet. La colaboración entre diversas organizaciones puede ser muy eficaz. Por ejemplo, Rusia canceló la edición de Sputnik en sueco porque los medios de Suecia no usaban sus productos.
Pero aunque Facebook indicó que mejorará el proceso de verificación de su contenido, es posible que las medidas voluntarias no basten: algunos legisladores alemanes han sugerido la necesidad de legislar sobre la eliminación de contenido falso de las plataformas de redes sociales. Aun así, la mejor defensa que tiene Europa es su prensa libre, junto con el trabajo de organizaciones no gubernamentales para exponer mentiras.
Los europeos no deben bajar la guardia en relación con el estado de la prensa libre en Europa. Breitbart News ya está en Gran Bretaña y tiene planes de expandirse a toda la UE. Y pocos días después de la victoria de Trump, según informa el New York Times, "Marion Maréchal-Le Pen, sobrina de Marine Le Pen y fuerza en ascenso en el Frente Nacional, tuiteó: «Acepto la invitación de Stephen Bannon (…) para trabajar juntos»".
Las democracias occidentales han ingresado a un período de volatilidad, y Rusia ya no sigue las reglas que se respetaron incluso en los peores momentos de la Guerra Fría. Putin está librando activamente una guerra híbrida contra Occidente, de un tipo que apenas estamos empezando a comprender (y confrontar). Es hora de defender nuestros valores. Este año dejó muy clara la magnitud de la amenaza que Putin plantea a la democracia occidental. En 2017, debemos confrontar decididamente (y derrotar) sus tácticas.
Traducción: Esteban Flamini