Ruslands hybride oorlog tegen het Westen
BRUSSEL – De FBI en de CIA hebben beiden geconcludeerd dat Rusland een hacking- en desinformatiecampagne heeft gevoerd erop gericht de Amerikaanse presidentsverkiezingen in het voordeel van Trump te beslechten. We zullen wellicht nooit weten hoe succesvol de Russische cyberoperatie is geweest, maar we weten wel dat het Kremlin zijn gewenste resultaat kreeg. Time magazine had het bij het verkeerde eind om Trump tot persoon van het jaar uit te roepen. Dit was duidelijk het jaar van Vladimir Poetin.
De aanval op de VS kan een voorbode zijn geweest voor verdere electorale inmenging in Europa, waar functionarissen nu vaart proberen te maken om Russische cyberoperaties tegen te gaan voor een reeks grote verkiezingen in 2017, waaronder in Nederland, Duitsland, en Frankrijk. Eerdere cyberaanvallen in Europa lijken griezelig veel op de beweerde door de Russen gesponsorde hack van het Democratisch Nationaal Comité in de VS.
Begin 2015 hackte een groep met banden met de Russische overheid de Duitse Bundestag, stal vertrouwelijke stukken, en gaf ze aan WikiLeaks, dat ze publiceerde. Het Duitse Federale Bureau voor Bescherming van de Grondwet heeft Rusland beschuldigd van het orkestreren van gelijksoortige aanvallen op Duitse overheidscomputersystemen. Ondertussen kreeg ook de Europese Commissie een grootschalige cyberaanval te verduren, en alhoewel de dader nog onbekend is zijn maar weinig mensen of organisaties in staat om zo een aanval uit te voeren.
Cyberaanvallen zijn slechts één element in een bredere hybride oorlog die Rusland tegen het Westen voert. Rusland ondersteunt ook extreemrechtse nationalistische organisaties en populistische bewegingen door heel Europa, zoals door het verstrekken van leningen aan het Front National van Marine Le Pen in Frankrijk, en door politici van de Engelse Independence Party primetime zendtijd aan te bieden op het door de Russische staat gefinancierde televisienetwerk Russia Today.
De Amerikaanse president Barack Obama heeft eindelijk een respons beloofd op de aanval van Poetin op de Amerikaanse democratie, maar hij had meer moeten doen – en veel sneller moeten ingrijpen. Europeanen zouden gek zijn om hulp van de komende regering Trump te verwachten. De hoofdstrateeg van Trump, Stephen Bannon – voormalig voorzitter van de Amerikaanse 'alternatief-rechtse' desinformatiewebsite Breitbart News – heeft openlijk aangeboden om Le Pen komende lente de Franse presidentsverkiezingen te helpen winnen.
Officiële Russische bronnen geven toe dat ze alleen al dit jaar 1,2 miljard euro hebben uitgegeven aan mediacampagnes in het buitenland. In de EU zijn er duizenden nepnieuws-websites verschenen, waarvan velen de eigenaar onduidelijk is; het aantal desinformatiewebsites in Hongarije verdubbelde zich in 2014, en in Tsjechië en Slowakije vervuilen plusminus 42 nieuwe nieuwssites inmiddels het informatie-ecosysteem van de EU. Ook heeft het Kremlin, minder heimelijk, honderden miljoenen dollars uitgegeven aan de financiering van propagandakanalen – zoals het Spoetnik 'nieuws' bureau – zelfs terwijl de Russische economie implodeert.
Subscribe to Project Syndicate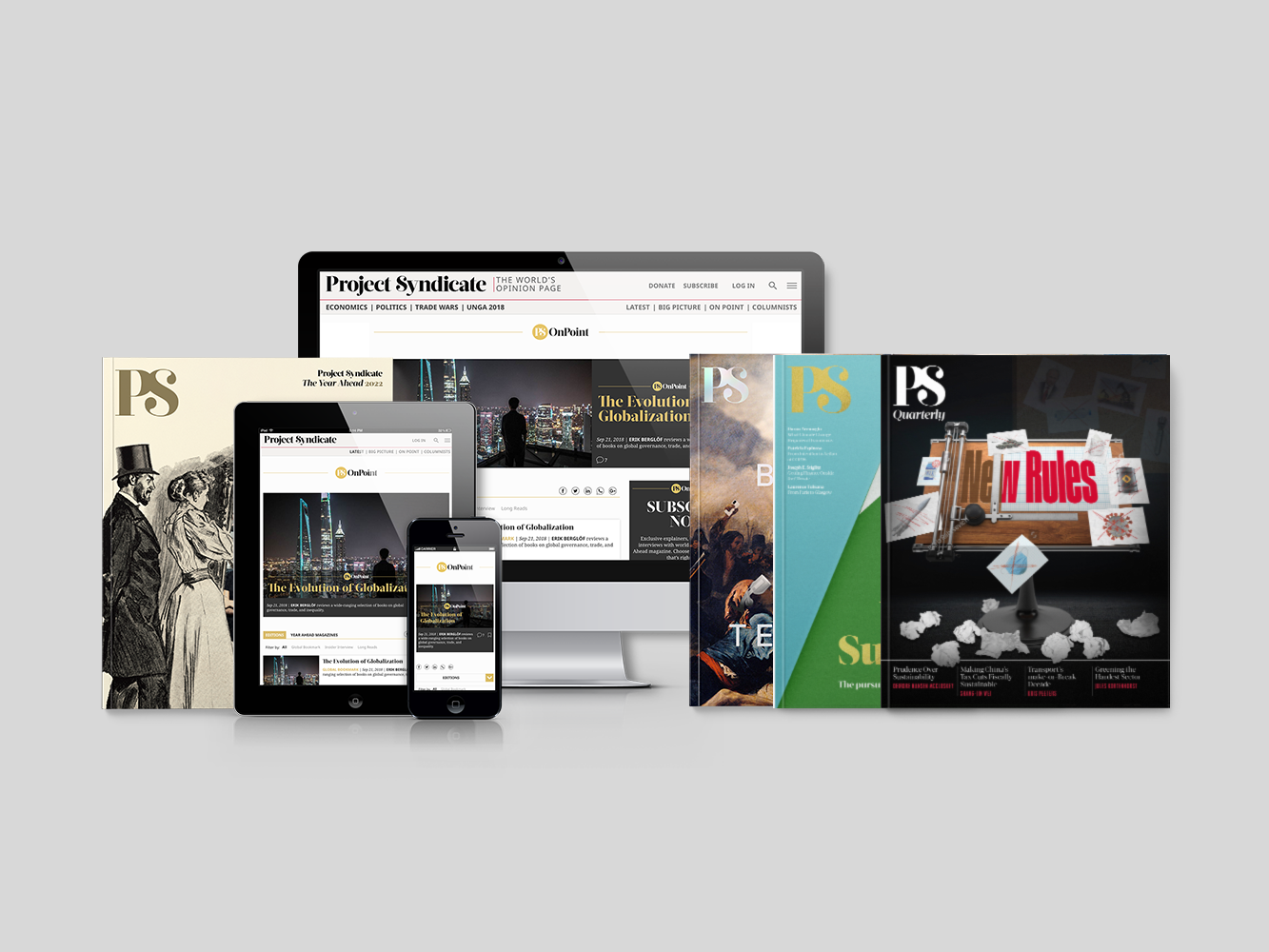 Subscribe to Project Syndicate
Enjoy unlimited access to the ideas and opinions of the world's leading thinkers, including long reads, book reviews, topical collections, short-form analysis and predictions, and exclusive interviews; every new issue of the PS Quarterly magazine (print and digital); the complete PS archive; and more. Subscribe now to PS Premium.
De Russische desinformatiecampagnes zijn complex en kennen veel facetten, maar de missie die ze delen is het vertrouwen in Westerse democratische autoriteiten te ondermijnen. 'Trolling' op sociale media is één methode. En sociale media zijn ook een cruciale focus voor een Russische strategie die leunt op historisch revisionisme (de bewering dat Rusland in zijn eentje de Tweede Wereldoorlog won is een goed voorbeeld van deze aanpak); op complottheorieën, die worden gepromoot onder Europese en Amerikaanse nationalistische bewegingen, en die het Westen bijvoorbeeld de schuld van de oorlog in Oekraïne geven; en op ontkenning van de realiteit, zoals van de aanwezigheid van Russische troepen in de Krim en Oekraïne.
Om zich tegen deze aanvallen te verdedigen zou het Westen zich sterk moeten maken voor vrije media, het belonen van aansprakelijkheid, en het creëren van wettelijke trajecten voor het afsluiten van kanalen die systematisch desinformatie verspreiden. Het is een goed teken dat de EU recent zijn budget voor 2017 aangepast heeft om de StratCom afdeling van de Europese Dienst van Extern Optreden te versterken, die ernstig ondergefinancierd was ondanks zijn cruciale missie om desinformatie te onthullen en weerleggen. Maar de EU en de NAVO zouden ook lering moeten trekken uit de Amerikaanse verkiezingen, door de collectieve Europese cyberdefensie te versterken en door lidstaten onder druk te zetten om hun eigen cybercapaciteiten uit te breiden. Op het politieke front moet Poetin aangezegd worden dat inmenging in nationale verkiezingen ernstige negatieve consequenties zal hebben voor de Russische economische belangen.
Naast actie van de overheid moeten de private sector en het maatschappelijk middenveld hun inspanningen vergroten om te verifiëren dat nieuwsberichten correct, gebalanceerd, en geloofwaardig zijn. Samenwerking tussen organisaties kan het verschil maken. Zo heeft Rusland zijn Zweedse editie bijvoorbeeld opgedoekt omdat Zweedse mediaorganisaties geen gebruik maakten van de producten.
Maar ondanks dat Facebook heeft aangegeven dat het de filtering van zijn inhoud zal verbeteren zijn vrijwillige maatregelen niet afdoende: sommige Duitse wetgevers hebben al gesuggereerd dat er mogelijk noodzaak tot wetgeving is om platforms voor sociale media op te schonen. Toch blijft de sterkste verdediging van Europa zijn vrije pers, samen met non-gouvernementele organisaties die leugens blootleggen.
Europeanen moeten niet zelfgenoegzaam worden over de huidige staat van hun vrije pers. Breitbart News is tenslotte al in Groot-Brittannië neergestreken en wil de hele EU veroveren. In de eerste dagen na de verkiezing van Trump rapporteerde de New York Times al: 'Marion Maréchal-Le Pen, de nicht van Marine Le Pen en in opkomst binnen het Front National, heeft getweet: 'Ik zeg ja tegen de uitnodiging van Stephen Bannon…om samen te werken.''
De Westerse democratieën zijn in een volatiele periode terechtgekomen, en Rusland speelt niet langer volgens de regels die zelfs in de donkerste dagen van de Koude Oorlog nog van toepassing waren. Poetin voert actief een hybride oorlog tegen het Westen, één die we pas net beginnen te bevatten, bestrijden nog geheel daargelaten. Het is nu tijd om onze waarden te verdedigen. Dit jaar heeft ons volledig bewust gemaakt van de schaal van de uitdaging die Poetin betekent voor de Westerse democratie. In 2017 moeten we zijn tactieken frontaal te lijf gaan – en verslaan.
Vertaling Melle Trap