Russia's Hybrid War Against the West
As Russian President Vladimir Putin made plain during the US election campaign, the Kremlin is no longer playing by the rules that applied even during the darkest days of the Cold War. With voters heading to the polls in France, Germany, and the Netherlands in 2017, Europe faces a threat that it is only just beginning to comprehend.
BRUSSELS – The United States FBI and CIA have both concluded that Russia ran a hacking and disinformation campaign aimed at influencing the US presidential election in Donald Trump's favor. We may never know how successful Russia's cyber operation was, but we do know that the Kremlin got the result it wanted. Time magazine was wrong to name Trump its person of the year. Clearly, this was Russian President Vladimir Putin's year.
The attack on the US may have been a precursor to further electoral meddling in Europe, where officials are now racing to counter Russian cyber operations before a series of major elections in 2017, including in the Netherlands, Germany, and France. Past cyber attacks in Europe bear an uncanny resemblance to the alleged Russian-sponsored hack on the Democratic National Committee in the US.
In early 2015, a group with ties to the Russian government hacked into the German Bundestag, stole confidential files, and gave them to WikiLeaks, which published them. Germany's Federal Office for the Protection of the Constitution has accused Russia of orchestrating similar attacks on German government computer systems. Meanwhile, in November, the European Commission also suffered a large-scale cyber attack, and while the culprit remains unknown, very few people or organizations are capable of carrying out such an operation.
Cyber attacks are just one element in a broader hybrid war that Russia is waging against the West. Russia has also assisted far-right nationalist organizations and populist movements across Europe, such as by extending loans to Marine Le Pen's National Front in France, and furnishing UK Independence Party politicians with prime-time media slots on the Russian state-funded television network Russia Today.
US President Barack Obama has finally vowed to respond to Putin's assault on American democracy, but he should have done more – and acted much sooner. Europeans would be foolish to expect assistance from the incoming Trump administration. Trump's chief strategist, Stephen Bannon – a former executive chairman of the American "alt-right" disinformation website Breitbart News – has openly offered to help Le Pen win the French presidential election next spring.
Official Russian sources admit that they spent €1.2 billion ($1.25 billion) on foreign media campaigns just this year. In the EU, thousands of fake-news websites have appeared, many of them with unclear ownership: the number of disinformation websites in Hungary doubled in 2014; and in the Czech Republic and Slovakia, some 42 new websites are now polluting the EU's information ecosystem. And, less surreptitiously, the Kremlin has spent hundreds of millions of dollars funding propaganda outfits – such as the Sputnik "news" agency – even as the Russian economy implodes.
Subscribe to PS Digital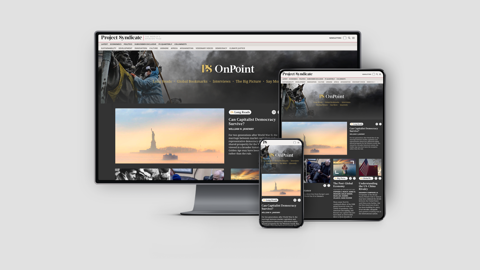 Subscribe to PS Digital
Access every new PS commentary, our entire On Point suite of subscriber-exclusive content – including Longer Reads, Insider Interviews, Big Picture/Big Question, and Say More – and the full PS archive.
Russia's disinformation campaigns are complex and multifaceted, but the mission they share is to undermine trust in Western democratic authorities. Social-media trolling is one method. And social media is also a key vector for a Russian strategy that relies on historical revisionism (the claim that Russia alone won World War II is a staple of this approach); on conspiracy theories, promoted among European and American nationalist movements, which blame the West for, say, inciting the war in Ukraine; and denial of reality, such as the presence of Russian troops in Crimea and Ukraine.
To defend against this onslaught, the West should promote media freedom, reward accountability, and provide legal avenues to shut down systemic disinformation channels. It bodes well that the EU recently amended its 2017 budget to reinforce the European External Action Service's StratCom team, which had been badly underfunded, despite its critical mission of uncovering and debunking disinformation. But the EU and NATO should also take a lesson from the US election, by bolstering collective European cyber defenses, and pressuring member states to expand their own cyber capabilities. On the political front, Putin must be told that foreign interference in national elections will have severe negative consequences for Russian economic interests.
Beyond government action, the private sector and civil-society organizations should step up their efforts to verify whether online news stories are accurate, balanced, and credible. Organizations working together can make a difference. For example, Russia terminated its Swedish-language edition of Sputnik, because Swedish media organizations were not using its products.
But while Facebook has indicated that it will improve the vetting process for its content, voluntary measures may not be enough: some German lawmakers have suggested that legislation may be needed to clean up social-media platforms. Still, Europe's strongest defense is its free press, together with nongovernmental organizations working to expose lies.
Europeans must not become complacent about the current state of their free press. After all, Breitbart News is already in Britain and is planning to expand across the EU. Within days of Trump's election, the New York Times reported, "Marion Maréchal-Le Pen, Marine Le Pen's niece and a rising force in the National Front, tweeted, 'I answer yes to the invitation of Stephen Bannon… to work together."
Western democracies have entered a period of volatility, and Russia is no longer playing by the rules of the game that applied even during the darkest days of the Cold War. Putin is actively waging a hybrid war against the West, one that we are only just beginning to comprehend, let alone confront. It is time to defend our values. This year made us fully aware of the scale of the challenge Putin is posing to Western democracy. In 2017, we must confront – and defeat – his tactics head-on.