Russlands Hybridkrieg gegen den Westen
BRÜSSEL – Das amerikanische FBI kam ebenso wie die CIA zu dem Schluss, dass Russland hinter der Hacking- und Desinformationskampagne steckt, die darauf abzielte, die US-Präsidentenwahl zugunsten Donald Trumps zu beeinflussen. Wir werden vielleicht nie erfahren, wie erfolgreich Russlands Cyber-Operation war, sehr wohl wissen wir jedoch, dass der Kreml das angestrebte Ergebnis erreichte. Das Nachrichtenmagazin Time lag falsch, als es Trump zur Person des Jahres kürte, denn 2016 war ganz klar das Jahr des russischen Präsidenten Wladimir Putin.
Der Angriff auf die USA könnte ein Vorbote für weitere Einmischungsversuche in Wahlgänge in Europa sein, wo man sich von offizieller Seite beeilt, russischen Cyber-Operationen im Vorfeld einer Reihe wichtiger Wahlen im Jahr 2017 wie etwa in den Niederlanden, Deutschland und Frankreich entgegenzuwirken. Die Cyber-Angriffe der Vergangenheit in Europa weisen verblüffende Ähnlichkeiten mit den angeblich von Russland unterstützten Hacks des Democratic National Committee in den USA auf.
Anfang 2015 hackte eine Gruppe mit Verbindungen zur russischen Regierung den Deutschen Bundestag, stahl vertrauliche Dokumente und gab sie an WikiLeaks weiter, wo diese dann veröffentlicht wurden. Das Bundesamt für Verfassungsschutz beschuldigt Russland, ähnliche Attacken auf Computersysteme der deutschen Regierung eingefädelt zu haben. Unterdessen kam es im November zu einem groß angelegten Cyber-Angriff gegen die Europäische Kommission und obwohl die Täter weiterhin unbekannt sind, lässt sich sagen, dass nur sehr wenige Menschen oder Organisationen in der Lage sind, eine derartige Operation durchzuführen.   
Cyber-Angriffe sind nur ein Aspekt eines umfassenderen Hybridkrieges, den Russland gegen den Westen führt. Russland unterstützt auch politisch rechtsaußen stehende nationalistische Organisationen und populistische Bewegungen in ganz Europa wie etwa durch die Verlängerung eines Kredits an den französischen Front National unter Marine Le Pen oder die Bereitstellung bester Sendezeit für Politiker der britischen Independence Party in dem vom russischen Staat finanzierten TV-Netzwerk Russia Today. 
US-Präsident Barack Obama hat schließlich zugesagt, Putins Angriffen auf die amerikanische Demokratie entgegenzutreten, aber er hätte mehr tun – und viel früher handeln – sollen. Es wäre töricht von den Europäern, auf die Hilfe der neuen Trump-Administration zu zählen. Trumps Chefstratege Stephen Bannon – ehemaliger Vorstandsvorsitzender der amerikanischen "Alt-Right"-Desinformationswebseite Breitbart News – hat Le Pen offen Hilfe angeboten, um bei den französischen Präsidentenwahlen in diesem Frühjahr zu gewinnen.
Offizielle russische Quellen räumen ein, dass sie allein im Jahr 2016  1,2 Milliarden Euro für Kampagnen in ausländischen Medien ausgegeben haben. In der EU sind tausende, Falschmeldungen verbreitende Webseiten unbekannter Betreiber aufgetaucht: in Ungarn verdoppelte sich die Zahl der Desinformationsseiten im Jahr 2014; und in der Tschechischen Republik sowie in der Slowakei verschmutzen etwa 42 neue Webseiten das Informationsökosystem der EU. Weniger klammheimlich hat der Kreml trotz der implodierenden Wirtschaft in Russland hunderte Millionen Dollar zur Finanzierung von Propaganda-Einrichtungen  – wie etwa der "Nachrichten"-Agentur Sputnik – aufgewendet.
Subscribe to Project Syndicate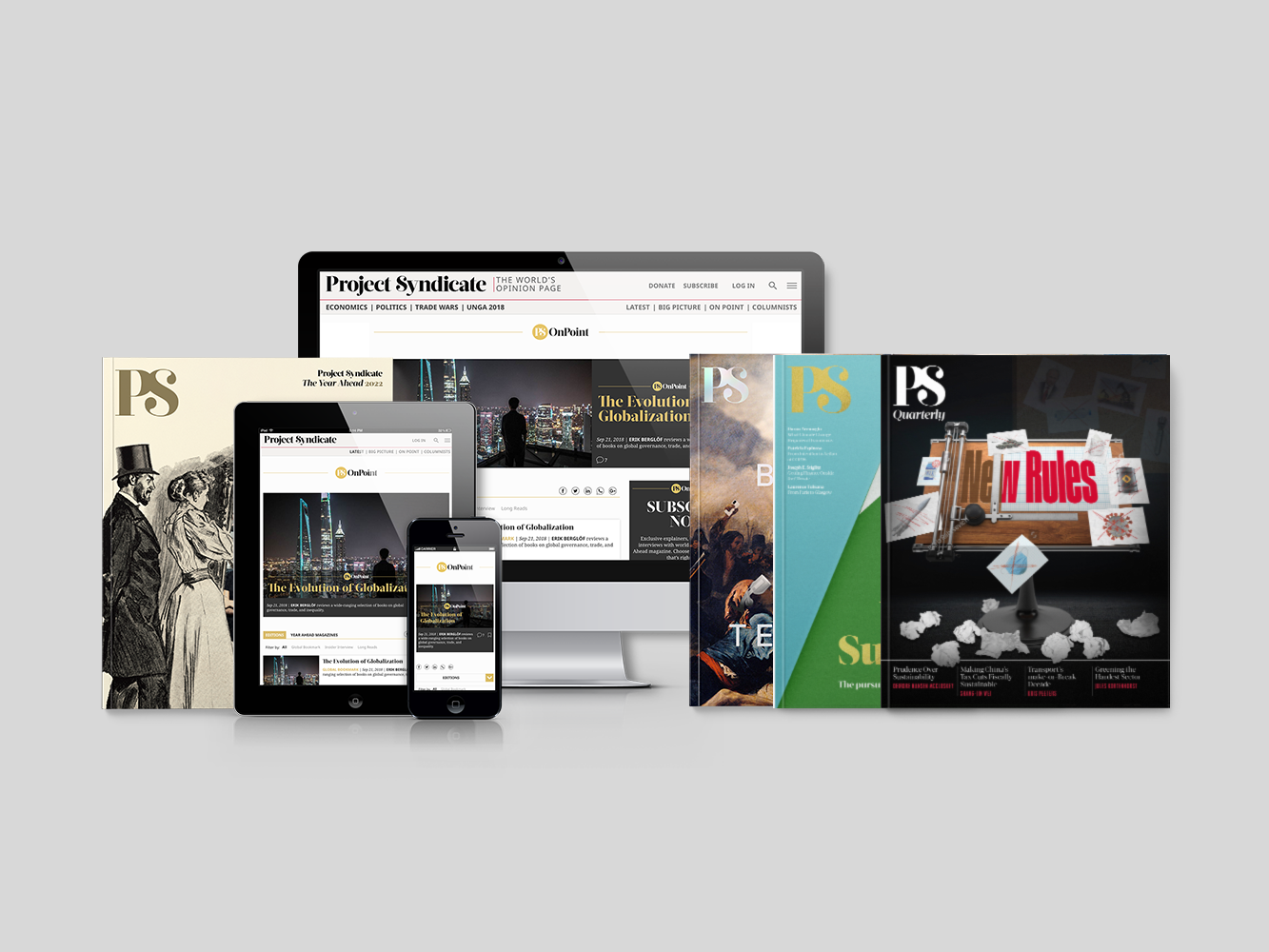 Subscribe to Project Syndicate
Enjoy unlimited access to the ideas and opinions of the world's leading thinkers, including long reads, book reviews, topical collections, short-form analysis and predictions, and exclusive interviews; every new issue of the PS Quarterly magazine (print and digital); the complete PS archive; and more. Subscribe now to PS Premium.
Die Desinformationskampagnen Russlands sind komplex und facettenreich, aber ihre gemeinsame Mission besteht darin, das Vertrauen in die demokratischen Institutionen des Westens zu untergraben. Eine Methode dabei sind Trolle in den sozialen Medien. Und diese sozialen Medien spielen auch eine Schlüsselrolle für die Umsetzung einer Strategie Russlands, die auf drei Säulen beruht: auf Geschichtsrevisionismus (ein Grundpfeiler dieses Ansatzes besteht in der Behauptung, Russland allein hätte den Zweiten Weltkrieg gewonnen); auf Verschwörungstheorien, die in europäischen und amerikanischen nationalistischen Bewegungen verbreitet werden und beispielsweise dem Westen die Schuld am Ausbruch des Krieges in der Ukraine geben; und auf Realitätsverweigerung, wie etwa hinsichtlich der Präsenz russischer Truppen auf der Krim und in der Ukraine.
Um sich gegen diese Attacken zu wappnen, sollte der Westen die Medienfreiheit fördern, die Rechenschaftspflicht würdigen und rechtliche Möglichkeiten schaffen, diese systematischen Desinformationskanäle abzuschalten. In diesem Zusammenhang ist es vorteilhaft, dass die EU kürzlich ihr Budget für das StratCom-Team des Europäischen Auswärtigen Dienstes erweiterte, das trotz seiner zentralen Aufgabe, Desinformation aufzuspüren und zu enthüllen, dramatisch unterfinanziert war. Dennoch sollten die EU und die Nato auch Lehren aus den US-Wahlen ziehen, indem man gemeinsame europäische Abwehrmaßnahmen gegen Cyber-Angriffe fördert und die Mitgliedsstaaten dazu drängt, ihre eigenen Kapazitäten in diesem Bereich zu stärken. An der politischen Front muss Putin mitgeteilt werden, dass ausländische Einmischung in nationale Wahlen schwerwiegende negative Folgen für die wirtschaftlichen Interessen Russlands nach sich zieht.
Jenseits der staatlichen Maßnahmen sollten der Privatsektor und Organisationen der Zivilgesellschaft ihre Bemühungen hinsichtlich der Überprüfung von Online-Nachrichten auf Genauigkeit, Ausgewogenheit und Glaubwürdigkeit intensivieren. Kooperierende Organisationen können in diesem Bereich durchaus etwas bewirken. So stellte Russland beispielsweise die schwedischsprachige Ausgabe von Sputnik ein, nachdem schwedische Medien die Sputnik-Produkte nicht nutzten.
Obwohl Facebook darauf verweist, dass man den Überprüfungsprozess für die dort verbreiteten Inhalte verbessern will, sind freiwillige Maßnahmen womöglich nicht ausreichend: einige deutsche Abgeordnete haben darauf hingewiesen, dass möglicherweise Gesetze notwendig sind, um Social-Media-Plattformen zu bereinigen. Dennoch besteht Europas stärkste Abwehrmaßnahme in der Verteidigung seiner freien Presse und in Nichtregierungsorganisationen, die an der Entlarvung von Lügen arbeiten.
Die Europäer dürfen hinsichtlich des derzeitigen Zustandes ihrer freien Presse nicht selbstgefällig werden. Schließlich ist Breitbart News in Großbritannien bereits präsent und plant, in die gesamte EU zu expandieren. Und die New York Timesberichtete wenige Tage nach der Wahl Trumps: "Marion Maréchal-Le Pen, Marine Le Pens Nichte und aufstrebende Kraft im Front National, postete auf Twitter: ,Ich nehme die Einladung Stephen Bannons zur Zusammenarbeit… an.'"
In den Demokratien des Westens ist eine Zeit der Unbeständigkeit angebrochen und Russland hält sich nicht mehr an die Spielregeln, die selbst in den dunkelsten Tagen des Kalten Krieges galten. Putin führt aktiv einen Hybridkrieg gegen den Westen, den wir erst zu begreifen beginnen. Von aktiven Reaktionen ist man weit entfernt. Es ist an der Zeit, unsere Werte zu verteidigen. 2016 wurden wir uns des Ausmaßes der Herausforderung bewusst, die Putin für die westliche Demokratie darstellt. Im Jahr 2017 müssen wir uns dieser Taktik direkt stellen und sie aktiv durchkreuzen.
Aus dem Englischen von Helga Klinger-Groier