Wie Korruption den Klimawandel anheizt
LONDON, BERLIN – Anti-Korruptions-Aktivisten und Aktivistinnen haben 2016 eine Anzahl wichtiger Siege errungen, nicht zuletzt, indem sie erreicht haben, dass eines der korruptesten Geschäfte der großen Ölgesellschaften von der Justiz aufgearbeitet wird: der Erwerb des nigerianischen Ölfeldes OPL 245 durch Royal Dutch Shell und Eni, den größten Ölkonzern Italiens, im Jahre 2011. Im Dezember erhob die nigerianische Kommission für Wirtschafts- und Finanzkriminalität Anklage gegen einige der beteiligten Nigerianer, und die italienische Staatsanwaltschaft hat inzwischen ihre eigene Untersuchung abgeschlossen, was den Tag näher bringt, an dem sich die für das Geschäft verantwortlichen Führungskräfte und Unternehmen vor Gericht verantworten müssen.
Mehrere Monate zuvor, im Juni 2016, hatte die US-Börsenaufsicht SEC eine Vorschrift gemäß Section 1504 des 2010 Dodd-Frank Act veröffentlicht, die Öl-, Gas-und Bergbauunternehmen verpflichtet, alle an Regierungen geleisteten Zahlungen auf Projektbasis offen zu legen. Wenn die SEC ihre Vorschrift eher erlassen hätte, hätten Shell und Eni das OPL-245-Geschäft höchstwahrscheinlich nicht abgeschlossen, weil sie dann ihre Zahlung hätten offenlegen müssen. Doch Widerstand seitens der Ölindustrie verzögerte die Vorschrift; daher waren die Unternehmen in der Lage, die Zahlung zu verheimlichen.
Zugleich wurde im letzten Jahr erstmals in Jahrmillionen die Marke von 400 ppm (parts per million) CO2 in der Atmosphäre erreicht. Obwohl das Pariser Klimaabkommen bei seiner Verabschiedung im Dezember 2015 als großer Erfolg gefeiert wurde, lassen viele Unterzeichnerstaaten seitdem einen bemerkenswerten Mangel an Ehrgeiz erkennen, wenn es um die Umsetzung  ihrer Verpflichtungen zur CO2-Reduzierung geht. Um zu verstehen, warum dies so ist, muss man sich das enorme Ausmaß vergegenwärtigen, in dem unsere Regierungssysteme durch die korrumpierenden Einflüsse von Partikularinteressen vereinnahmt werden.
OPL 245 ist hierfür ein Lehrstück: Die Geschichte begann 1998, als der nigerianische Diktator Sani Abacha das Ölfeld an Malabu Oil & Gas vergab, dessen heimlicher Eigentümer Abachas eigener Ölminister Dan Etete war. Etete hatte sich also OPL 245 im Wesentlichen selbst zugeschanzt. Doch nach dem Sturz des Abacha-Regimes wurde das Ölfeld Malabu weggenommen und Shell übertragen. Dies löste eine Reihe von Rechtsstreitigkeiten zwischen Malabu, Shell und der nigerianischen Regierung aus, die erst mit dem korrupten Shell-Eni-Geschäft des Jahres 2011 endeten.
Öffentliche Unterlagen zeigen, dass die 1,1 Milliarden Dollar, die Shell und Eni für das Geschäft an die nigerianische Regierung zahlten, in Wirklichkeit an Malabu geleistet wurden. Beide Unternehmen wussten, dass diese Zahlungsmethode – über ein von J.P. Morgan in London eingerichtetes Konto – gegen die nigerianische Verfassung verstieß und dass das Geld in privaten Händen landen würde.
Eni behauptet, das Geschäft geprüft und "keine Anzeichen von korruptem Verhalten in Bezug auf die Transaktion" festgestellt zu haben. Shell seinerseits hat erklärt, dass es nur die nigerianische Regierung bezahlt habe und dass es "mit der Prämisse, die verschiedenen von Global Witness über Shell-Unternehmen in Bezug auf OPL 245 getätigten öffentlichen Äußerungen zugrunde liegt, nicht einverstanden" sei. Doch italienische Staatsanwälte haben nun einen Antrag auf Einleitung eines Strafverfahrens gegen mehrere leitende Führungskräfte von Eni, darunter den derzeitigen CEO Claudio Descalzi und seinen Vorgänger, sowie gegen Etete und mehrere andere gestellt, und sie verfolgen separate Vorwürfe gegen vier leitende Führungskräfte von Shell.
Subscribe to PS Digital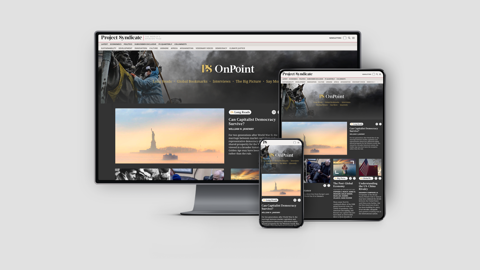 Subscribe to PS Digital
Access every new PS commentary, our entire On Point suite of subscriber-exclusive content – including Longer Reads, Insider Interviews, Big Picture/Big Question, and Say More – and the full PS archive.
Ob diese Anklagen Erfolg haben oder nicht: Wir können derzeit die Offenlegungsvorschrift der SEC oder die neuerliche Unterstützung der USA für die Schaffung eines globalen Transparenzstandards für die Rohstoffindustrien nicht länger als Erfolg feiern. Angesichts der Präsidentschaft Donald Trumps und eines von den Republikanern kontrollierten Kongresses wurde die SEC-Vorschrift gemäß dem Congressional Review Act – einem obskuren Gesetz, das zuvor erst einmal zur Anwendung gebracht worden war – für ungültig erklärt.
Trumps hatte in seinem häufig rassistischen und frauenfeindlichen Wahlkampf wiederholt versprochen, den "Sumpf" der Korruption in der Washingtoner Politik "trockenzulegen". Doch die Entscheidung der Republikaner im Kongress, die SEC-Vorschrift zu annullieren, der Trump durch seine Unterschrift umgehend Gesetzeskraft verlieh, war ein Akt reinsten Zynismus, der dazu beiträgt, das "korrupte" System aufrechtzuerhalten, gegen das sich Trumps Kandidatur angeblich richtete.
Nachdem es die Öl- und Gasindustrie nicht geschafft hatte, Section 1504 auf dem Rechtsweg zu stoppen, bat sie ihre Freunde im Kongress um Hilfe. Und die von ihren Vertretern im Kongress vorgetragenen Argumente wären lächerlich, wären die Folgen nicht so tragisch. Senator James Inhofe, ein berüchtigter Leugner des Klimawandels, der Wahlkampfspenden in Höhe von mehr als drei Millionen Dollar von der Fossilbrennstoffindustrie erhalten hat, führte den Angriff an: Die Veröffentlichungsvorschrift sei eine Zwangsmaßnahme aus der Obama-Ära, die umzusetzen zu teuer wäre und die unnötige Bürokratie verursachen würde. Unerwähnt blieben die Kosten, die den Bürgerinnen und Bürgern entstehen, wenn ihr Volksvermögen im Rahmen schmutziger Geschäfte veräußert wird, oder den Anlegern und Anlegerinnen, wenn Korruption zu Strafverfolgung und riesigen Geldstrafen führt.
Um das Pariser Abkommen zu erfüllen, müssen die Bemühungen zur Bekämpfung der Korruption und des Klimawandels Hand in Hand gehen. Korruption im weitesten Sinne des Wortes ist der Klebstoff, der das "System" zusammenhält und finanzstarke, mächtige Interessen von den Regeln, die sie im Schach halten sollen, befreit. Sie ist der Grund, warum viele Regierungen, die zugesagt haben, ihre Emissionen in umfassender Weise zu verringern, ihre Zusagen bisher nicht erfüllen konnten.
Shell, Exxon und die meisten anderen großen Öl- und Gasgesellschaften wussten schon vor Jahrzehnten, dass ihre Produkte den Klimawandel befeuern. Doch statt gemäß diesem Wissen zu handeln und ihr Geschäftsmodell zu ändern, leiteten sie eine massive Kampagne ein, um die Öffentlichkeit zu täuschen und die Politik zu selbstzufriedener Untätigkeit zu verleiten. Es überrascht nicht, dass Shell einer von 47 großen fossilen Produzenten ist, gegen die derzeit die philippinische Menschenrechtskommission wegen ihres Beitrags zum Klimawandel und dadurch bedingten Menschenrechtsverletzungen ermittelt.
Im Interesse nachhaltiger Fortschritte im Kampf gegen den Klimawandel und die Korruption müssen die Bewegungen zum Schutz der Umwelt und zur Bekämpfung der Korruption zusammenarbeiten und ihre jeweiligen Stärken ausspielen. Trumps Wahl und die Möglichkeit weiterer populistischer Wahlerfolge in Europa in diesem Jahr sind auf jeden Fall ein klarer Weckruf.
Aus dem Englischen von Jan Doolan