Como a corrupção alimenta as mudanças climáticas
LONDRES, BERLIM – Os defensores anti-corrupção alcançaram um conjunto de vitórias cruciais em 2016, designadamente ao garantirem a responsabilização de um dos negócios mais corruptos da indústria petrolífera internacional (NdT: Big Oil no original): a aquisição em 2011 do OPL 245, uma concessão petrolífera off-shore Nigeriana, pela Royal Dutch Shell e pela Eni, a maior empresa de Itália. Em Dezembro passado, a Comissão de Crimes Económicos e Financeiros da Nigéria acusou alguns dos Nigerianos envolvidos, e os procuradores Italianos concluíram a sua própria investigação, trazendo os dirigentes e as empresas responsáveis pelo negócio para mais perto de serem julgados.
Alguns meses antes, em Junho de 2016, a Comissão de Valores Mobiliários dos EUA publicou uma regra, ao abrigo da Secção 1504 da Lei Dodd-Frank, de 2010, que exige, às empresas petrolíferas, de gás e mineiras, a divulgação de todos os pagamentos efectuados a governos, discriminados por projecto. Se a CVM tivesse emitido esta regra mais cedo, a Shell e a Eni não teriam concluído o negócio do OPL 245, porque teriam de divulgar o seu pagamento. Mas a oposição da indústria petrolífera atrasou a regra, e as empresas puderam ocultar o seu pagamento.
O ano passado também marcou a primeira vez, em milhões de anos, que a concentração de CO2 na atmosfera atingiu as 400 partes por milhão (ppm). Embora o acordo de Paris sobre o clima tenha sido recebido como um grande sucesso, aquando da sua conclusão em Dezembro de 2015, muitos signatários demonstraram uma notável falta de ambição relativamente aos seus compromissos de redução das emissões de carbono. Para se compreender porquê, basta vermos a extensão absoluta com que os nossos sistemas de governo foram capturados pela influência corruptora dos interesses instituídos.
A história do OPL 245 começou em 1998, quando o ditador Nigeriano Sani Abacha atribuiu o bloco à Malabu Oil and Gas, que era secretamente detida por Dan Etete, o próprio ministro do petróleo de Abacha. Desta forma, Etete tinha essencialmente dado o OPL 245 a si próprio. Mas depois da queda do regime de Abacha, o bloco foi retirado à Malabu e atribuído à Shell. Este facto desencadeou um conjunto de batalhas judiciais entre a Malabu, a Shell, e o governo Nigeriano, que só terminaram com o corrupto acordo Shell-Eni em 2011.
Documentos públicos demonstram que os 1,1 mil milhões de dólares que a Shell e a Eni pagaram pelo negócio ao governo Nigeriano, estavam na verdade a ser pagos à Malabu. Ambas as empresas sabiam que este método de pagamento, através de uma conta criada pelo J.P. Morgan em Londres, violava a constituição Nigeriana, e que os fundos acabariam por cair nas mãos de entidades privadas.
A Eni afirma que investigou o acordo, e que "não encontrou provas de conduta de corrupção relativamente à transacção". A Shell, por seu lado, diz que só pagou ao governo Nigeriano, e que "não concorda com o pressuposto subjacente a várias declarações públicas feitas pela Global Witness sobre empresas da Shell relativamente ao OPL 245". Mas os procuradores Italianos solicitaram agora um julgamento para vários dirigentes seniores da Eni, nomeadamente o actual director-geral, Claudio Descalzi, e o seu antecessor, bem como para Etete e vários outros; e vão prosseguir com acusações separadas contra quatro dirigentes seniores da Shell.
Subscribe to PS Digital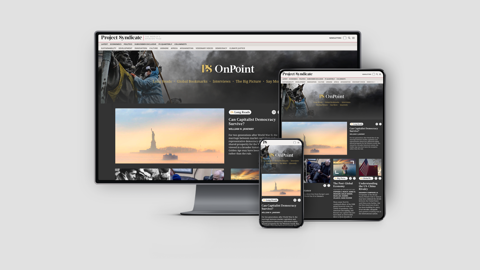 Subscribe to PS Digital
Access every new PS commentary, our entire On Point suite of subscriber-exclusive content – including Longer Reads, Insider Interviews, Big Picture/Big Question, and Say More – and the full PS archive.

Independentemente de estas acusações terem êxito, não podemos por agora continuar a celebrar a regra de divulgação da CMV, ou o apoio renovado dos Estados Unidos para a criação de um novo padrão de transparência para as indústrias extractivas. Com a presidência de Donald Trump e um Congresso controlado pelos Republicanos, a regra da CMV foi imediatamente abandonada, ao abrigo da Lei da Revisão pelo Congresso, uma lei obscura que só tinha sido usada uma vez.
A campanha frequentemente racista e misógina de Trump prometeu "drenar o pântano" da corrupção na política de Washington. Mas a decisão parlamentar dos Republicanos de descartar a regra da CVM, que Trump rapidamente aprovou, foi um acto de puro cinismo que ajuda a perpetuar o sistema "corrupto" que Trump afirma ter concorrido para combater.
Depois da indústria petrolífera e do gás não ter conseguido bloquear a Secção 1504 nos tribunais, procurou ajuda junto dos seus amigos no Congresso. E os argumentos usados pelos seus representantes parlamentares seriam risíveis, se as consequências não fossem tão trágicas. O senador James Inhofe, um conhecido negador das mudanças climáticas que recebeu mais de 3 milhões de dólares em contribuições para a sua campanha da indústria de combustíveis fósseis, liderou o ataque: a regra para a divulgação era uma imposição da era Obama, que seria de implementação demasiado cara, e que acrescentaria uma carga burocrática desnecessária. Não foram mencionados os custos suportados pelos cidadãos, quando a sua riqueza nacional é vendida em negócios sujos, ou pelos investidores, quando a corrupção evolui para acusações e multas pesadas.
Para cumprir o acordo de Paris, os esforços para combater a corrupção e as mudanças climáticas devem caminhar lado a lado. A corrupção, no sentido mais lato do termo, é a cola que mantém o "sistema" coeso, garantindo que os interesses endinheirados e poderosos ficam livres das regras que os deveriam controlar. É por isso que os governos que se comprometeram com grandes reduções nas emissões de gases com efeito de estufa não foram capazes de cumprir os seus compromissos.
A Shell, a Exxon, e a maioria das restantes grandes empresas petrolíferas e de gás já sabiam há décadas que os seus produtos fomentavam as mudanças climáticas. Mas em vez de agirem com base nesse conhecimento, e de alterarem o seu modelo de negócio, embarcaram numa enorme campanha para enganar o público e atrair os responsáveis políticos à complacência. Não surpreende, portanto, que a Shell seja um dos 47 grandes produtores de hidrocarbonetos actualmente sob investigação do governo Filipino, pelo seu papel na contribuição para violações dos direitos humanos decorrentes das mudanças climáticas.
Para sustentar os avanços na luta contra as mudanças climáticas e a corrupção, os movimentos ambientalistas e anti-corrupção terão de trabalhar em conjunto, e deverão fazer valer os seus trunfos. A eleição de Trump e a possibilidade de mais vitórias populistas na Europa este ano, mesmo que não tenham outra consequência, já nos serviram de alarme.