Hoe corruptie klimaatverandering aandrijft
LONDEN, BERLIJN – Zij die campagne voeren tegen corruptie hebben in 2016 een reeks cruciale overwinningen behaald, niet in het minst door de aansprakelijkheid te garanderen voor één van de meest slinkse deals van 'Big Oil': het verwerven van het Nigeriaanse offshore olieveld OPL 245 door Koninklijke Shell en Eni, het grootste bedrijf van Italië, in 2011. Afgelopen december klaagde de Economic and Financial Crimes Commission van Nigeria een aantal van de betrokken Nigerianen aan, en besloten Italiaanse aanklagers hun eigen onderzoek, wat de leidinggevenden en bedrijven verantwoordelijk voor de deal een stap dichter bij vervolging brengt.
Een paar maanden eerder, in juni 2016, vaardigde de Amerikaanse Securities and Exchange Commission (SEC) een regel uit, onder sectie 1504 van de Dodd-Frank Act, die van olie-, gas-, en mijnbedrijven eist dat ze alle betalingen op projectbasis gedaan aan overheden vrijgeven. Wanneer de SEC deze regel eerder had uitgevaardigd hadden Shell en Eni de OPL 245 deal waarschijnlijk niet doorgezet, omdat ze hun betalingen openbaar hadden moeten maken. Maar oppositie uit de olie-industrie vertraagde deze regel, zodat de bedrijven in staat waren om hun betalingen af te dekken.
Vorig jaar markeerde ook de eerste keer in miljoenen jaren dat de concentratie CO2 in de atmosfeer 400 deeltjes per miljoen bereikte. Alhoewel het klimaatverdrag van Parijs toen het in december 2015 gesloten werd onthaald werd als een enorm succes hebben veel ondertekenaars een opvallend gebrek aan ambitie getoond in het behalen van hun koolstofreductiedoelen. Om te begrijpen waarom moeten we de enorme mate waarin onze overheidssystemen gevangen zijn door de corrumperende invloed van gevestigde belangen inzien.
Het verhaal van OPL 245 begon in 1998, toen de Nigeriaanse dictator Sani Abacha het veld toewees aan Malabu Oil and Gas, dat in het geheim in handen was van Dan Etete, Abacha's eigen olieminister. Dus Etete had OPL 245 in feite aan zichzelf gegeven. Maar nadat het Abacha-regime viel werd het veld van Malabu afgenomen en aan Shell toegekend. Dit veroorzaakte een juridische strijd tussen Malabu, Shell, en de Nigeriaanse regering die pas in 2011 eindigde met de corrupte Shell-Eni deal.
Openbare documenten laten zien dat de 1,1 miljard dollar die Shell en Eni voor de overeenkomst aan de Nigeriaanse regering betaalden in werkelijkheid aan Malabu betaald werden. Beide bedrijven wisten dat deze betaalmethode, via een rekening opgezet door J.P. Morgan in Londen, de Nigeriaanse grondwet overtrad en dat de fondsen in private handen zouden eindigen.
Eni beweert dat het de deal heeft onderzocht en 'geen bewijs heeft gevonden voor corrupt gedrag in relatie tot de transactie.' Shell op zijn beurt zegt dat het alleen de Nigeriaanse regering heeft betaald, en dat het 'niet instemt met de premisse achter verschillende publieke verklaringen gedaan door Global Witness over Shell-firma's in relatie tot OPL 245.' Maar Italiaanse aanklagers bereiden nu een rechtszaak voor tegen meerdere hoge leidinggevenden van Eni – waaronder de huidige CEO, Claudio Descalzi, en zijn voorganger – zowel als Etete en verschillende anderen; en ze vervolgen vier hoge Shell-directeuren voor andere aanklachten.
Secure your copy of PS Quarterly: The Year Ahead 2023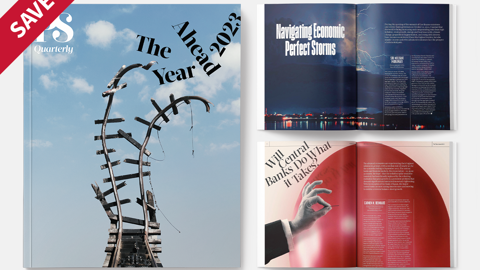 Secure your copy of PS Quarterly: The Year Ahead 2023
Our annual fourth-quarter magazine is here, and available only to Digital Plus and Premium subscribers. Subscribe to Digital Plus today, and save $15.

Of deze rechtsvervolgingen nu wel of niet slagen, voor nu kunnen we de openbaarmakingsregel van de SEC niet langer roemen, noch de hernieuwde steun van de Verenigde Staten in het creëren van een mondiale standaard voor de winningsindustrie. Met Donald Trump als president en een door de Republikeinen gecontroleerd Congres werd de SEC-regel onmiddellijk afgeschaft onder de Congressional Review Act, een obscure wet die slechts éénmaal eerder gebruikt werd.
Trumps frequent racistische en seksistische campagne beloofde om 'het moeras droog te leggen' van politieke corruptie in Washington. Maar de beslissing van Republikeinen in het congres om de SEC-regel te schrappen, die Trump snel in een wet veranderde, was een daad van puur cynisme dat het 'corrupte' systeem in stand blijft houden waarvan Trump beweert dat hij er campagne tegen voerde.
Nadat de olie- en gasindustrie er niet in slaagden om sectie 1504 door middel van wettelijke actie te blokkeren deden ze een beroep op hun vrienden in het Congres. De argumenten gebruikt door hun stromannen in het Congres zouden lachwekkend zijn geweest wanneer de consequenties niet zo tragisch waren. Senator James Inhofe, een notoire ontkenner van klimaatverandering die meer dan 3 miljoen dollar in campagnebijdragen ontvangen heeft van de fossiele brandstoffenindustrie, leidde de aanval: de openbaarmakingsregel was een dictaat uit het Obama-tijdperk dat te kostbaar om te implementeren zou zijn en nodeloze bureaucratie zou opleggen. Er werd geen melding gemaakt van de kosten gedragen door burgers wanneer hun nationale rijkdom wordt verkocht door middel van vuile deals, of door investeerders wanneer corruptie leidt tot vervolging en grote boetes.
Om te voldoen aan het akkoord van Parijs moeten inspanningen om corruptie en klimaatverandering te bestrijden hand in hand gaan. Corruptie is in de meest brede zin van het woord de lijm die het 'systeem' bij elkaar houdt en garandeert dat rijke en machtige belangen vrij zijn van de regels die bedoeld zijn om ze te beteugelen. Dit is de reden dat regeringen die beloofd hebben om grote reducties in de uitstoot van broeikasgassen tot stand te brengen niet in staat zijn geweest om aan hun engagementen te voldoen.
Shell, Exxon, en de meeste andere grote olie- en gasbedrijven wisten decennia geleden al dat hun producten de klimaatverandering aandreven. Maar in plaats van met deze kennis actie te ondernemen en hun verdienmodel te veranderen begonnen ze een gigantische campagne om het publiek te misleiden en beleidsmakers tot meegaandheid te verleiden. Het is geen verrassing dat Shell één van de zevenenveertig grote producenten van koolwaterstoffen is die nu door de Filipijnse regering onderzocht wordt voor zijn rol in het bijdragen aan schendingen van de mensenrechten voortkomend uit klimaatverandering.
Om de vooruitgang in het gevecht tegen klimaatverandering en corruptie vast te houden moeten milieu- en anti-corruptiebewegingen samenwerken en hun respectievelijke sterke punten uitspelen. Als er één ding is wat de verkiezing van Trump en de mogelijkheid van meer populistische overwinningen in Europa dit jaar gedaan hebben is het dat ze ons hebben wakker geschud.
Vertaling Melle Trap