Trumps keuzes op het gebied van de klimaatverandering
WASHINGTON, DC – Een goede planning vormt de sleutel tot succesvolle militaire acties en in vele opzichten de sleutel tot succes in het algemeen, en leden van het Amerikaanse Marine Corps – zoals ikzelf - beroemen zich daarop. Maar als je net als ik dertig jaar in het leger hebt gezeten, weet je dat een effectief plan niet statisch kan zijn; operationele omgevingen veranderen, dikwijls op verrassende of onverwachte manieren. De overwinning van Donald Trump bij de Amerikaanse presidentsverkiezingen van vorige maand was precies zo'n verandering.
Het kan lang duren voordat we de nieuwe operationele omstandigheden goed kunnen doorgronden. Maar we moeten beginnen ons aan te passen – en ons blijven aanpassen als nieuwe feiten aan het licht komen. Anders lopen we het risico kwetsbaar te worden voor ernstige strategische dreigingen – waarvan de ernstigste waarschijnlijk de klimaatverandering is.
De stijging van de oppervlaktetemperatuur van de aarde vertegenwoordigt een fundamentele verandering van de mondiale operationele omstandigheden, zowel in economische als in militaire zin. Het is niet alleen maar zo dat sommige zogenoemde "elites" denken dat het klimaat iets gaat opwarmen. Klimaatverandering is geen triviaal fenomeen, evenmin als de gevolgen ervan op veiligheidsgebied.
Klimaatverandering is wat wij in het leger een "threat multiplier" ("vermenigvuldiger van dreigingen") noemen. Het verband tussen klimaatverandering en conflicten is niet lineair. Klimaatverandering intensiveert en compliceert bestaande veiligheidsrisico's, en verhoogt de frequentie, omvang en ingewikkeldheid van toekomstige missies.
De urgentie van de klimaatdreiging neemt hand over hand toe. De klimaatverandering verbreedt nu al de reikwijdte van militaire operaties, waarbij de US Navy en de Coast Guard nieuwe missies in het Noordpoolgebied overwegen. Heviger orkanen, cyclonen en droogtes zullen de vraag naar door het leger ondersteunde humanitaire operaties doen toenemen, vooral in de regio van de Stille Oceaan.
Omdat het steeds extremere weer de migratiepatronen beïnvloedt, zal het aantal ontheemden (dat wereldwijd al recordhoogten heeft bereikt) stijgen, en zal de concurrentie om essentiële hulpbronnen (zoals water, voedsel en energie) toenemen. De gevolgen zullen bijzonder destabiliserend zijn in toch al onzekere omstandigheden, en problemen verscherpen als zwak bestuur, economische ongelijkheid en sociale spanningen – en werkelijk giftige conflicten veroorzaken. Dat is de reden dat we klimaatverandering een "versneller van de instabiliteit" noemen.
Subscribe to PS Digital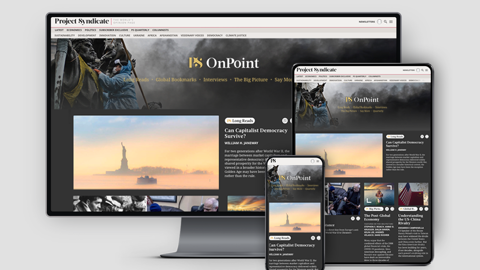 Subscribe to PS Digital
Access every new PS commentary, our entire On Point suite of subscriber-exclusive content – including Longer Reads, Insider Interviews, Big Picture/Big Question, and Say More – and the full PS archive.
U hoeft mij niet op mijn woord te geloven; de hele nationale veiligheidsstructuur van de Verenigde Staten is hier duidelijk over. Het Amerikaanse leger onderkent klimaatverandering al ruim tien jaar als een groot veiligheidsrisico, en is op dit punt wereldleider. Vorig jaar bekrachtigde de National Security Strategy deze zienswijze, door de klimaatverandering aan te duiden als een belangrijk strategisch risico voor Amerikaanse belangen, naast factoren als terrorisme, economische crisis en de verspreiding van massavernietigingswapens.
Dit zijn geen loze woorden. Het Amerikaanse leger is al lange tijd bezig de klimaatverandering in onze planning te integreren. De ergste veiligheidsrisico's – zoals bijvoorbeeld is gebleken uit de Japanse aanval op Pearl Harbor, die de VS de Tweede Wereldoorlog in heeft getrokken, en uit de terreuraanslagen van 11 september 2001 – vloeien immers voort uit een ontoereikende voorbereiding.
Op grond van deze lessen werd tijdens het presidentschap van George W. Bush wetgeving ingevoerd die alle Amerikaanse defensie-instellingen verplicht de gevolgen van de klimaatverandering voor de ontwikkeling van toekomstig strategisch beleid in ogenschouw te nemen. De afgelopen vier jaar heeft het ministerie van Defensie richtlijnen doen uitgaan die het voorbereid zijn op klimaatverandering in het centrum plaatsen van onze activiteiten.
Het is nog te vroeg om te zeggen wat de regering-Trump zal doen als het op klimaatverandering aankomt. Tijdens zijn campagne heeft Trump beloofd een deel van het huidige klimaatbeleid ongedaan te zullen maken, en heeft hij zelfs gedreigd uit het klimaatverdrag van Parijs te zullen stappen. Het is van cruciaal belang dat hij en zijn kabinet inzien dat het bijzonder kortzichtig zou zijn om deze belofte gestand te doen.
De waarheid is dat het in het belang van Amerika is, zowel in termen van de veiligheid als van de economie, om op het pad naar een schonere toekomst te blijven. De schone energie-revolutie heeft al gezorgd voor meer banen, geld en bedrijvigheid op het Amerikaanse platteland. Het is een bron van ongekende mogelijkheden. En is het onderkennen van kansen niet een van de grote krachten van Amerika?
De veranderende economische omstandigheden benadrukken deze kansen. China, India en andere opkomende economieën zijn verwikkeld in een race om de mondiale supermacht op het gebied van schone energie te worden, en het zou niet in het belang van Amerika zijn om acherop te raken. Als Amerika groot moet worden, zoals Trump heeft beloofd, moet het land meer op de toekomst georiënteerde bedrijfstakken bouwen, die mondiaal kunnen concurreren – en die werkgelegenheid kunnen opleveren voor Amerikaanse werknemers.
Bovendien zal de regering-Trump het werk van het Amerikaanse leger moeten voortzetten en een veerkrachtiger nationale veiligheidsstrategie in het leven moeten roepen. Het American Security Project, waarvan ik de CEO ben, kijkt ernaar uit de regering-Trump van relevant advies en oplossingen te voorzien. We zullen de regering ook ter verantwoording roepen als zij er niet goed genoeg in slaagt Amerikaanse belangen te beschermen.
Het negeren van dreigingen kan werken in de politiek, maar heeft geen enkele zin op het gebied van de veiligheid. Het ontkennen van de realiteit van de klimaatverandering zal er niet toe leiden dat die verdwijnt; het zal eerder de economie eroderen en de VS blootstellen aan ernstige risico's. Dat zou erop neerkomen op Trump er niet in slaagt een van zijn belangrijkste verantwoordelijkheden als president na te komen: het verzekeren van de veiligheid van het Amerikaanse volk.
Ernstige strategische risico's mogen geen politiek speeltje zijn. De dreiging van klimaatverandering heeft niets te maken met de scheiding tussen links en rechts; zij maakt deel uit van de Amerikaanse militaire planning, en dat moet ook zo blijven. Iedereen die betrokken is geweest bij een dergelijk soort planning weet dat we ons niet alleen kunnen voorbereiden op de oorlogen die we zelf willen voeren; we moeten ons ook voorbereiden op de oorlogen die op ons af zullen komen, of we dat nu leuk vinden of niet.
Vertaling: Menno Grootveld