Die japanische Regierung muss sich von der Kohle verabschieden
OSLO – Nach der Abdankung des Kaisers Akihito kündigte Japan an, die neue kaiserliche Zeit werde Reiwa ("schöne Harmonie") heißen. Soll die Reiwa-Ära allerdings ihrem Namen gerecht werden, muss die japanische Regierung dem Beispiel der Energieinvestoren und -versorger des Landes folgen: Sie muss sich von der Kohle verabschieden und auf erneuerbare Energien setzen.
Die Wahl, entweder in den kommenden Jahrzehnten weiterhin Kapital für umweltzerstörende Kohle zu verschwenden oder ein neues Zeitalter sauberer Energien einzuleiten und Japans enormes Solar- und Windkraftpotenzial anzuzapfen, sollte eigentlich klar zu entscheiden sein. Immer wieder zeigt sich, dass die Technik zur Kohlenstoffabscheidung bei weitem nicht in der Lage ist, für "saubere" Kohlekraft zu sorgen. Sogar mit den effektivsten Kohlekraftwerken würden wir die international festgelegten Emissionsziele überschreiten – mit verheerenden Folgen für den Planeten und das menschliche Wohlbefinden.
Aber mächtige japanische Lobbygruppen, die mit der Unternehmensgruppe Keidanren in Verbindung stehen, kämpfen weiterhin für die Kohle. Und die japanische Regierung scheint sich dem Druck zu beugen: Das Land ist momentan das einzige Mitglied der G7, das seine Kapazitäten zur Kohleverstromung weiter ausbaut. 2017 waren etwa 45 neue Kohlekraftwerke geplant. Darüber hinaus gehört Japan gemeinsam mit China und Südkorea zu den größten Geldgebern für ausländische Kohleprojekte.
Aber im Gegensatz zur japanischen Regierung, die immer noch auf eine Zukunft mit Kohle setzt und dem Mythos folgt, dabei sauber bleiben zu können, lehnen die privaten Investoren des Landes die Kohle zunehmend ab. Führend sind dabei die Großkonzerne Mitsui & Co. und Sojitz: 2016 begannen sie, ihre neuen Kohleinvestitionen zu begrenzen und dies mit langfristigen unternehmerischen Nachhaltigkeitsbedenken und Sorgen über die Umwelt zu begründen. Vor kurzem hat Sojitz erklärt, seine Investitionen in Kohleprojekte zu beenden.
Wie das Institut für Energieökonomie und Finanzanalysen zeigt, hat diese Abkehr von der Kohle im letzten Jahr erheblich an Fahrt gewonnen. Drei der größten japanischen Versicherungskonzerne – Dai-ichi Life, Nippon Life und Meiji Yasuda Life – kündigten an, sie würden für Kohleprojekte keine Policen mehr ausstellen. Die Sumitomo Mitsui Trust Bank ist die erste japanische Bank, die weltweit keine Kredite mehr für neue Kohlekraftwerke vergibt. Andere Banken haben für solche Finanzierungen stärker reglementiert. Und im Dezember hat der Mitsubishi-Konzern seinen Anteil an zwei australischen Kohleminen verkauft und ist damit völlig aus dem Geschäft mit der Kohleförderung ausgestiegen.
Unterdessen haben mehrere Versorger – darunter Chugoku Electric Power, JFE Steel, Kyushu Electric Power, Tokyo Gas, Idemitsu Kosan und kürzlich Osaka Gas – ihre Pläne zum Bau neuer Kohlekraftwerke rückgängig gemacht. Von den 50 neuen Einheiten, die 2012 in der Planung waren, sind in den letzten zwei Jahren 13 abgeblasen worden.
Subscribe to PS Digital Now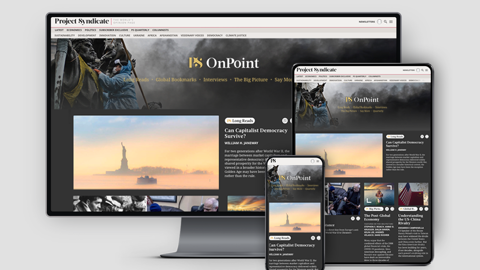 Subscribe to PS Digital Now
Access every new PS commentary, our entire On Point suite of subscriber-exclusive content – including Longer Reads, Insider Interviews, Big Picture/Big Question, and Say More – and the full PS archive.
Laut Yukari Takamura, Professorin am Institut für Zukunftsinitiativen der Universität Tokio, haben diese engeren Grenzen der Kohlefinanzierung durch japanische Großbanken gemeinsam mit der Forderung großer Industriekonzerne nach grüneren Energien die Investoren erheblich unter Druck gesetzt. So entsteht ein mächtiger Schneeballeffekt.
Die japanische Regierung hingegen verliert mehr und mehr den Anschluss. Um aufzuholen, könnte sie sich an Norwegen orientieren, das ebenso wie Japan über einen weltweit führenden Pensionsfonds verfügt, dessen Volumen über einer Billion Dollar liegt.
Gerade kündigte das norwegische Finanzministerium an, es werde nun weitere vier Milliarden Dollar aus Kohleinvestitionen abziehen – nachdem es bereits 2015 ernsthaft mit der Desinvestition begonnen hat. Gleichzeitig will es bis zu 2% seines weltweiten Portfolios, also über 20 Milliarden Dollar, in Solar-, Wind- oder andere regenerative Energien stecken. Diese Entscheidung beruht auf einer von der Regierung in Auftrag gegebenen Analyse, die ergab, dass der weltweite Markt für die Infrastruktur erneuerbarer Energien bis 2030 auf schätzungsweise 4,2 Billionen Dollar wachsen wird – größtenteils durch den Ausbau der Solar- und Windenergie.
Anstatt zu tolerieren, dass Japan weiter ins Hintertreffen gerät, sollte der Pensionsfonds der japanischen Regierung ähnlich vorgehen. Angesichts der Größen ihrer Pensionsfonds und der Reichweite ihrer internationalen Verbindungen könnten Japan und Norwegen entscheidend dazu beitragen, die weltweite Energiepolitik zu verändern.
In politischer Hinsicht nimmt der Trend hin zu einem solchen Wandel bereits zu, was durch wachsende Rufe nach einem grünen "New Deal" verdeutlicht wird – also nach Wirtschaftsreformen und öffentlichen Projekten, die die Grundlage für eine neue, nachhaltige Wirtschaft bilden können. In den Vereinigten Staaten arbeiten progressive Politiker wie die neue Kongressabgeordnete Alexandria Ocasio-Cortez hart daran, ihre ehrgeizigen Vorschläge ganz oben auf die politische Agenda zu bringen. Und auch in Europa gewinnt diese Idee an Fahrt, insbesondere in Großbritannien und Spanien.
Dies ist eine Reaktion auf die zunehmenden Forderungen der Bürger – an der Wahlurne und auf der Straße – die Abkehr von den fossilen Energien zu beschleunigen. Vor noch nicht allzu langer Zeit wären Klimaaktionsgruppen wie Extinction Rebellion als "Klimaextremisten" bezeichnet worden. Im letzten Monat aber haben Aktivisten in der Londoner City protestiert und den Verkehr angehalten, um auf die Rolle der Finanzindustrie beim Klimawandel hinzuweisen – eine Aktion friedlichen Ungehorsams, die von der Öffentlichkeit größtenteils akzeptiert wurde.
Die Menschen haben die Warnungen des Weltklimarats IPCC und anderer Institute verstanden. Sie haben Angst vor einem Klimachaos und suchen auch weiterhin nach neuen Wegen, um die Politiker zur Verantwortung zu ziehen. Gemeinsam mit den Kräften des Marktes werden sie durch ihre Forderungen den Druck der Regierungen, sich ernsthaft um eine Dekarbonisierung zu bemühen, weiter erhöhen.
Japan ist ein weltweiter Investitionsgigant und ein prominentes Mitglied der internationalen Gemeinschaft. Im Vorfeld des G20-Gipfels in Osaka im nächsten Monat sollte sich das Land von den traditionellen Lobbygruppen befreien und beim Wandel weg von der Kohle und hin zu den erneuerbaren Energien in Führung gehen.
Aus dem Englischen von Harald Eckhoff