Controles y equilibrios, primero; carreteras y puentes, después
WASHINGTON, DC – Durante el proceso eleccionario para las elecciones presidenciales estadounidenses del año 2016, Hillary Clinton y Donald Trump coincidieron en cuanto a que la economía estadounidense sufre a causa de su destartalada infraestructura, y ambos hicieron llamados para que se realice una mayor inversión en renovación y mejoramiento del stock de capital público del país. Ahora que la administración de Trump está preparando su primer esbozo de presupuesto, sus iniciativas en este ámbito serán un foco central de atención.
Estados Unidos no está solo. De hecho, las deficiencias de infraestructura son un problema aún más urgente en el resto del mundo. Otras economías avanzadas también necesitan reactivar su nivel moribundo de inversión; y, las economías emergentes necesitan prepararse para hacer frente al crecimiento poblacional, el aumento del consumo y una mayor demanda de gasto en transporte.
Las iniciativas adoptadas después de la crisis financiera mundial del año 2008 están empezando a promover la inversión en infraestructura. En la Unión Europea, el Plan Juncker – que se apoya en fondos de la UE para ayudar a financiar proyectos más arriesgados e innovadores – tiene como objetivo generar más de 300 mil millones de dólares en inversiones entre los años 2016 y 2018.
Y, existe un impulso aún mayor para la inversión en infraestructura en las economías emergentes – especialmente China, que está llevando a cabo proyectos tanto en su propio país, como en el extranjero. En los últimos años, China ha establecido instituciones financiadas con fondos nacionales, como el Fondo de la Ruta de la Seda, y ha alentado el establecimiento de nuevas instituciones financieras internacionales, como el Banco Asiático de Inversión en Infraestructura.
Cuando se aplica de buena forma, la inversión en infraestructura puede revivir las economías marginales y pagarse por sí sola, galvanizando la actividad del sector privado y fomentando el crecimiento económico. Pero, cuando se aplica de manera deficiente, el gasto en infraestructura pública puede conducir a la corrupción y al derroche, causando que los contribuyentes paguen facturas por "puentes que no llevan a ningún lugar". La inversión en infraestructura debidamente ejecutada implica algo más que financiar; también, requiere que todos los innumerables detalles relativos a la selección, diseño e implementación de un proyecto sean administrados muy de cerca.
Y en este punto, las claves del éxito no son sólo la habilidad profesional y la experiencia tecnocrática. También lo son la transparencia y una prensa libre. Los ciudadanos deben tener datos precisos sobre un proyecto, para que así puedan monitorear su progreso y presionar a los encargados de formular políticas para que protejan el interés público.
Introductory Offer: Save 30% on PS Digital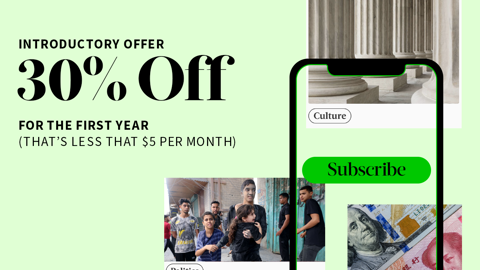 Introductory Offer: Save 30% on PS Digital
Subscribe now to gain greater access to Project Syndicate – including every commentary and our entire On Point suite of subscriber-exclusive content – starting at less than $5 per month.
En un libro recientemente publicado, Tomas Hellebrandt y mi persona proyectamos que el gasto de los consumidores en el transporte se cuadruplicará hasta el año 2035 en el África subsahariana, India, China y otros países asiáticos emergentes.
Las personas que ganan $200 por año gastan sólo el 1% de sus ingresos en transporte, en comparación con el 18% que gastan las personas cuyos ingresos son de $20.000 anuales. En las próximas dos décadas, el número de personas que ganen entre 6.000 y 20.000 dólares se incrementará en más de mil millones, y muchos de ellos comprarán su primer automóvil. Mientras tanto, el número de personas con ingresos anuales de $20.000 y más se incrementará en casi 800 millones, y muchos de ellos comenzarán a usar transporte aéreo por placer.
Las redes de transporte en las economías emergentes tendrán que expandirse vastamente para mantenerse al día con esta creciente demanda. Y, si bien las economías avanzadas ya tienen una extensa infraestructura de transporte y poblaciones estables en cuanto a su crecimiento, sus redes necesitan, urgentemente, reformas y reparaciones.
Los países emergentes podrán reunir suficiente financiación para la infraestructura sólo si amplían el papel del sector privado; los fondos de pensiones y las compañías de seguros de vida, en especial, podrían proporcionar una enorme cantidad de recursos. Pero, para sacar provecho de esta oportunidad, los requisitos prudenciales para dichos inversionistas deben aflojarse, para que puedan mantener carteras diversificadas de proyectos de infraestructura. Además, deberían establecerse plataformas de coinversión con bancos de desarrollo multilaterales y regionales, para aumentar la credibilidad de estas inversiones.
Para atraer a los inversores privados, los gobiernos deberán mantener un entorno regulador estable, que esté libre de interferencias arbitrarias. Al mismo tiempo, tendrán que monitorear y hacer públicas las obligaciones fiscales de los proyectos que involucran la participación privada, como lo que Chile hace actualmente de manera rutinaria. Esto ayudará a evitar que las garantías gubernamentales para las alianzas público-privadas impongan costos presupuestarios equivalentes a uno o más puntos del PIB, como ha ocurrido en Colombia, Indonesia y Portugal.
Los gobiernos tendrán que fomentar una cultura de transparencia para garantizar que la financiación se destine a un uso productivo – en lugar de que los fondos sean sustraídos ilícitamente o dirigidos hacia proyectos de bajo valor añadido con fines políticos. Las ofertas y las características clave del contrato deben ser publicadas de forma rutinaria, y se debe tener un buen control de calidad y un buen mantenimiento de registros durante todo el proceso de adquisición y desarrollo del contrato.
Para disuadir el fraude, los gobiernos deben recompensar a los denunciantes y protegerlos de represalias. Muchos de los países emergentes en los que la inversión es más necesaria deben reformar urgentemente su marco institucional para seleccionar e implementar proyectos de infraestructura. Pero la corrupción afecta a todos los países en cierta medida, por lo que los países avanzados también necesitan proteger los proyectos de infraestructura de la influencia privada indebida y la interferencia oficial arbitraria.
Impulsar con éxito la inversión en infraestructura en las economías emergentes es algo que interesa a todos. Y, con las economías emergentes ahora a la vanguardia de la lucha contra el cambio climático, el mundo se beneficiará aún más si las inversiones en estos países se dirigen hacia proyectos de infraestructura verde. La construcción de nuevas redes de metro-ferrocarril, en lugar de carreteras, sería de ayuda para reducir las emisiones de dióxido de carbono durante las décadas venideras.
Los países avanzados pueden ayudar en este esfuerzo apoyando la investigación y desarrollo de tecnología verde y proporcionando incentivos financieros para la inversión en infraestructuras amigables con el clima a través de agencias de crédito a la exportación y bancos de desarrollo, tanto multilaterales como regionales. Con un sistema de contratación internacional que sea transparente y abierto, se logrará que las tecnologías más eficientes encabecen las listas de los contratados.
La inversión en infraestructura es muy prometedora, pero para aprovechar sus beneficios, los encargados de formular políticas en las economías emergentes tendrán que fortalecer, más temprano que tarde, sus marcos institucionales de adquisiciones. Y, quienes formulan políticas en las economías avanzadas deben preservar y aplicar los ya bien conocidos controles y equilibrios, así como también mantener la igualdad de condiciones en el ámbito de selección de proyectos y permitir el monitoreo de la implementación desde principio a fin.
Las opiniones expresadas aquí son las del autor y no representan, necesariamente, las opiniones del Fondo Monetario Internacional, de su junta ejecutiva o de la gerencia del FMI.
Traducción del inglés: Rocío L. Barrientos