Construire des routes et des ponts exige transparence et équité
WASHINGTON, DC – Lors de la campagne présidentielle de novembre, Hillary Clinton et Donald Trump étaient d'accord sur un point : la dégradation des infrastructures nuit à l'économie américaine. C'est pourquoi ils appelaient tous deux à une augmentation des investissements destinés à leur rénovation. Maintenant que le gouvernement Trump prépare les grandes lignes de son premier budget, l'attention va se concentrer sur ce qu'il va faire dans ce domaine.
Les USA ne sont pas seuls à avoir des problèmes d'infrastructure. Leur insuffisance et leur dégradation sont encore plus criantes dans le reste du monde. D'autres pays avancés doivent eux aussi recommencer à investir dans les infrastructures, tandis que les pays émergents doivent se préparer à l'augmentation de leur population et de leur consommation et à la nécessité d'investir davantage dans les transports.
L'investissement dans les infrastructures commence à bénéficier de la politique adoptée après la crise financière mondiale de 2008. Dans l'Union européenne, le plan Juncker – qui cherche à réunir des fonds pour financer des projets plus risqués et plus innovants – vise à générer plus de 300 milliards de dollars d'investissement entre 2016 et 2018.
Les mesures en faveur de l'investissement dans les infrastructures des pays émergents sont d'encore plus grande ampleur – notamment en Chine qui développe des projets tant sur le plan intérieur qu'à l'étranger. Ces dernières années elle a créé des organismes de financement tels que le Fonds pour la route de la soie et suscité la création de nouvelles institutions financières comme la Banque asiatique d'investissement pour les infrastructures.
Bien conçu, l'investissement dans les infrastructures est rentable, car il permet de relancer des économies en difficulté en stimulant l'activité du secteur privé et en encourageant la croissance. Par contre, mal gérées, les dépenses destinées aux infrastructures publiques peuvent engendrer corruption et gaspillage - les contribuables financent alors "des ponts qui ne mènent nulle part". Pour qu'un investissement porte ses fruits, il faut qu'hormis son financement, toutes les autres étapes d'un projet, de sa sélection à sa conception et à sa mise en œuvre soient bien gérées.
Le succès d'un projet ne passe pas seulement par la compétence professionnelle et l'expertise technocratique. La transparence et la liberté de la presse sont aussi nécessaires. Pour qu'ils puissent suivre l'évolution d'un projet et exiger des responsables politiques qu'ils agissent en faveur de l'intérêt général, les citoyens doivent être bien informés.
Introductory Offer: Save 30% on PS Digital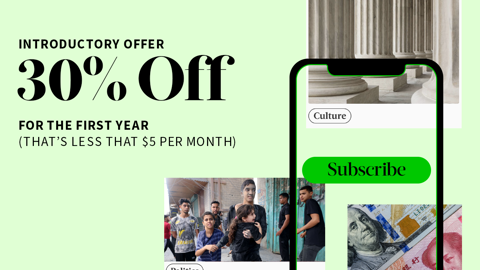 Introductory Offer: Save 30% on PS Digital
Subscribe now to gain greater access to Project Syndicate – including every commentary and our entire On Point suite of subscriber-exclusive content – starting at less than $5 per month.
Dans un nouveau livre, Tomas Hellebrandt et moi prévoyons que d'ici à 2035 les habitants de  l'Afrique sub-saharienne, de l'Inde, de la Chine et des autres pays émergents du continent asiatique devaient quadrupler leurs dépenses consacrées aux déplacements.
Les personnes qui gagnent 200 dollars par an ne consacrent que 1% de leur revenu à leurs déplacements, contre 18% pour celles qui gagnent 20000 dollars par an. Au cours des 20 prochaines années, le nombre de personnes dont le revenu est compris entre 6000 – 20000 dollars va augmenter de plus d'un milliard et beaucoup d'entre elles achèteront pour la première fois une voiture. Et le nombre de personnes qui ont un revenu annuel supérieur à 20000 dollars va augmenter de prés de 800 millions - et nombre d'entre elles prendront l'avion pour partir en vacances.
Les réseaux de transport des pays émergents devront s'étendre considérablement pour répondre à une demande croissante. Quant aux pays avancés, même si leur infrastructure de transport est considérable et la taille de leur population stable, elle a un besoin urgent de rénovation, sans parler des réparations nécessaires.
Les pays émergents ne pourront financer leurs infrastructures que s'ils accroissent le rôle du secteur privé. Les fonds d'assurance et les sociétés d'assurance notamment pourraient fournir une grande partie des sommes nécessaires. Mais pour profiter de cette opportunité, il faudrait relâcher les exigences prudentielles à leur égard, de manière à ce que leur portefeuille de projets d'investissement soit diversifié. Il faudrait aussi créer des plateforme de co-investissement avec des banques de développement multilatéral ou régional pour renforcer la crédibilité de ces investissements.
Pour attirer les investisseurs privés, les Etats doivent maintenir la stabilité de leur environnement réglementaire et s'abstenir de toute interférence de caractère arbitraire. Ils devraient aussi indiquer clairement et faire respecter les obligations fiscales liées aux projets qui comportent une participation privée - ce que le Chili fait maintenant couramment. Cela évitera que les garanties de l'Etat en faveur des partenariats public-privé n'aient un coût budgétaire pouvant atteindre un point de pourcentage de PIB ou même davantage, comme cela s'est produit en Colombie, en Indonésie et au Portugal.
Les Etats doivent favoriser une culture de transparence de manière à ce que les fonds mis à disposition ne soient pas détournés en toute illégalité ou orientés vers des projets à faible valeur ajoutée dans un objectif politicien. Les appels d'offre et les principaux contrats doivent être publiés et toutes les étapes du processus de passation des marchés et d'établissement du contrat d'objectifs doivent faire l'objet d'un contrôle de qualité et être soigneusement consignées.
Pour décourager la fraude, il faut récompenser les lanceurs d'alerte et les protéger de représailles éventuelles. Les pays émergents qui sont en manque d'investissement doivent réformer de toute urgence le cadre institutionnel de sélection et de mise en œuvre des projets d'infrastructure. Néanmoins tous les pays sont plus ou moins touchés par la corruption, aussi les pays avancés doivent-ils protéger leurs projets d'infrastructure de l'influence d'intérêts particuliers et de toute interférence arbitraire de l'Etat.
Il est dans l'intérêt de tous d'encourager l'investissement dans les infrastructures des pays émergents. Ces pays étant maintenant à l'avant-front du combat contre le réchauffement climatique, tout le monde sera gagnant si cet investissement est orienté vers des projets respectueux de l'environnement. Construire des lignes de métro ou de chemin de fer plutôt que des routes permettrait de réduire les émissions de dioxyde de carbone au cours des prochaines décennies.
Les pays avancés peuvent encourager cette évolution en favorisant la recherche et le développement de la technologie verte, ainsi qu'en incitant financièrement l'investissement dans des infrastructures vertes par l'intermédiaire d'agences de crédit à l'exportation et de banques de développement multilatéral et régional. Un système de passation des marchés ouvert et transparent au niveau international favoriserait les meilleures technologies.
L'investissement dans les infrastructures est très prometteur, mais pour en récolter les fruits, les dirigeants des pays émergents doivent renforcer au plus tôt le cadre institutionnel de passation des marchés publics. Et les dirigeants des pays avancés doivent veiller à ce que la sélection des projets se fasse de manière équitable et en toute transparence, et s'assurer du contrôle effectif de leur mise en œuvre du début à la fin.
Le point de vue exprimé dans cet article est celui de l'auteur. Il ne représente pas nécessairement celui du FMI, de son conseil d'administration ou de sa direction.
Traduit de l'anglais par Patrice Horovitz