Kontrolní mechanismy a pak silnice a mosty
WASHINGTON, DC – V prezidentských volbách v roce 2016 se Hillary Clintonová s Donaldem Trumpem shodli, že americká ekonomika trpí zanedbanou infrastrukturou, a oba vyzvali k vyšším investicím do renovace a zkvalitnění veřejného základního kapitálu země. Když nyní Trumpova administrativa připravuje svůj první rozpočtový náčrt, budou její iniciativy v této oblasti hlavním středem pozornosti.
Spojené státy nejsou osamocené. Ve zbytku světa jsou mezery v infrastruktuře ještě naléhavějším problémem. Také ostatní rozvinuté ekonomiky potřebují oživit skomírající investice a rozvíjející se ekonomiky se musí připravit na růst počtu obyvatel, vyšší spotřebu a vyšší poptávku po výdajích na dopravu.
Iniciativy zavedené po globální finanční krizi z roku 2008 začínají investice do infrastruktury podporovat. V Evropské unii si Junckerův plán – který čerpá fondy EU s cílem pomoci financovat riskantnější a inovativnější projekty – klade za cíl vygenerovat v letech 2016 až 2018 investice v hodnotě přes 300 miliard dolarů.
A ještě větší tlak na investice do infrastruktury existuje v rozvíjejících se ekonomikách – zejména v Číně, která podporuje projekty doma i v zahraničí. V posledních letech zakládá Čína instituce financované z domácích zdrojů, jako je Fond Hedvábné stezky, a podněcuje zřizování nových mezinárodních finančních institucí typu Asijské infrastrukturální investiční banky.
Při správném řízení mohou investice do infrastruktury rozproudit uvadající ekonomiky a zaplatit se samy, neboť vlévají novou energii do soukromého sektoru a podporují hospodářský růst. Při špatném řízení však mohou výdaje do veřejné infrastruktury vést ke korupci a plýtvání, kdy daňoví poplatníci platí účet za "mosty vedoucí nikam". Správně provedená infrastrukturální investice nezahrnuje pouze financování; vyžaduje také úzkostlivé řízení bezpočtu detailů, od volby projektu přes jeho koncepci až po implementaci.
Klíčem k úspěchu zde nejsou pouze profesionální dovednosti a technická expertíza. Je jím i průhlednost a svobodný tisk. Občané by měli znát přesná fakta o daném projektu, aby mohli sledovat jeho vývoj a vyvíjet na politiky tlak vedoucí k ochraně veřejného zájmu.
Subscribe to PS Digital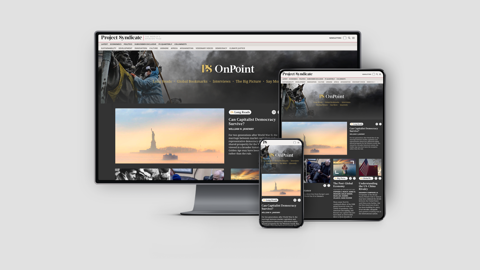 Subscribe to PS Digital
Access every new PS commentary, our entire On Point suite of subscriber-exclusive content – including Longer Reads, Insider Interviews, Big Picture/Big Question, and Say More – and the full PS archive.
V naší nové knize s Tomasem Hellebrandtem předpovídáme, že spotřebitelské výdaje na dopravu se v subsaharské Africe, Indii, Číně a dalších rozvíjejících se asijských zemích do roku 2035 zečtyřnásobí.
Lidé, kteří vydělávají 200 dolarů ročně, vydají na dopravu pouhé 1% příjmu, zatímco u lidí vydělávajících 20 000 dolarů ročně je to 18%. V příštích dvou desetiletích se počet osob v příjmovém rozmezí 6000-20 000 dolarů zvýší o více než miliardu a mnozí z nich si koupí své první auto. Počet osob s ročním příjmem 20 000 a více dolarů se současně zvedne o téměř 800 milionů a mnozí z nich začnou ve volném čase létat.
Dopravní sítě v rozvíjejících se ekonomikách se budou muset podstatně rozšířit, aby tuto rostoucí poptávku uspokojily. Rozvinuté ekonomiky už sice mají rozsáhlou dopravní infrastrukturu a stabilní počet obyvatel, avšak jejich sítě naléhavě potřebují renovaci a opravu.
Rozvíjející se země si dokážou zajistit dostatečné finance do infrastruktury pouze v případě, že zvýší roli soukromého sektoru; zejména penzijní fondy a firmy poskytující životní pojištění by mohly uvolnit obrovské prostředky. Abychom však této příležitosti využili, musíme uvolnit regulační požadavky pro tyto investory tak, aby směli držet diverzifikovaná portfolia infrastrukturálních projektů. Zároveň by se měly založit koinvestiční platformy s multilaterálními a regionálními rozvojovými bankami, které by zvýšily důvěryhodnost těchto investic.
Pro přilákání soukromých investorů bude zapotřebí, aby vlády udržovaly stabilní regulační prostředí prosté svévolných zásahů. Současně budou muset monitorovat a zveřejňovat fiskální závazky z projektů se soukromou účastí, podobně jako to dnes běžně dělá Chile. To pomůže zabránit situaci, kdy vládní garance za partnerství veřejného a soukromého sektoru zatíží státní rozpočet náklady rovnajícími se jednomu nebo i více procentům HDP, jak se to stalo v Kolumbii, Indonésii a Portugalsku.
Vlády budou muset pěstovat kulturu transparentnosti, aby zajistily, že se finance plodně využijí – místo aby byly vytunelovány nebo z politických důvodů vloženy do projektů s nízkou přidanou hodnotou. Veřejné zakázky a klíčové body smluv by se měly běžně zveřejňovat a během celého procesu výběrového řízení a smluvního plnění je nutné zajišťovat podrobnou dokumentaci a kontrolu kvality.
Aby se zabránilo podvodům, měly by vlády odměňovat whistleblowery a chránit je před pomstou. Mnohé rozvíjející se země, kde jsou investice nejpotřebnější, musí naléhavě reformovat institucionální rámec výběru a implementace infrastrukturálních projektů. Korupce však do jisté míry postihuje všechny státy, takže i rozvinuté země musí chránit infrastrukturální projekty před nepatřičnými soukromými vlivy a svévolnými zásahy oficiálních míst.
Úspěšné zvýšení investic do infrastruktury v rozvíjejících se ekonomikách je v zájmu všech. A protože dnes rozvíjející se ekonomiky stojí v popředí boje proti klimatickým změnám, prospěje světu ještě více, pokud budou investice v těchto zemích nasměrovány do projektů zelené infrastruktury. Vybudování nových sítí metra namísto silnic by přispělo ke snížení emisí oxidu uhličitého na několik desítek let.
Rozvinuté země mohou napomoci tomuto úsilí tím, že podpoří výzkum a vývoj zelených technologií a poskytnou finanční pobídky klimaticky příznivým infrastrukturálním investicím prostřednictvím exportních úvěrových agentur a multilaterálních i regionálních rozvojových bank. Bude-li systém mezinárodních zakázek otevřený a průhledný, pak se nejefektivnější technologie dostanou na první místo.
Investice do infrastruktury jsou velkým příslibem, ale chtějí-li politici v rozvíjejících se ekonomikách plně využít jejich přínosu, musí co nejdříve posílit institucionální rámce pro řízení vládních zakázek. Politici v rozvinutých ekonomikách by zase měli zachovávat a aplikovat dobře známé kontrolní a vyvažovací mechanismy, aby při volbě projektů zajistili rovné podmínky pro všechny a umožnili monitorování jejich realizace od začátku až do konce.
Tento článek obsahuje osobní názory autora, které se nemusí nutně shodovat s názory MMF, jeho výkonné rady nebo managementu.
Z angličtiny přeložil Jiří Kobělka.