Zielona Energia to Pierwsze Domino
SHARM EL-SHEIKH – Podczas gdy światowi przywódcy zbierają się na Konferencji Narodów Zjednoczonych w sprawie Zmian Klimatu (COP27), wszyscy zdają sobie sprawę z tego, że potrzebujemy odważniejszych działań, aby zapobiec katastrofie. ONZ ostrzega, że globalne wysiłki na rzecz ograniczenia emisji gazów cieplarnianych (GHG) są niewystarczające, aby ograniczyć wzrost temperatury do 1,5° Celsjusza w stosunku do poziomu sprzed epoki przemysłowej.
Dla osiągnięcia tego celu kluczowe znaczenie ma dekarbonizacja sektora energetycznego. Energia elektryczna odpowiada za około 25% światowych emisji gazów cieplarnianych i będzie odgrywać kluczową rolę w dekarbonizacji innych sektorów, takich jak budynki, transport i produkcja. Wyzwaniem jest więc osiągnięcie "energii wolnej od dwutlenku węgla przez całą dobę" (24/7 CFE): całkowite wyeliminowanie dwutlenku węgla z sektora energetycznego - o każdej godzinie każdego dnia, w każdej sieci na całym świecie.
Badania przeprowadzone w Stanach Zjednoczonych i Europie wykazały, że strategie CFE 24/7 mają większy wpływ na dekarbonizację systemów elektroenergetycznych niż obecna praktyka zakupu energii elektrycznej ze źródeł odnawialnych w celu dopasowania do rocznych wzorców zużycia. Ostatnie modelowanie przeprowadzone przez Międzynarodową Agencję Energii dla Indii i Indonezji pokazuje, że strategie dopasowania godzinowego prowadzą do bardziej zróżnicowanych portfolii technologicznych, obejmujących czyste, dyspozycyjne wytwarzanie i przechowywanie energii elektrycznej, które są niezbędne do przejścia na zerowy poziom netto w sektorze energetycznym. Co ważne, podejście to pomaga systemom elektroenergetycznym w odchodzeniu od paliw kopalnych poprzez przyspieszenie wykorzystania pełnego zestawu bezemisyjnych technologii niezbędnych do zapewnienia całodobowej czystej energii.
Dekarbonizacja systemów energetycznych na całym świecie jest możliwa, ale będzie wymagała zbiorowego działania w celu przyspieszenia rozwoju i wdrożenia zaawansowanych technologii czystej energii. Nowe inwestycje, wspierająca polityka publiczna i partnerstwo pomiędzy zainteresowanymi stronami są częścią rozwiązania. Dlatego też ONZ, Sustainable Energy for All (SEforALL), Google oraz zróżnicowana grupa sygnatariuszy uruchomiła w 2021 roku 24/7 CFE Compact. Porozumienie to reprezentuje rosnącą globalną społeczność interesariuszy, którzy zobowiązali się do zapewnienia wsparcia, narzędzi i partnerstwa niezbędnego do tego, aby 24/7 CFE stało się wszędzie rzeczywistością.
Wśród najnowszych podmiotów, które dołączyły do 24/7 CFE Compact jest rząd Szkocji. "Szkocja była pierwszym krajem w Zjednoczonym Królestwie, który ogłosił stan zagrożenia klimatycznego, a w rzeczywistości jednym z pierwszych na świecie, który uznał znaczenie podjęcia natychmiastowych i odważnych działań" - zauważa szkocka pierwsza minister Nicola Sturgeon. "Rządy muszą wziąć na siebie odpowiedzialność za ograniczenie globalnego wzrostu temperatury do 1,5°C. Jesteśmy zobowiązani do postawienia odpowiedzialności w centrum wszystkiego, co robimy. Nasze stanowisko jest jasne, że nieograniczone wydobycie paliw kopalnych nie jest zgodne z naszymi zobowiązaniami klimatycznymi."
Podobnie w zeszłym miesiącu Google i C40, sieć prawie 100 miast, uruchomiły pierwszy w swoim rodzaju program 24/7 CFE skupiający się na regionalnych sieciach energetycznych. Ponieważ obszary miejskie zamieszkuje ponad połowa ludności świata i emitują one ponad 70% globalnej emisji dwutlenku węgla, miasta mają do odegrania kluczową rolę w napędzaniu zmian niezbędnych do rozwiązania kryzysu klimatycznego.
Subscribe to PS Digital Now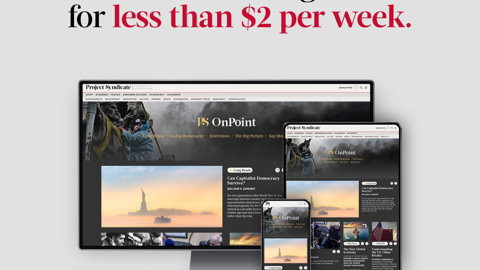 Subscribe to PS Digital Now
Access every new PS commentary, our entire On Point suite of subscriber-exclusive content – including Longer Reads, Insider Interviews, Big Picture/Big Question, and Say More – and the full PS archive.
Gospodarki rozwijające się i wschodzące będą potrzebowały więcej energii, aby wypełnić luki w dostępie do energii oraz wesprzeć wzrost gospodarczy i rozwój. Jednak wraz z rozwojem mocy produkcyjnych, musi ona być czysta. Podejście 24/7 CFE może służyć obu celom, zapewniając zarówno większy dostęp, jak i czystszą energię. Dlatego też musimy działać szybciej, aby 24/7 CFE stało się tańsze i bardziej dostępne na całym świecie. Według najnowszych danych od IEA, liczba osób żyjących bez energii elektrycznej wzrośnie o prawie 20 milionów w 2022 roku, osiągając prawie 775 milionów. Większość tego wzrostu będzie miała miejsce w Afryce Subsaharyjskiej, gdzie wielkość kohorty pozbawionej dostępu do energii elektrycznej niemal wróciła do szczytowego poziomu z 2013 roku.
Świat nie może osiągnąć zerowej emisji netto bez uprzedniego zapewnienia powszechnego dostępu do energii elektrycznej. Będzie to wymagało rocznych inwestycji w wysokości co najmniej 30 miliardów dolarów - z czego dwie trzecie będzie musiało trafić do Afryki Subsaharyjskiej - od teraz do 2030 roku. Na szczęście, 24/7 CFE jest nie tylko moralnym imperatywem, ale również stanowi najbardziej opłacalną opcję podłączenia populacji o niedostatecznym zasięgu.
W przeciwnym razie wiele z tych społeczeństw będzie nadal polegać na brudnych źródłach energii. Na przykład małe rozwijające się państwa wyspiarskie, takie jak Nauru, Palau, Bahamy oraz Trynidad i Tobago, posiadają sieci energetyczne w znacznym stopniu uzależnione od nieefektywnych, wysokoemisyjnych technologii, takich jak generatory diesla. Doświadczenia tych krajów pokazują, dlaczego 24/7 CFE nie może być postrzegane jedynie jako kwestia europejska lub północnoamerykańska. Jest to kwestia globalna, która staje się coraz bardziej pilna dla krajów rozwijających się, znajdujących się na pierwszej linii frontu zmian klimatycznych.
Wdrożenie strategii 24/7 CFE w skali globalnej będzie wymagało nie tylko finansowania, ale również działań mających na celu zwiększenie skali wdrażania zaawansowanych technologii, stworzenie korzystniejszych warunków rynkowych oraz wymianę najlepszych praktyk i danych. Jeśli uda nam się w pełni zdekarbonizować nasze sieci, reszta zielonej transformacji powinna stać się tańsza i łatwiejsza.
Inicjatywa 24/7 CFE Compact daje możliwość wprowadzenia tak potrzebnych zmian w polityce, inwestycji i badań w tej kluczowej, kolejnej fazie działań na rzecz klimatu. Zapraszamy wszystkie rządy, firmy i organizacje do przyłączenia się do nas i pomocy w wytyczeniu bardziej zrównoważonej ścieżki w kierunku przyszłości z zerowym netto.
Z angielskiego przetłumaczyła Marz McNamer