Groene stroom is de eerste dominosteen
SHARM EL-SHEIKH – Nu de wereldleiders bijeen zijn op de conferentie van de Verenigde Naties over klimaatverandering (COP27), is het voor iedereen duidelijk dat er doortastender moet worden opgetreden om een ramp af te wenden. De VN waarschuwt dat de wereldwijde inspanningen om de uitstoot van broeikasgassen te verminderen ontoereikend blijven om de temperatuurstijging te beperken tot 1,5° Celsius ten opzichte van het pre-industriële niveau.
Om dat doel te bereiken is het van cruciaal belang dat de energiesector koolstofvrij wordt gemaakt. Elektriciteit is verantwoordelijk voor ongeveer 25 procent van de wereldwijde broeikasgasemissies, en zal ook een cruciale rol spelen bij het koolstofvrij maken van andere sectoren van de economie, zoals gebouwen, vervoer en productie. De uitdaging is dus om ʻ24/7 koolstofvrije energie' (24/7 CFE) te bereiken: de totale eliminatie van koolstof uit de elektriciteitssector – op elk uur van elke dag, in elk netwerk over de hele wereld.
Uit onderzoek in de Verenigde Staten en Europa is gebleken dat 24/7 CFE-strategieën een grotere impact hebben op het koolstofvrij maken van elektriciteitssystemen dan de huidige praktijk om elektriciteit uit hernieuwbare bronnen te kopen, in overeenstemming met de jaarlijkse verbruikspatronen. Uit recente modellen van het Internationale Energieagentschap voor India en Indonesië blijkt dat matchingstrategieën per uur leiden tot meer diverse technologieportfolio's, met de schone, regelbare opwekking en opslag die nodig zijn voor een netto-nultransitie in de elektriciteitssector. Van cruciaal belang is dat deze aanpak elektriciteitssystemen helpt om af te stappen van fossiele brandstoffen door de invoering te versnellen van het volledige pakket koolstofvrije technologieën dat nodig is om 24 uur per dag schone stroom te leveren.
Het koolstofvrij maken van energiesystemen wereldwijd is mogelijk, maar vereist collectieve actie om de ontwikkeling en invoering van geavanceerde schone-energietechnologieën te versnellen. Nieuwe investeringen, ondersteunend overheidsbeleid en partnerschappen tussen belanghebbenden maken allemaal deel uit van de oplossing. Daarom hebben de VN, Sustainable Energy for All (SEforALL), Google en een diverse groep ondertekenaars in 2021 het 24/7 CFE Compactgelanceerd. Het Compact vertegenwoordigt een groeiende wereldwijde gemeenschap van belanghebbenden die zich inzetten voor het voorzien in de instrumenten en partnerschappen die nodig zijn om 24/7 CFE overal werkelijkheid te laten worden.
Een van de meest recente toetreders tot het 24/7 CFE Compact is de Schotse regering. ʻSchotland was het eerste land in het Verenigd Koninkrijk dat een klimaatnoodtoestand afkondigde, en zelfs een van de eerste ter wereld die het belang inzag van onmiddellijke en doortastende maatregelen,' aldus de Schotse premier Nicola Sturgeon. ʻRegeringen moeten zichzelf ter verantwoording roepen om de wereldwijde temperatuurstijging te beperken tot 1,5°C. Bij alles wat we doen, willen we verantwoording afleggen. Ons standpunt is duidelijk: onbeperkte winning van fossiele brandstoffen strookt niet met onze klimaatverplichtingen.'
Vorige maand nog lanceerden Google en C40, een netwerk van bijna honderd steden, een uniek 24/7 CFE-programma voor regionale elektriciteitsnetten. Stedelijke gebieden zijn goed voor meer dan de helft van de wereldbevolking en voor ruim zeventig procent van de wereldwijde kooldioxide-uitstoot. Steden spelen dus een cruciale rol bij het doorvoeren van de veranderingen die nodig zijn om de klimaatcrisis aan te pakken.
Subscribe to PS Digital Now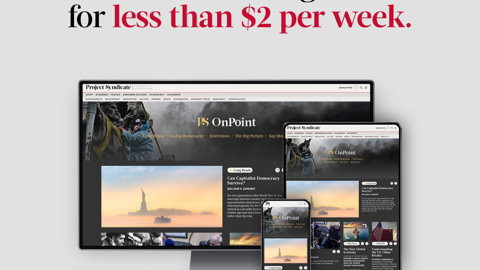 Subscribe to PS Digital Now
Access every new PS commentary, our entire On Point suite of subscriber-exclusive content – including Longer Reads, Insider Interviews, Big Picture/Big Question, and Say More – and the full PS archive.
Ontwikkelingslanden en opkomende economieën zullen meer energie nodig hebben om de gaten in de toegang tot energie te dichten en de economische groei en ontwikkeling te ondersteunen. Maar naarmate de capaciteit toeneemt, moet deze energie ook schoon zijn. Een 24/7 CFE-aanpak kan beide doelen dienen, door zowel meer toegang als schonere energie te bieden. Daarom moeten we sneller handelen om 24/7 CFE wereldwijd goedkoper en toegankelijker te maken. Volgens de laatste gegevens van het IEA zal het aantal mensen dat zonder elektriciteit leeft in 2022 met bijna twintig miljoen toenemen tot bijna 775 miljoen. Het grootste deel van die toename zal plaatsvinden in Afrika bezuiden de Sahara, waar de omvang van het cohort dat geen toegang heeft tot elektriciteit bijna weer zijn piek van 2013 heeft bereikt.
De wereld kan geen netto-nul-uitstoot verwezenlijken zonder eerst te zorgen voor universele toegang tot elektriciteit. Dat vergt tussen nu en 2030 jaarlijkse investeringen van minstens dertig miljard dollar, waarvan tweederde naar Afrika bezuiden de Sahara moet gaan. Gelukkig is 24/7 CFE niet alleen een morele verplichting, maar ook de meest kosteneffectieve optie om onderbedeelde bevolkingsgroepen aan te sluiten.
Veel van deze bevolkingsgroepen zullen anders afhankelijk blijven van vuilere energiebronnen. Kleine eilandstaten in ontwikkeling zoals Nauru, Palau, de Bahama's en Trinidad en Tobago hebben bijvoorbeeld allemaal een elektriciteitsnet dat sterk afhankelijk is van inefficiënte, koolstofintensieve technologieën zoals dieselgeneratoren. De ervaring van deze landen toont aan waarom 24/7 CFE niet alleen als een Europese of Noord-Amerikaanse aangelegenheid moet worden gezien. Het is een wereldwijde kwestie, die steeds dringender wordt voor ontwikkelingslanden die zich in de frontlinie van de klimaatverandering bevinden.
Voor de wereldwijde uitvoering van 24/7 CFE-strategieën zijn niet alleen financiële middelen nodig, maar ook maatregelen om de toepassing van geavanceerde technologieën op te schalen, gunstiger marktvoorwaarden te creëren en beste praktijken en gegevens te delen. Als we onze netwerken volledig koolstofvrij kunnen maken, moet de rest van de groene transitie goedkoper en makkelijker worden.
Het 24/7 CFE Compact biedt een kans om de broodnodige beleidsveranderingen, investeringen en onderzoeken in deze cruciale volgende fase van de klimaatactie te stimuleren. Wij nodigen alle regeringen, bedrijven en organisaties uit om zich bij ons aan te sluiten en mee te helpen een duurzamer pad uit te stippelen naar een netto-nul-toekomst.
Vertaling: Menno Grootveld