Dekarbonizacja to teraz strategiczna konieczność
BRUKSELA – Inwazja Rosji na Ukrainę zmusza Unię Europejską do zwiększenia tempa naszej polityki energetycznej i klimatycznej. Skoro Kreml coraz częściej używa energii jako narzędzia wpływu politycznego, musimy pozbawić go tego wpływu, radykalnie zmniejszając naszą zależność od importu paliw kopalnych z Rosji.
Takie działanie ma nie tylko uzasadnienie geopolityczne, ale jest również konieczne dla przeciwdziałania zmianie klimatu. Z najnowszego raportu Międzyrządowego Zespołu ds. Zmian Klimatu na temat łagodzenia zmiany klimatu jasno wynika, jak pilne jest to zadanie. Jeśli mamy uniknąć katastrofalnego wzrostu temperatury na świecie, to łączne emisje gazów cieplarnianych muszą przestać rosnąć do 2025 r. Ponadto przestawienie całej gospodarki na czystą energię należy przeprowadzić z rozwagą, biorąc pod uwagę nieuniknione skutki społeczne i gospodarcze – musi to być "sprawiedliwa transformacja".
UE i Europejski Bank Inwestycyjny (EBI) mają w tej transformacji kluczową rolę do odegrania. Ważnym narzędziem, jakim możemy odpowiedzieć na agresję Rosji i pomóc w ocaleniu planety, zmniejszając zależność od paliw kopalnych, jest inwestowanie w odnawialne źródła energii, efektywność energetyczną i innowacyjne technologie, takie jak ekologiczny wodór. Każde euro, które wydamy na transformację energetyczną w UE, to euro, które dzięki temu nie trafi do rąk autorytarnego mocarstwa, wszczynającego wojnę napastniczą. Każde euro wydane na czystą energię zwiększa naszą swobodę podejmowania decyzji. Każde euro, które wydamy, aby pomóc naszym międzynarodowym partnerom w szybszym realizowaniu ich strategii dekarbonizacji, to inwestycja w odporność i walkę ze zmianą klimatu.
Od czasu inwazji Rosji 24 lutego UE przyspiesza swoje plany transformacji energetycznej, aby jak najszybciej uniezależnić Europę od importu rosyjskich paliw kopalnych. Zmiany tej nie da się dokonać z dnia na dzień, ale obecnie mamy do tego silniejszą motywację niż kiedykolwiek. Niezależność energetyczną możemy osiągnąć dzięki poprawie efektywności energetycznej, dywersyfikacji dostaw i większemu korzystaniu ze źródeł odnawialnych. Proces ten wymaga mobilizacji na wszystkich szczeblach – od organów ponadnarodowych po gospodarstwa domowe i poszczególne osoby.
Trzeba mieć na uwadze dwa istotne zastrzeżenia. Po pierwsze, poszukując alternatywnych dostawców gazu ziemnego – choć w perspektywie krótkoterminowej jest to niezbędne – nie możemy uwikłać się w nową długotrwałą zależność od paliw kopalnych pociągającą za sobą duże inwestycje w infrastrukturę. Byłoby to kosztowne, katastrofalne dla naszej planety, a w ostatecznym rozrachunku – zbędne, skoro dostępne są inne opcje, bardziej przyjazne dla klimatu.
Po drugie nie możemy dopuścić do tego, aby jedno uzależnienie – od wąskiego źródła dostaw paliw kopalnych – zostało zastąpione innym: uzależnieniem od surowców niezbędnych do transformacji ekologicznej. Przeważająca część tych zasobów znajduje się w zaledwie kilku krajach, z których nie wszystkie podzielają wartości i interesy UE. Umocnienie strategicznej autonomii i odporności UE musi pozostać jednym z głównych celów transformacji.
Subscribe to PS Digital Now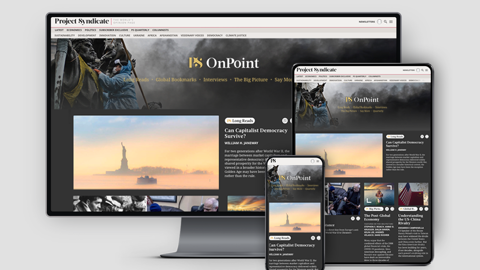 Subscribe to PS Digital Now
Access every new PS commentary, our entire On Point suite of subscriber-exclusive content – including Longer Reads, Insider Interviews, Big Picture/Big Question, and Say More – and the full PS archive.
Europa nie dokona tego samodzielnie. Zwycięstwo w walce ze zmianą klimatu i stawienie czoła rosyjskiej agresji to wyzwania globalne, a więc wymagają globalnej reakcji. W obliczu wojny rozpętanej przez prezydenta Rosji Władimira Putina wszystkie kraje mają silniejsze uzasadnienie strategiczne, aby ograniczyć import paliw kopalnych i inwestować więcej w rozwiązania energetyczne przyjazne dla klimatu.
Dlatego też UE aktywnie angażuje się w dyplomację klimatyczną. Chcemy zachęcić innych do ambitniejszego działania na rzecz klimatu i przeznaczamy znaczne zasoby na współpracę z krajami partnerskimi, aby i one mogły osiągnąć odporną gospodarkę o zerowej emisji netto. Za pośrednictwem Europejskiego Zielonego Ładu i nowej inicjatywy Unii Europejskiej "Global Gateway" instytucje UE i państwa członkowskie uruchamiają inwestycje w zieloną i cyfrową infrastrukturę o wartości do 300 mld euro (325 mld dolarów), aby przeciwdziałać kryzysom klimatycznym, energetycznym i w zakresie bioróżnorodności.
Ponadto EBI zobowiązał się, że do 2030 r. wesprze inwestycje o wartości 1 bln euro w działania na rzecz klimatu i w zrównoważenie środowiskowe. Za pośrednictwem swojego nowego oddziału ds. rozwoju – EBI Global – bank współpracuje z partnerami na całym świecie w celu pozyskania finansowania projektów na rzecz efektywności energetycznej, odnawialnych źródeł energii i sieci elektroenergetycznych.
Wsparcie EBI na rzecz świata czystej energii, świadczone w ramach wspólnych unijnych działań "Drużyny Europy", przybiera rozmaite postaci – od inwestowania w energię słoneczną w Senegalu po finansowanie bardziej energooszczędnych przedszkoli w Armenii. Bank pomógł również w zawiązaniu partnerstwa na rzecz sprawiedliwej transformacji energetycznej z Republiką Południowej Afryki, zapewnił pomoc dla Międzynarodowego Sojuszu Solarnego z siedzibą w Indiach, który wspiera rozwój energii słonecznej w 105 krajach tropikalnych, a także wniósł wkład w zintegrowany system gospodarki wodnej i zapobiegania powodziom w Argentynie.
UE jest gotowa wspierać społeczność światową w uniezależnianiu się od paliw kopalnych. Wojna Rosji przeciwko Ukrainie to nie powód, aby odwlekać inwestycje w działania na rzecz klimatu. Przeciwnie – to właśnie zwiększenie ekologicznych inwestycji zapewni nam większą strategiczną autonomię. Dekarbonizacja stała się strategiczną koniecznością. Wzywamy naszych światowych partnerów – zarówno rządy, jak i wszystkie międzynarodowe instytucje finansowe – do tego, aby razem przyspieszyć finansowanie czystej energii. Dążąc do neutralności klimatycznej, możemy osiągnąć również bezpieczeństwo energetyczne.