Greenwashing von Gewaltherrschaft auf der COP27
HEIDELBERG - Der ägyptische Präsident Abdel Fattah el-Sisi nutzt die Klimakonferenz der Vereinten Nationen (UNFCCC COP27), die diese Woche in Sharm El-Sheikh begonnen hat, um Ägypten als weltweit führenden Akteur in Sachen Nachhaltigkeit zu positionieren und verschiedene Umweltinitiativen anzupreisen. Das autokratische Regime macht sich die Gelegenheit zunutze, um seine schlechte Menschenrechtsbilanz und repressiven Maßnahmen zu verschleiern.
Der ägyptische Außenminister Sameh Shoukry, der auch designierter Präsident der COP27 ist, betonte kürzlich die Bedeutung der Zivilgesellschaft, wenn es darum geht, "Unternehmen und Regierungen zur Rechenschaft zu ziehen, Greenwashing zu verhindern und einen gerechten Übergang" zu erneuerbaren Energien zu gewährleisten. Doch was Ägypten selbst betrifft, ist das nichts weiter als Propaganda. In der Realität ist die Zivilgesellschaft des Landes mit einem beispiellosen Angriff durch die Regierung konfrontiert.
Seit der Machtübernahme el-Sisis im Jahr 2014, die einem Militärputsch im Jahr zuvor folgte, hat sich sein Regime grundlegende Elemente der Staatsführung - politische Parteien, Parlament und Verfassung – rücksichtslos eingeschränkt. Das Regime verfolgt Aktivist*innen, bezeichnet Oppositionsgruppen als terroristische Organisationen und stützt sich zur Konsolidierung seiner Macht auf den militärischen Geheimdienst und andere Organe der nationalen Sicherheit, die von Familienangehörigen des Präsidenten geleitet werden. Zivilgesellschaftliche Organisationen werden durch drakonische Gesetze gelähmt, die es ihnen verbieten, sich für öffentliche Belange zu engagieren.
Nach Angaben von Human Rights Watch hat die Regierung das Vermögen von sieben prominenten Menschenrechtsorganisationen eingefroren und viele andere zur Schließung gezwungen. Darüber hinaus haben die Behörden mehr als 2.000 Wohltätigkeitsorganisationen aufgelöst, ihr Vermögen wegen angeblicher Verbindungen zur inzwischen verbotenen Muslimbruderschaft beschlagnahmt und das harte Vorgehen auch auf Umweltaktivist*innen ausgedehnt. Diese unaufhörliche Attacke auf Nichtregierungsorganisationen und ihre Mitarbeitenden hat eine einst lebendige öffentliche Sphäre – selbst noch während der dreißigjährigen Diktatur von Hosni Mubarak – stark geschrumpft.
El-Sisi hält die Macht eisern fest, indem er den ägyptischen Sicherheitsapparat kontrolliert. Im Jahr 2018 ernannte er seinen damaligen Stabschef Abbas Kamel zum Leiter des Allgemeinen Geheimdienstes (GIS) Ägyptens und machte seinen Sohn Mahmoud zum stellvertretenden Leiter des GIS. Seitdem kontrolliert der Geheimdienst hinter den Kulissen wichtige Institutionen. Er hat private Medienunternehmen übernommen, sie unter dem Dach der "United Media Services" zusammengeführt und in Propagandasender verwandelt, die el-Sisi als Ägyptens "Beschützer" verherrlichen und die Bevölkerung dazu aufrufen, el-Sisis "Krieg gegen den Terror" auf der Sinai-Halbinsel zu unterstützen.
Vorrangiges Ziel der GIS war stets, jegliche Anzeichen von Unruhen oder Volksaufständen zu unterdrücken. Zu diesem Zweck führte das Regime zwei wichtige Reformen durch. Im November 2013 erließ es das Protestgesetz, das  Organisator*innen verpflichtet, ihre Absicht zu protestieren im Voraus anzumelden, nicht genehmigte Versammlungen von mehr als zehn Personen verbietet, mögliche Orte für Proteste einschränkt und bei Zuwiderhandlung Gefängnisstrafen von bis zu fünf Jahren vorsieht. Die Teilnahme an friedlichen Demonstrationen kann mit einer Geldstrafe von bis zu 100.000 ägyptischen Pfund (ca. 4.000 Euro) bestraft werden. Zwei Jahre später, im August 2015, erließ das Regime ein Anti-Terror-Gesetz, in dem vage definiert wird, was unter terroristischen "Einheiten" zu verstehen ist, und das die Verbreitung "falscher" Berichte über Terroranschläge unter Strafe stellt - nämlich alle Informationen, die nicht von der Regierung veröffentlicht werden.
Subscribe to PS Digital Now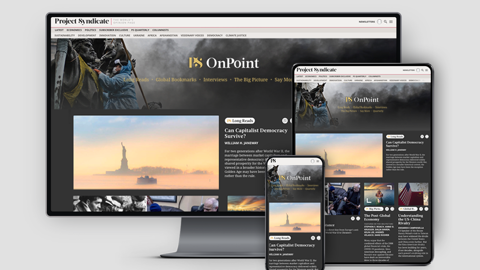 Subscribe to PS Digital Now
Access every new PS commentary, our entire On Point suite of subscriber-exclusive content – including Longer Reads, Insider Interviews, Big Picture/Big Question, and Say More – and the full PS archive.
Darüber hinaus hat das Regime vor allem in Kairo Bäume abgeholzt und Grünflächen zerstört, angeblich, um neue Straßen und Brücken als Teil einer neuen Stadtentwicklungsinitiative zu bauen. In Wirklichkeit ist das Ziel der Landschaftsgestaltungsprojekte des Regimes, den öffentlichen Raum für jede politische Versammlung, die sich zu einem spontanen Massenaufstand entwickeln könnte, ungeeignet zu machen.
Das GIS kontrolliert de facto jedes politische Ereignis in Ägypten, von Parlamentswahlen und Verfassungsreferenden bis hin zur Verabschiedung neuer Gesetze. Es ist auch das Gremium, das die COP27 beaufsichtigt. Durch das direkte Management der Konferenzregistrierung konnte der ägyptische Geheimdienst kritische Stimmen ausschließen und dafür sorgen, dass sich nur regierungsnahe NRO registrieren konnten. Berichten zufolge haben die Sicherheitskräfte Dutzende von Aktivist*innen verhaftet - darunter einen indischen Aktivisten, der einen Marsch von Kairo nach Sharm El-Sheikh anführte, um auf den Klimawandel aufmerksam zu machen -, um jeden Versuch zu vereiteln, während des zweiwöchigen Treffens Proteste zu veranstalten.
Mehr als elf Jahre nach dem Aufstand auf dem Tahrir-Platz, der Mubaraks Regime stürzte, und acht Jahre nach dem Militärputsch, der die Muslimbruderschaft entmachtete, hat el-Sisi seine Macht in Ägypten gefestigt. Doch seine Taktik hat die Kluft zwischen den rivalisierenden Fraktionen des Landes vertieft und die politische Instabilität verschärft.
Die in Sharm El-Sheikh versammelten Staats- und Regierungschefs, dürfen die Brutalität des el-Sisi-Regimes nicht aus den Augen verlieren. Eine Diktatur, die politisch am Rande des Abgrunds steht, ist kaum ein geeigneter Ort für die COP27 - oder jede andere Versammlung mit dem erklärten Ziel, die Zukunft der Menschheit zu verbessern.