Het greenwashen van tirannie tijdens COP27
HEIDELBERG – De Egyptische president Abdel Fattah el-Sisi heeft geprobeerd de conferentie van de Verenigde Naties over klimaatverandering (COP27), die deze week in Sharm El-Sheikh van start is gegaan, aan te grijpen om Egypte te positioneren als wereldleider op het gebied van duurzaamheid, door verschillende milieu-initiatieven aan te prijzen. En om de gelegenheid optimaal te benutten, heeft zijn autocratische regime de bijeenkomst aangegrepen om zijn slechte staat van dienst op het gebied van de mensenrechten en zijn repressieve tactieken te greenwashen.
De Egyptische minister van Buitenlandse Zaken, Sameh Shoukry, die tevens COP27-voorzitter is, benadrukte onlangs het belang van het maatschappelijk middenveld om ʻbedrijven en overheden ter verantwoording te roepen, te waken tegen greenwashing en te zorgen voor een rechtvaardige transitie' naar hernieuwbare energie. Maar wat Egypte zelf betreft, is dat niet meer dan propaganda. In werkelijkheid worden de maatschappelijke organisaties in het land geconfronteerd met een ongekend hard optreden van de regering.
Sinds el-Sisi in 2014 de macht greep na een militaire staatsgreep het jaar daarvoor, heeft zijn regime de basiscomponenten van een fatsoenlijk bestuur, zoals politieke partijen, het parlement en de grondwet, met voeten getreden. Het regime heeft activisten vervolgd, oppositiegroepen als terroristische organisaties bestempeld en vertrouwd op de militaire inlichtingendienst en andere nationale veiligheidsinstanties – onder leiding van leden van el-Sisi's eigen familie – om de macht te consolideren. Maatschappelijke organisaties zijn verlamd door draconische wetten die NGO's verbieden zich met publieke zaken bezig te houden.
Volgens Human Rights Watch hebben de autoriteiten de tegoeden van zeven prominente mensenrechtenorganisaties bevroren en vele andere gedwongen te sluiten. Ambtenaren hebben ook ruim tweeduizend liefdadigheidsinstellingen ontbonden, hun activa in beslag genomen wegens vermeende banden met de nu verboden Moslimbroederschap en het optreden uitgebreid tot milieuactivisten. Deze onophoudelijke aanval op NGO's en hun medewerkers heeft een ernstige inkrimping veroorzaakt van wat ooit een levendige publieke ruimte was, zelfs tijdens de drie decennia van de dictatuur van Hosni Mubarak.
El-Sisi behoudt een ijzeren greep op de macht door het veiligheidsapparaat van Egypte te controleren. In 2018 benoemde hij zijn toenmalige stafchef Abbas Kamel tot hoofd van de Algemene Inlichtingendienst van Egypte (GIS) en maakte hij zijn zoon Mahmoud tot plaatsvervangend hoofd van de GIS. Sindsdien controleert de inlichtingendienst belangrijke instellingen achter de schermen. De dienst heeft particuliere mediabedrijven overgenomen, ze samengevoegd onder de holding United Media Services, en ze veranderd in propagandakanalen die el-Sisi verheerlijken als de ʻhoeder' van Egypte en de Egyptenaren oproepen de ʻoorlog tegen de terreur' van hun leider in de Sinaï te steunen.
Het hoofddoel van de GIS is altijd geweest om elke zweem van burgerlijke onrust of volksopstand de kop in te drukken. Daartoe heeft het regime twee grote hervormingen doorgevoerd. In november 2013 werd de protestwet aangenomen, die organisatoren verplicht vooraf hun voornemen tot betogingen aan te kondigen, ongeoorloofde bijeenkomsten van meer dan tien personen verbiedt, beperkingen oplegt aan de plaatsen waar protesten kunnen plaatsvinden en voorziet in straffen tot vijf jaar gevangenisstraf. Op deelname aan vreedzame demonstraties staat ook een boete van maximaal honderdduizend Egyptische pond (4.100 dollar). Twee jaar later, in augustus 2015, vaardigde het regime een antiterrorismewet uit die vaag definieert wat terroristische ʻentiteiten' zijn en een bepaling bevat die de verspreiding van ʻvalse' verslagen over terroristische aanslagen strafbaar stelt – dat wil zeggen alle informatie die niet door de regering is vrijgegeven.
Subscribe to PS Digital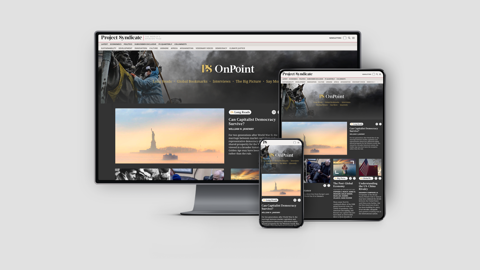 Subscribe to PS Digital
Access every new PS commentary, our entire On Point suite of subscriber-exclusive content – including Longer Reads, Insider Interviews, Big Picture/Big Question, and Say More – and the full PS archive.
Bovendien heeft het regime bomen gerooid en groenvoorzieningen vernield, met name in Caïro, zogenaamd om nieuwe wegen en bruggen aan te leggen in het kader van een nieuwe stadsontwikkeling. In werkelijkheid is de belangrijkste reden voor de landschapsarchitectuurprojecten van het regime het ongastvrij maken van de publieke ruimte voor elke politieke bijeenkomst die zou kunnen uitmonden in een spontane massale opstand.
De GIS heeft de facto controle over elke politieke gebeurtenis in Egypte, van de parlementsverkiezingen en grondwettelijke referenda tot de goedkeuring van nieuwe wetgeving. En het is ook het orgaan dat toezicht houdt op COP27. Door het registratiesysteem van de conferentie rechtstreeks te beheren, heeft het Egyptische inlichtingenapparaat kritische stemmen buitengesloten en ervoor gezorgd dat alleen regeringsgezinde NGO's zich konden registreren. Veiligheidstroepen hebben naar verluidt tientallen activisten gearresteerd – waaronder een Indiase activist die een mars leidde van Caïro naar Sharm El-Sheikh om de aandacht te vestigen op de klimaatverandering – teneinde elke poging tot protest tijdens de twee weken durende bijeenkomst te dwarsbomen.
Ruim elf jaar na de opstand op het Tahrirplein die het regime van Mubarak ten val bracht, en acht jaar na de militaire staatsgreep die de Moslimbroederschap uit de macht zette, heeft el-Sisi zijn greep op Egypte verstevigd. Maar zijn tactiek heeft de kloof tussen de rivaliserende facties van het land verdiept en de politieke instabiliteit aangewakkerd.
De wereldleiders die in Sharm El-Sheikh bijeen zijn, mogen de wreedheid van het regime van el-Sisi niet uit het oog verliezen. Een dictatuur die balanceert op de rand van politieke onrust is nauwelijks een geschikte locatie voor COP27 – of voor welke bijeenkomst dan ook die tot doel heeft een betere toekomst voor de mensheid te realiseren.
Vertaling: Menno Grootveld