Tyrannie et greenwashing à la COP27
HEIDELBERG – Le président égyptien Abdel Fattah al-Sissi entend user de la Conférence des Nations Unies sur les changements climatiques (COP27), qui a débuté cette semaine à Charm el-Cheikh, pour présenter l'Égypte comme un leader mondial en matière de durabilité, en vantant ses diverses initiatives environnementales. Déterminé à exploiter pleinement l'opportunité, son régime espère à l'occasion de ce rassemblement faire oublier sous un vernis de greenwashing ses tactiques répressives et ses piètres antécédents en matière de droits de l'homme.
Le ministre égyptien des Affaires étrangères Sameh Shoukry, président désigné de la COP27, a récemment souligné l'importance de la société civile dans la démarche consistant à « imposer aux sociétés et gouvernements de rendre des comptes, prévenir le greenwashing, et assurer une transition juste » en direction des énergies renouvelables. Or, en ce qui concerne l'Égypte, ce discours n'est que pure propagande. En réalité, les groupes de la société civile en Égypte font aujourd'hui l'objet d'une répression gouvernementale sans précédent.
Depuis la prise de pouvoir d'al-Sissi en 2014, à l'issue d'un coup d'État militaire survenu l'année précédente, son régime piétine les institutions essentielles du pays, qu'il s'agisse des partis politiques, du Parlement ou de la Constitution. Ce régime ne cesse de persécuter les militants, de qualifier d'organisations terroristes les groupes de l'opposition, ainsi que de recourir au renseignement militaire et autres organes de sécurité nationale – tous dirigés par des membres de la famille al-Sissi – dans le but de consolider son pouvoir. Les organisations de la société civile se heurtent à des lois draconiennes, qui empêchent les ONG de participer aux affaires publiques.
D'après Human Rights Watch, les autorités égyptiennes ont gelé les avoirs de sept organisations majeures de défense des droits de l'homme, et contraint nombre d'autres à la fermeture. Le pouvoir a également dissout plus de 2 000 organisations caritatives, saisi leurs actifs au motif de prétendus lien avec les désormais interdits Frères musulmans, ainsi qu'élargi la répression pour désormais inclure parmi ses cibles les              militants écologistes. Cet assaut incessant contre les ONG et leurs équipes a sévèrement restreint ce qui était autrefois une sphère publique dynamique, même sous les trois décennies de dictature d'Hosni Moubarak.
Al-Sissi maintient son emprise sur le pouvoir en contrôlant l'appareil de sécurité de l'Égypte. En 2018, il nommait son directeur de cabinet de l'époque Abbas Kamel à la tête du Service général du renseignement et de la sécurité (SGRS), et son propre fils Mahmoud au poste de directeur adjoint du SGRS. Depuis, l'establishment du renseignement égyptien maîtrise en coulisses les institutions clés. Il a pris le contrôle de plusieurs sociétés privées de médias, les a fusionnées en une société holding baptisée United Media Services, et les a changées en organes de propagande glorifiant al-Sissi comme le « gardien » de l'Égypte, et appelant les Égyptiens à soutenir la « guerre contre le terrorisme » menée par leur dirigeant dans la péninsule du Sinaï.
Le principal objectif du SGRS a toujours consisté à tuer dans l'œuf toute amorce d'agitation civile ou de révolte populaire. Pour ce faire, le régime a mis en œuvre deux réformes majeures. En novembre 2013, il adoptait ainsi la loi sur les manifestations, qui impose aux organisateurs de faire savoir par un préavis leur intention de conduire des manifestations, qui interdit les rassemblements non autorisés de plus de dix personnes, qui limite les lieux possibles de manifestations, et qui prévoit des sanctions jusqu'à cinq années d'emprisonnement. La participation à des manifestations pacifiques peut également donner lieu à une amende jusqu'à 100 000 livres égyptiennes (environ 4 100 €). Deux ans plus tard, en août 2015, le régime adoptait une loi de lutte contre le terrorisme, définissant vaguement le terme d'« entités » terroristes, et incluant une disposition de pénalisation de la propagation de « faux » reportages sur les actes terroristes – c'est-à-dire toute information non publiée par le gouvernement.
Subscribe to PS Digital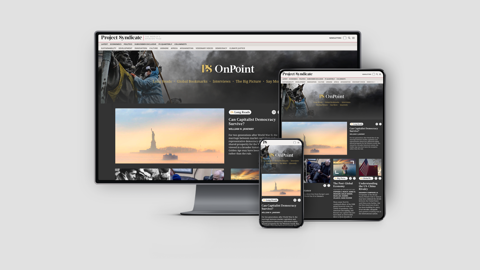 Subscribe to PS Digital
Access every new PS commentary, our entire On Point suite of subscriber-exclusive content – including Longer Reads, Insider Interviews, Big Picture/Big Question, and Say More – and the full PS archive.
Le régime procède par ailleurs au déracinement d'arbres et à la destruction d'espaces verts, en particulier au Caire, officiellement pour bâtir de nouveaux ponts et routes dans le cadre d'un nouvel élan de développement urbain. En réalité, la principale motivation du régime dans ses projets d'urbanisme consiste à rendre l'espace public inadapté à tout rassemblement politique susceptible de se métamorphoser en soulèvement spontané de masse.             
Le SGRS exerce un contrôle de facto sur tout événement politique en Égypte, des élections parlementaires jusqu'aux référendums constitutionnels, en passant par l'adoption de nouvelles législations. Or, c'est également ce service qui fera office d'organe de supervision de la COP27. Directement aux commandes du système d'inscription à la conférence, l'appareil de renseignement égyptien a exclu plusieurs voix dissonantes, et veillé à ce que seules les ONG favorables au gouvernement puissent s'inscrire. Les forces de l'ordre auraient semble-t-il procédé à l'arrestation de plusieurs dizaines de militants – dont un activiste indien qui conduisait une marche depuis Le Caire jusqu'à Charm el-Cheikh dans un objectif de sensibilisation autour du changement climatique – afin d'annihiler toute tentative d'organisation de manifestations durant le rassemblement de deux semaines.
Plus de 11 ans après le soulèvement de la place Tahrir, qui renversa le régime de Moubarak, et au cours des huit années écoulées depuis le coup d'État militaire qui chassa les Frères musulmans du pouvoir, al-Sissi n'a cessé de consolider son emprise sur le pouvoir en Égypte. Ses manœuvres ont toutefois aggravé la fracture entre les factions rivales du pays, alimentant l'instabilité politique.
Les dirigeants mondiaux rassemblés à Charm el-Cheikh ne doivent pas oublier la brutalité du régime d'al-Sissi. Une dictature vacillante, au bord du désordre politique, est loin de constituer l'endroit idéal pour la tenue de la COP27 – comme de tout rassemblement dont l'objectif affirmé consiste à atteindre un avenir meilleur pour l'humanité.
Traduit de l'anglais par Martin Morel