La próxima revolución: contra las diferencias nacionales
NEW HAVEN – En los últimos siglos, el mundo pasó por una serie de revoluciones intelectuales contra diversos modos de opresión. Estas revoluciones actúan en las mentes de las personas, y se extienden a la mayor parte del mundo no por medio de la guerra (que generalmente tiene múltiples causas) sino a través del lenguaje y las tecnologías de la comunicación. Llega un punto en que las ideas que promueven (a diferencia de las causas de la guerra) se tornan indiscutibles.
Creo que la siguiente revolución de esa índole, previsible para algún momento del siglo XXI, pondrá en entredicho las implicaciones económicas de la idea de nación‑Estado. Se centrará en la injusticia derivada del hecho de que por mero azar, algunos nacen en países pobres y otros en países ricos. Una injusticia que nos afecta, conforme cada vez más personas trabajan para empresas multinacionales y tienen ocasión de conocer a gente de otros países.
No es nada nuevo. En su libro 1688: la primera revolución moderna, el historiador Steven Pincus explica con buenos argumentos por qué no hay que entender la llamada "Revolución Gloriosa" como el derrocamiento de un rey católico a manos del parlamento inglés, sino más bien como el principio de una revolución mundial de la justicia. No pensemos en campos de batalla; pensemos en cambio en los cafés, que se hicieron populares por aquella época, con sus periódicos gratuitos de uso compartido: lugares de comunicación elaborada. Ya mientras sucedía, la Revolución Gloriosa señaló claramente el inicio de una apreciación mundial de la legitimidad de grupos de personas que no comparten la "unidad ideológica" exigida por una monarquía fuerte.
El ensayo El sentido común de Thomas Paine (enorme éxito de ventas en las Trece Colonias norteamericanas tras su publicación en enero de 1776), fue el inicio de otra de esas revoluciones, que no es idéntica con la Guerra de Independencia contra Gran Bretaña que comenzó poco después (y que tuvo varias causas). Es imposible medir el alcance de la obra de Paine, porque además de quienes la compraron, muchos otros la escucharon recitar en iglesias y reuniones. El escrito supuso el rechazo definitivo de la presunta superioridad moral de las monarquías hereditarias, algo en lo que la mayor parte del mundo hoy coincide, incluida Gran Bretaña.
Lo mismo puede decirse de la abolición gradual de la esclavitud, que no fue tanto resultado de una guerra, sino del creciente reconocimiento popular de su crueldad e injusticia. Los levantamientos de 1848 en toda Europa fueron en gran medida una protesta contra leyes electorales que reservaban para una minoría de los hombres (propietarios o aristócratas) el derecho al voto. Poco tiempo después, llegó también el sufragio femenino. Los siglos XX y XXI trajeron consigo la extensión de los derechos civiles a las minorías raciales y sexuales.
Todas las "revoluciones de la justicia" pasadas nacieron de mejoras de las comunicaciones. Para mantenerse, la opresión necesita lejanía: la imposibilidad de conocer o ver al oprimido.
Subscribe to PS Digital Now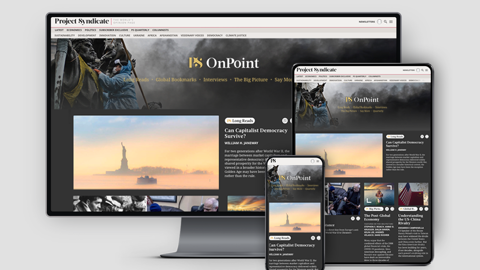 Subscribe to PS Digital Now
Access every new PS commentary, our entire On Point suite of subscriber-exclusive content – including Longer Reads, Insider Interviews, Big Picture/Big Question, and Say More – and the full PS archive.
La próxima revolución no pondrá fin a todas las diferencias derivadas del lugar de nacimiento, pero atemperará algunos de los privilegios de la nacionalidad. Aunque el aumento mundial de la xenofobia parece apuntar en la dirección contraria, la extensión de las comunicaciones hará crecer el sentido de la injusticia, hasta que llegará un momento en que el reconocimiento del mal hará inevitable el cambio.
Por ahora, este reconocimiento todavía debe competir con poderosos impulsos patrióticos enraizados en un contrato social entre los ciudadanos nativos, que pagaron impuestos por muchos años o cumplieron el servicio militar para construir o defender lo que veían como algo exclusivamente propio. La liberación total de la inmigración podría verse como incumplimiento del contrato.
Pero es probable que los pasos más importantes para resolver la injusticia derivada del lugar de nacimiento no tengan que ver con la inmigración, sino con fomentar la libertad económica.
En 1948, Paul A. Samuelson demostró lúcidamente, con su "teorema de igualación de precio de los factores", que en condiciones de libre comercio ilimitado sin costos de transporte (y con otros supuestos ideales), las fuerzas del mercado igualarían en todo el mundo los precios de todos los factores de producción, entre ellos el salario percibido por cualquier tipo de trabajo estandarizado. En un mundo ideal, las personas no tendrían que irse a otro país para ganar más; lo único que necesitarían es poder participar en la producción de bienes o servicios que se comercien internacionalmente.
Conforme la tecnología reduce a casi nada el costo del transporte y la comunicación, alcanzar esta igualdad es cada vez más factible, pero demanda eliminar viejas barreras y prevenir la construcción de otras nuevas.
Dos tratados de libre comercio recientes en discusión, el Acuerdo Transpacífico y la Asociación Transatlántica de Comercio e Inversión, han chocado con el intento de grupos de presión de desvirtuarlos al servicio de sus propios intereses. Pero en definitiva, necesitamos (y probablemente tendremos) acuerdos de esa naturaleza, incluso mejores.
Para que la igualdad de precio de los factores sea posible, se necesita una plataforma estable que permita a la gente desarrollar una carrera real y duradera en conexión con un país distinto al de residencia. Además, dentro de las naciones‑Estado actuales hay perjudicados por el comercio internacional a los que hay que proteger. En Estados Unidos, desde 1974 existe un programa de Asistencia para el Ajuste Ocupacional (TAA). Canadá experimentó en 1995 con un proyecto de complementación de ingresos. En Europa, existe el Fondo de Adaptación a la Globalización, iniciado en 2006, con un minúsculo presupuesto anual de 150 millones de euros (168,6 millones de dólares). El presidente estadounidense Barack Obama propuso ampliar el programa TAA. Pero hasta ahora, no hubo mucho más que experimentos o propuestas.
Al final, es probable que la próxima revolución surja de las interacciones diarias con extranjeros en Internet, que nos muestran que son personas inteligentes y decentes a las que el mero azar llevó a vivir en la pobreza. Esto debería ser motivo suficiente para la firma de tratados comerciales mejorados, con la posible creación de mecanismos de seguridad social de mucho mayor alcance que los actuales para proteger a los habitantes de cada país durante la transición a una economía global más justa.
Traducción: Esteban Flamini