De aanstaande anti-nationale revolutie
NEW HAVEN – De afgelopen eeuwen heeft de wereld een serie intellectuele revoluties doorgemaakt tegen iedere vorm van onderdrukking. Deze revoluties spelen zich af in de geesten van de mensen en verspreiden zich – uiteindelijk naar het grootste deel van de wereld – niet via oorlogen (die meestal meerdere oorzaken hebben), maar via de taal en de communicatietechnologie. Uiteindelijk zijn de ideeën die ze naar voren brengen – anders dan het geval is bij de oorzaken van oorlogen – niet controversieel.
Ik denk dat de volgende revolutie van dit type waarschijnlijk ergens in de 21e eeuw zal plaatsvinden en dat die de economische implicaties van de natiestaat ter discussie zal stellen. Zij zal zich richten tegen het onrecht dat voortvloeit uit het feit dat sommige mensen, volkomen toevallig, in arme landen geboren worden, en andere mensen in rijke landen. Naarmate meer mensen voor multinationale firma's werken en elkaar ontmoeten, en meer mensen uit andere landen leren kennen, komt ons rechtvaardigheidsgevoel in het geweer.
Dit is niet nieuw. In zijn boek 1688: The First Modern Revolution betoogt de historicus Steven Pincus op overtuigende wijze dat de zogenoemde "Glorious Revolution" het best kan worden gezien als het begin van een wereldwijde revolutie voor gerechtigheid, en niet zozeer in termen van de omverwerping van een katholieke koning door Britse parlementariërs. Je moet dan niet aan slagvelden denken, maar aan koffiehuizen met gratis, gedeelde kranten die destijds populair werden – plekken waar ingewikkelde communicatie plaatsvond. Ook toen zij nog in volle gang was, markeerde de Glorious Revolution duidelijk de aanvang van een wereldwijde waardering van de legitimiteit van groepen die geen deel uitmaken van de "ideologische eenheid" die door een sterke koning wordt geëist.
Het pamflet van Thomas Paine, Common Sense, een enorme bestseller in de Dertien Koloniën (de vroege Verenigde Staten) toen het in januari 1776 verscheen, markeerde eveneens zo'n revolutie, die niet identiek was aan de Revolutionaire Oorlog tegen Groot-Brittannië die later dat jaar begon (en meerdere oorzaken had). Het bereik van Common Sense was immens, omdat het pamflet niet alleen werd verkocht, maar ook hardop werd voorgelezen in kerken en op bijeenkomsten. Het idee dat erfelijke monarchen op de een of andere manier geestelijk superieur zouden zijn aan de rest van ons werd op beslissende wijze verworpen. Het grootste deel van de wereld, inclusief Groot-Brittannië, is het daar vandaag de dag mee eens.
Hetzelfde kan worden gezegd over de geleidelijke afschaffing van de slavernij, die niet zozeer door oorlog werd bewerkstelligd, als wel door een opkomende erkenning onder het volk van de wreedheid en het onrecht van die slavernij. De opstanden van 1848 in Europa waren vooral een protest tegen kieswetten die het stemrecht beperkten tot een kleine minderheid van mannen: grootgrondbezitters en aristocraten. Het vrouwenkiesrecht kwam al snel daarna. In de 20e en 21e eeuw hebben we gezien dat burgerrechten werden verstrekt aan raciale en seksuele minderheden.
Al deze "gerechtigheidsrevoluties" uit het verleden vloeiden voort uit verbeterde communicatiemogelijkheden. Onderdrukking gedijt het best bij afstand, en juist niet bij het ontmoeten of zien van de onderdrukten.
Subscribe to PS Digital Now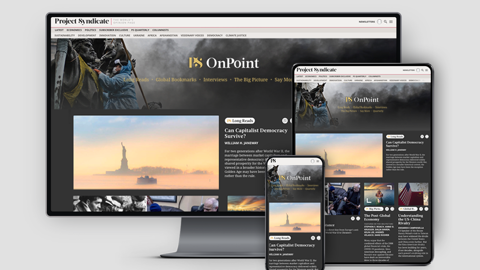 Subscribe to PS Digital Now
Access every new PS commentary, our entire On Point suite of subscriber-exclusive content – including Longer Reads, Insider Interviews, Big Picture/Big Question, and Say More – and the full PS archive.
De volgende revolutie zal niet de gevolgen uitwissen van iemands geboorteplek, maar wel de privileges van het tot een bepaalde natie behoren van iemand afzwakken. Hoewel de opkomst van anti-immigratie-gevoelens in de wereld vandaag de dag in een andere richting lijkt te wijzen, zal het gevoel van onrecht groter worden naarmate de communicatiemogelijkheden blijven groeien. Uiteindelijk zal de erkenning dat er iets verkeerd zit tot grote veranderingen leiden.
Op dit moment stuit dit inzicht nog steeds op krachtige oppositie vanuit patriottische impulsen, geworteld in een sociaal contract onder leden van één en dezelfde natie die jarenlang belasting hebben betaald of hun militaire dienstplicht hebben vervuld, om dat wat zij als hun exclusieve domein zagen op te bouwen of te verdedigen. Het toestaan van onbeperkte immigratie lijkt dit contract te schenden.
Maar de belangrijkste stappen om iets te doen aan het onrecht van iemands geboorteplek zullen zich waarschijnlijk niet richten op de immigratie, maar op het bevorderen van de economische vrijheid.
In 1948 toonde Paul A. Samuelsons "factor-price equalization theorem" op duidelijke wijze aan dat de marktkrachten, onder omstandigheden van onbeperkte vrijhandel zonder transportkosten (en met andere geïdealiseerde veronderstellingen), de prijzen van alle productiefactoren zullen gelijkschakelen, inclusief het loon voor iedere gestandaardiseerde soort arbeid, over de hele wereld. In een perfecte wereld hoeven mensen niet naar een ander land te verhuizen om een hoger loon te verkrijgen. Uiteindelijk hoeven ze alleen maar te kunnen deelnemen aan de vervaardiging van producten die internationaal verkocht worden.
Omdat technologie de kosten van transport en communicatie tot vrijwel het verdwijnpunt reduceert, is het bereiken van deze gelijkschakeling steeds haalbaarder geworden. Maar om daar te komen moeten oude barrières worden opgeruimd en de oprichting van nieuwe barrières worden voorkomen.
Recente vrijhandelsovereenkomsten waarover nog wordt onderhandeld, de Trans-Pacific Partnership en de Transatlantic Trade and Investment Partnership, zijn gestuit op tegenwind omdat belangengroepen proberen ze voor eigen doeleinden aan te wenden. Maar uiteindelijk hebben we zulke en nóg betere overeenkomsten wél nodig, en waarschijnlijk zullen we ze ook krijgen.
Om de door Samuelson bedachte "factor-price equalization" te bewerkstelligen, hebben mensen een stabiele basis nodig voor een echte carrière die verbonden is met een land waarin zij niet fysiek verblijven. We moeten ook de verliezers van de buitenlandse handel in onze bestaande natiestaten beschermen. De wortels van de Trade Adjustment Assistance (TAA) in de Verenigde Staten dateren van 1974. Canada heeft in 1995 met een Earnings Supplement Project geëxperimenteerd. Het European Globalization Adjustment Fund, opgezet in 2006, heeft een heel klein jaarlijks budget van €150 mln ($168,6 mln). De Amerikaanse president Barack Obama heeft voorgesteld het TAA-programma uit te breiden, maar tot nu toe heeft dit weinig méér opgeleverd dan experimenten of voorstellen.
Uiteindelijk zal de volgende revolutie waarschijnlijk voortvloeien uit onze dagelijkse interactie op computerschermen met buitenlanders waarvan we kunnen zien dat het intelligente, aardige mensen zijn – mensen die toevallig, en niet omdat ze daarvoor gekozen hebben, in armoede leven. Dit moet leiden tot betere handelsovereenkomsten, die de uiteindelijke ontwikkeling veronderstellen van veel méér sociale verzekeringen om de mensen binnen een land te kunnen beschermen tijdens de overgang naar een rechtvaardiger mondiale economie.
Vertaling: Menno Grootveld