Un consenso para el clima en Medio Oriente
LUXEMBURGO – Esta semana conocí en Ramala a una adolescente de nombre Miriam, que nos contó lo mucho que la benefició el hecho de poder ir a una de las 450 escuelas con energía solar que el Banco Europeo de Inversiones financió en Cisjordania. En perfecto inglés, Miriam expresó ser muy consciente de los desafíos que enfrenta su región como consecuencia del cambio climático. Pero también se mostró muy optimista y explicó con claridad extraordinaria las razones por las que Medio Oriente necesita mejorar el aprovechamiento de la luz solar, uno de los pocos recursos energéticos no contaminantes que tiene en abundancia.
Al día siguiente, el primer ministro israelí Naftalí Bennett me recordó que el BEI ayudó a financiar cuatro de las seis plantas de desalinización de Israel, incluida una que será la más grande del mundo cuando entre en operación en 2023. Me dijo en tono de broma que casi dos tercios del agua que estábamos bebiendo habían salido de esos proyectos con respaldo del BEI. En una región cuya población está creciendo, los israelíes saben que la escasez de agua puede convertirse fácilmente en causa de nuevos conflictos, y se proponen aumentar la capacidad de desalinización, para poder comerciar agua por energía limpia.
Los cambios en los patrones de lluvia, la escasez de agua y el aumento en la frecuencia e intensidad de los fenómenos meteorológicos extremos (entre ellos olas de calor e incendios forestales) afectan a israelíes y palestinos por igual; y la necesidad de resolver el problema parece ser una de las pocas cuestiones en la que ambas partes coinciden. Tuve confirmación de esto en conversaciones con el primer ministro palestino Mohammad Shtayyeh. En un contexto de conflicto, donde la mayoría de las políticas se ven como juegos de suma cero, los proyectos relacionados con el clima son una excepción.
En un discurso que pronunció el pasado febrero, el presidente israelí Isaac Herzog señaló que la intensificación de los fenómenos meteorológicos extremos es un llamado de atención para la región. «Para quien no entienda lo que esto significa, permítanme explicarlo: estamos hablando de una verdadera catástrofe», advirtió. «La crisis climática es una crisis para todo el mundo, y aquí en Medio Oriente debemos considerarla en un nivel regional, ya que sus consecuencias serán tremendas».
A continuación, Herzog pidió la formación de una alianza regional para la creación de un «Medio Oriente renovable», en la que incluiría a los Emiratos Árabes Unidos, Egipto, Jordania, Bahréin, Marruecos, Arabia Saudita y los «vecinos palestinos» de Israel. Pero aunque la Autoridad Palestina ha propuesto algunas políticas para el clima, convertir estas ideas en producción a gran escala de agua potable en la Planta Desalinizadora Central de Gaza y de energía solar en Cisjordania demandará inversiones inmensas.
Estos históricos proyectos de mitigación y adaptación serán necesarios para enfrentar los problemas humanitarios, ambientales y económicos causados por el cambio climático. Ya de regreso en Luxemburgo tras mi visita a la región, veo con más claridad que nunca la necesidad de aprovechar el actual «consenso climático» para generar apoyo a proyectos transformadores como los previstos por el Pacto Verde Europeo. A la par del logro de la neutralidad de carbono para Europa en 2050, esas inversiones pueden ayudar a fomentar la estabilidad y mejorar las condiciones económicas en Medio Oriente.
Introductory Offer: Save 30% on PS Digital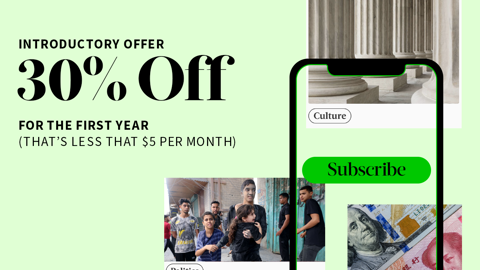 Introductory Offer: Save 30% on PS Digital
Subscribe now to gain greater access to Project Syndicate – including every commentary and our entire On Point suite of subscriber-exclusive content – starting at less than $5 per month.
Mi fe en el poder transformador de la inversión inteligente en materia climática se ha vuelto cada vez más firme con el correr del tiempo. En los últimos años, el BEI se ha convertido en el mayor financista multilateral de proyectos climáticos del mundo, y se ha comprometido a respaldar inversiones por no menos de un billón de euros (1,05 billones de dólares) durante esta década. Pero en una región tan compleja como Medio Oriente, la concreción de muchos de estos proyectos no dependerá solamente de la financiación. Se necesitará mucha más cooperación entre los países y actores externos clave como los Estados Unidos y la Unión Europea.
La nueva oficina de representación del BEI para Gaza y Cisjordania en Jerusalén, que se abrió este mes, puede ayudar a fomentar esa cooperación. La oficina trabajará en la formación de alianzas y el incremento de la cooperación en Gaza y Cisjordania, y apoyará proyectos climáticos transfronterizos con capacidad de transformación en toda la región. Será de tal modo un elemento esencial de la diplomacia climática de la UE en Medio Oriente.
Nuestro objetivo es complementar y ampliar, desde una perspectiva europea, lo que el enviado especial del presidente de los Estados Unidos para el clima, John Kerry, inició con su campaña diplomática para que los países de Medio Oriente adopten las fuentes de energía renovables. Eso supone financiar el desarrollo de una cooperación a gran escala en materia de agua y energía renovable en la región y forjar un consenso climático aun más firme.
Estoy convencido de que si a la diplomacia climática se la respalda con proyectos de importancia regional innovadores y de alta calidad, puede abrir nuevas vías prometedoras para la búsqueda de la estabilidad, el crecimiento y la paz en Medio Oriente. Es hora de darle una oportunidad a la financiación de proyectos para el clima.
Traducción: Esteban Flamini