Klimatický konsensus na Blízkém východě
LUCEMBURK – Tento týden jsem se v Ramalláhu setkal s teenagerkou jménem Miriam, která mi vyprávěla, jak hodně jí pomohla jedna ze 450 škol se solárním napájením, které na západním břehu Jordánu financovala Evropská investiční banka (EIB). Miriam mluvila dokonalou angličtinou a plně si uvědomovala, jakým problémům její region kvůli klimatickým změnám čelí. Zároveň však byla plná optimismu a dokázala mimořádně zdatně vysvětlit, proč Blízký východ potřebuje více využívat sluneční energii coby jeden z mála čistých zdrojů, jichž má dostatek.
Následujícího dne mi izraelský premiér Naftali Bennett připomněl, že EIB pomohla financovat čtyři z šesti odsolovacích zařízení v Izraeli – včetně zařízení, které se po uvedení do provozu v roce 2023 stane největším na světě. Premiér vtipkoval, že téměř dvě třetiny vody v našich sklenicích pocházejí z projektů podporovaných EIB. Izraelci žijí v regionu s rostoucím počtem obyvatel, takže vědí, že nedostatek vody může snadno vést k novým konfliktům. Chtějí tedy vyvinout větší odsolovací kapacity, aby mohli potenciálně směňovat vodu za čistou energii.
Měnící se dešťové srážky, nedostatek vody a stále častější a intenzivnější extrémní meteorologické jevy – včetně veder a lesních požárů – mají stejný dopad na Izraelce i Palestince a potřeba řešit tento problém představuje jednu z mála otázek, na nichž se obě strany shodují. Potvrdilo se mi to i během rozhovorů s palestinským premiérem Muhammadem Ištajou. V kontextu konfliktu, kdy se na většinu témat pohlíží jako na hru s nulovým součtem, představují klimatické projekty výjimku.
Izraelský prezident Jicchak Herzog v únorovém projevu poukázal na zintenzivnění extrémních meteorologických jevů, které pro region představují budíček. "Každému, kdo nechápe, co to znamená, to vysvětlím: věstí to opravdovou katastrofu," varoval prezident. "Klimatická krize je krizí pro celý svět a my na Blízkém východě ji musíme chápat především na regionální úrovni, protože její dopady budou dramatické."
Herzog poté vyzval k regionálnímu partnerství, které by vytvořilo "obnovitelný Blízký východ". Jeho vize zahrnovala Spojené arabské emiráty, Egypt, Jordánsko, Bahrajn, Maroko, Saúdskou Arábii a "palestinské sousedy" Izraele. Ačkoliv však Palestinská samospráva určitou klimatickou politiku prosazuje, k tomu, aby se tyto nápady přetavily ve výnosy v podobě čisté vody z centrálního odsolovacího zařízení v Gaze nebo solární energie na západním břehu Jordánu, budou zapotřebí masivní investice.
Tyto přelomové projekty zmírňování a adaptace budou zapotřebí k vyřešení humanitárních, environmentálních i ekonomických otázek vyvolaných klimatickými změnami. Po návratu z návštěvy tohoto regionu do Lucemburku je mi více než kdy dříve jasné, že se musíme opřít o současný "klimatický konsensus" a dát dynamiku transformativním klimatickým projektům, s nimiž počítá evropský projekt Green Deal. Takové investice se nejen zasadí o dosažení uhlíkové neutrality v Evropě do roku 2050, ale také přispějí k podpoře stability a zlepšení ekonomických podmínek na Blízkém východě.
Introductory Offer: Save 30% on PS Digital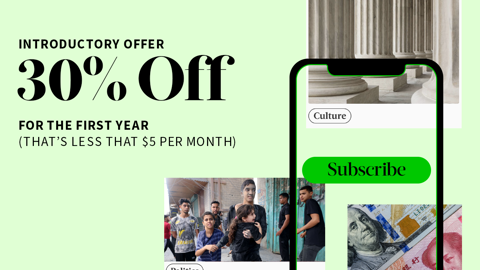 Introductory Offer: Save 30% on PS Digital
Subscribe now to gain greater access to Project Syndicate – including every commentary and our entire On Point suite of subscriber-exclusive content – starting at less than $5 per month.
Moje víra v transformativní schopnost chytrých klimatických investic postupem času pouze sílí. V posledních několika letech se EIB stala největším multilaterálním financovatelem klimatických projektů na světě, když se zavázala k podpoře investic v objemu nejméně jednoho bilionu eur v tomto desetiletí. V tak složitém regionu, jako je Blízký východ, však nepostačí jen poskytnout finance, aby se mnohé z těchto projektů realizovaly. Budeme potřebovat mnohem užší spolupráci mezi účastnickými zeměmi a klíčovými vnějšími aktéry, jako jsou Spojené státy a Evropská unie.
Nové zastoupení EIB pro západní břeh Jordánu a Gazu, které se tento měsíc otevřelo v Jeruzalémě, může takovou spolupráci podpořit. Bude rozvíjet partnerství a těsnější spolupráci na západním břehu a v Gaze a současně podporovat transformativní přeshraniční klimatické projekty v celém regionu. Jako takové pak bude klíčovým nástrojem klimatické diplomacie EU na Blízkém východě.
Naším cílem je doplňovat a rozšiřovat z evropské perspektivy to, co zvláštní vyslanec amerického prezidenta pro otázky klimatu John Kerry započal svým diplomatickým úsilím přimět blízkovýchodní země k zavádění obnovitelné energie. To znamená financovat spolupráci na rozvoji obnovitelné energie a vodního hospodářství ve velkém měřítku v regionu a budovat ještě silnější klimatický konsensus.
Jsem přesvědčený, že pokud klimatickou diplomacii podpoří kvalitní a inovativní projekty regionálního významu, mohou se tím otevřít slibné nové cesty k dosažení stability, růstu a míru na Blízkém východě. Je načase dát klimatickým financím šanci.
Z angličtiny přeložil Jiří Kobělka