Klimaatconsensus in het Midden-Oosten
LUXEMBURG – Deze week ontmoette ik in Ramallah een tiener, Miriam, die vertelde hoezeer zij heeft geprofiteerd van een van de vierhonderdvijftig scholen op zonne-energie die de Europese Investeringsbank (EIB) op de Westelijke Jordaanoever heeft gefinancierd. Miriam sprak perfect Engels en was zich ten volle bewust van de problemen waarmee haar regio door de klimaatverandering wordt geconfronteerd. Maar ze was ook optimistisch en buitengewoon welbespraakt toen ze uitlegde waarom het Midden-Oosten meer moet doen om zonneschijn te oogsten, een van de weinige schone energiebronnen die het in overvloed heeft.
De volgende dag herinnerde de Israëlische premier Naftali Bennett me eraan dat de EIB vier van Israëls zes ontziltingsinstallaties heeft helpen financieren, waaronder een die de grootste ter wereld zal zijn wanneer hij in 2023 operationeel wordt. Hij grapte dat bijna tweederde van het water in onze glazen afkomstig was van deze door de EIB gesteunde projecten. In een regio met een groeiende bevolking weten de Israëli's dat waterschaarste makkelijk tot nieuwe conflicten kan leiden. Zij willen een grotere ontziltingscapaciteit ontwikkelen, zodat zij water eventueel kunnen inruilen voor schone energie.
Veranderende neerslagpatronen, waterschaarste en steeds vaker voorkomende en hevigere extreme weersomstandigheden – waaronder hittegolven en bosbranden – treffen Israëli's en Palestijnen in gelijke mate, en de noodzaak om het probleem aan te pakken lijkt een van de weinige kwesties te zijn waarover beide partijen het eens zijn. Dit werd mij bevestigd in gesprekken met de Palestijnse premier Mohammad Shtayyeh. In een context van conflict, waar de meeste beleidsmaatregelen als een nulsom worden beschouwd, vormen klimaatprojecten een uitzondering.
In een toespraak afgelopen februari wees de Israëlische president Isaac Herzog op de intensivering van extreme weersomstandigheden als een waarschuwing voor de hele regio. ʻVoor iedereen die niet begrijpt wat dit betekent, zal ik het uitleggen: dit betekent een echte catastrofe,' waarschuwde hij. ʻDe klimaatcrisis is een crisis voor de hele wereld, en wij in het Midden-Oosten moeten deze vooral op regionaal niveau begrijpen, omdat de gevolgen dramatisch zullen zijn.'
Herzog riep vervolgens op tot een regionaal partnerschap om een ʻduurzaam Midden-Oosten' te creëren. In zijn visie zou dat in ieder geval de Verenigde Arabische Emiraten, Egypte, Jordanië, Bahrein, Marokko, Saoedi-Arabië en Israëls ʻPalestijnse buren' moeten omvatten. Maar hoewel de Palestijnse Autoriteit enkele klimaatbeleidsmaatregelen heeft genomen, zijn er enorme investeringen nodig om deze ideeën om te zetten in grootschalige opbrengsten van schoon water uit de centrale ontziltingsinstallatie in Gaza en in zonne-energie op de Westelijke Jordaanoever.
Deze baanbrekende mitigatie- en aanpassingsprojecten zullen nodig zijn om de humanitaire, ecologische en economische problemen als gevolg van de klimaatverandering aan te pakken. Nu ik Luxemburg teruggekeerd ben van mijn bezoek aan de regio is het me duidelijker dan ooit dat we moeten voortbouwen op de huidige ʻklimaatconsensus' om een impuls te geven aan het soort transformationele klimaatprojecten dat in de Europese Green Deal wordt beoogd. Dergelijke investeringen zullen Europa tegen 2050 koolstofneutraal maken, maar kunnen ook de stabiliteit en de economische omstandigheden in het Midden-Oosten helpen verbeteren.
Subscribe to PS Digital Now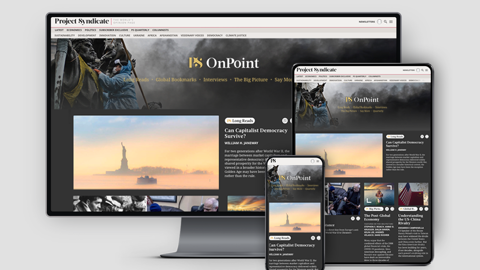 Subscribe to PS Digital Now
Access every new PS commentary, our entire On Point suite of subscriber-exclusive content – including Longer Reads, Insider Interviews, Big Picture/Big Question, and Say More – and the full PS archive.
Mijn geloof in de transformerende kracht van slimme klimaatinvesteringen is mettertijd alleen maar sterker geworden. De afgelopen paar jaar is de EIB uitgegroeid tot 's werelds grootste multilaterale financier van klimaatprojecten, met toezeggingen om dit decennium investeringen van ten minste één biljoen euro (1,05 biljoen dollar) te ondersteunen. In een regio die zo complex is als het Midden-Oosten, is er echter meer nodig dan alleen financiering om veel van deze projecten te verwezenlijken. Er zal veel meer samenwerking nodig zijn tussen landen en belangrijke externe belanghebbenden zoals de Verenigde Staten en de Europese Unie.
De nieuwe vertegenwoordiging van de EIB voor de Westelijke Jordaanoever en Gaza, die deze maand in Jeruzalem is geopend, kan een dergelijke samenwerking helpen bevorderen. De vertegenwoordiging zal partnerschappen en nauwere samenwerking op de Westelijke Jordaanoever en in Gaza ontwikkelen, en tevens grensoverschrijdende klimaatprojecten van transformerende aard in de gehele regio ondersteunen. Als zodanig zal zij instrumenteel zijn voor de klimaatdiplomatie van de EU in het Midden-Oosten.
Wij willen vanuit Europees perspectief datgene aanvullen en opschalen wat de speciale presidentiële gezant voor het klimaat van de VS, John Kerry, is begonnen met zijn diplomatieke inspanningen om de landen in het Midden-Oosten geleidelijk aan duurzame energie te laten invoeren. Dat betekent dat de ontwikkeling van grootschalige samenwerking op het gebied van duurzame energie en water in de regio moet worden gefinancierd, en dat een nog sterkere klimaatconsensus tot stand moet worden gebracht.
Ik ben ervan overtuigd dat als klimaatdiplomatie wordt ondersteund door hoogwaardige, innovatieve projecten van regionale betekenis, zij veelbelovende nieuwe wegen kan openen voor stabiliteit, groei en vrede in het Midden-Oosten. Het is tijd om klimaatfinanciering een kans te geven.
Vertaling: Menno Grootveld