Konsensus Klimatyczny na Bliskim Wschodzie
LUKSEMBURG – W tym tygodniu spotkałem w Ramallah nastolatkę o imieniu Miriam, która opowiedziała mi, jak wiele skorzystała z jednej z 450 szkół zasilanych energią słoneczną, sfinansowanych przez Europejski Bank Inwestycyjny na Zachodnim Brzegu Jordanu. Mówiąc doskonale po angielsku, Miriam była w pełni świadoma wyzwań, przed jakimi stoi jej region w związku ze zmianami klimatu. Ale była też pełna optymizmu i niezwykle elokwentna, wyjaśniając, dlaczego Bliski Wschód musi zrobić więcej, by wykorzystać słońce - jeden z niewielu zasobów czystej energii, których ma pod dostatkiem.
Następnego dnia premier Izraela Naftali Bennett przypomniał mi, że EBI pomógł sfinansować cztery z sześciu izraelskich zakładów odsalania wody, w tym jeden, który będzie największy na świecie, kiedy rozpocznie działanie w 2023 roku. Zażartował, że prawie dwie trzecie wody w naszych szklankach pochodzi z projektów wspieranych przez EBI. W regionie o rosnącej liczbie ludności Izraelczycy wiedzą, że niedobór wody może łatwo doprowadzić do nowych konfliktów. Chcą zwiększyć możliwości odsalania wody, aby móc ją wymieniać na czystą energię.
Zmiana struktury opadów, niedobór wody oraz coraz częstsze i intensywniejsze ekstremalne zjawiska pogodowe - w tym fale upałów i pożary - dotykają w równym stopniu i Izraelczyków i Palestyńczyków, a potrzeba rozwiązania tego problemu wydaje się być jedną z niewielu kwestii, co do których obie strony są zgodne. Zostało to potwierdzone podczas moich rozmów z palestyńskim premierem Mohammadem Shtayyeh. W kontekście konfliktu, gdzie większość polis jest postrzegana jako polityka o sumie zerowej, projekty klimatyczne stanowią wyjątek.
W przemówieniu wygłoszonym w lutym tego roku prezydent Izraela Isaac Herzog wskazał na nasilenie się ekstremalnych zjawisk pogodowych jako sygnał alarmowy dla regionu. "Dla każdego, kto nie rozumie, co to oznacza, pozwólcie mi wyjaśnić: to oznacza prawdziwą katastrofę" - ostrzegł. "Kryzys klimatyczny jest kryzysem dla całego świata, a my na Bliskim Wschodzie musimy go zrozumieć przede wszystkim na poziomie regionalnym, ponieważ jego konsekwencje będą dramatyczne."
Następnie Herzog wezwał do zawarcia regionalnego partnerstwa w celu stworzenia "odnawialnego Bliskiego Wschodu." Jego wizja obejmowałaby Zjednoczone Emiraty Arabskie, Egipt, Jordanię, Bahrajn, Maroko, Arabię Saudyjską oraz "palestyńskich sąsiadów" Izraela. Mimo że Autonomia Palestyńska wprowadziła pewne zmiany w polityce klimatycznej, potrzeba ogromnych inwestycji, aby te pomysły przełożyły się na produkcję czystej wody na dużą skalę w Centralnej Oczyszczalni Ścieków w Gazie i energii słonecznej na Zachodnim Brzegu.
Te przełomowe projekty łagodzenia skutków zmian klimatycznych i adaptacji do nich będą potrzebne do rozwiązania problemów humanitarnych, środowiskowych i gospodarczych spowodowanych zmianami klimatycznymi. Po powrocie do Luksemburga z wizyty w tym regionie jeszcze wyraźniej dostrzegam, że musimy wykorzystać obecny "konsensus klimatyczny", aby nadać impet projektom klimatycznym o charakterze transformacyjnym, przewidzianym w Europejskim Zielonym Ładzie. Dzięki takim inwestycjom Europa może stać się neutralna pod względem emisji dwutlenku węgla do 2050 roku, a jednocześnie mogą one przyczynić się do stabilizacji i poprawy warunków gospodarczych na Bliskim Wschodzie.
Introductory Offer: Save 30% on PS Digital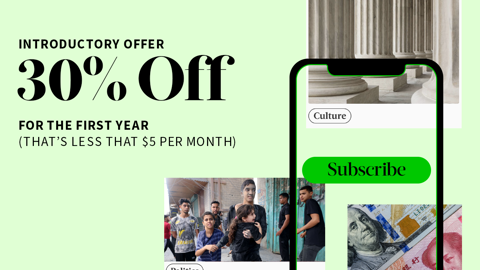 Introductory Offer: Save 30% on PS Digital
Subscribe now to gain greater access to Project Syndicate – including every commentary and our entire On Point suite of subscriber-exclusive content – starting at less than $5 per month.
Moja wiara w transformacyjną siłę inteligentnych inwestycji klimatycznych z czasem tylko się umocniła. W ciągu ostatnich kilku lat EBI stał się największym na świecie wielostronnym podmiotem finansującym projekty klimatyczne - w tym dziesięcioleciu zamierza wesprzeć inwestycje o wartości co najmniej 1 bln EUR (1,05 bln USD). Jednak w tak złożonym regionie jak Bliski Wschód do realizacji wielu z tych projektów potrzeba czegoś więcej niż tylko środków finansowych. Potrzebna będzie znacznie większa współpraca między krajami i kluczowymi podmiotami zewnętrznymi, takimi jak Stany Zjednoczone oraz Unia Europejska.
Nowe Przedstawicielstwo EBI na Zachodnim Brzegu i w Strefie Gazy z siedzibą w Jerozolimie, które zostało otwarte w tym miesiącu, może przyczynić się do rozwoju tej współpracy. Będzie rozwijać partnerstwa i zacieśniać współpracę na Zachodnim Brzegu i w Strefie Gazy, a jednocześnie wspierać transgraniczne projekty klimatyczne o charakterze transformacyjnym w tym regionie. W związku z tym będzie ono miało zasadnicze znaczenie dla unijnej dyplomacji w dziedzinie klimatu na Bliskim Wschodzie.
Naszym celem jest uzupełnienie i rozwinięcie - z perspektywy europejskiej - działań podjętych przez specjalnego wysłannika prezydenta USA ds. klimatu Johna Kerry'ego, który dyplomatycznie zachęcał kraje Bliskiego Wschodu do stopniowego wprowadzania energii odnawialnej. Oznacza to finansowanie rozwoju wielkoskalowej współpracy w zakresie energii odnawialnej i wody w regionie oraz budowanie jeszcze silniejszego konsensusu klimatycznego.
Jestem przekonany, że jeśli dyplomacja na rzecz klimatu zostanie wsparta innowacyjnymi projektami o wysokiej jakości i znaczeniu regionalnym, może otworzyć nowe, obiecujące drogi do stabilności, rozwoju oraz pokoju na Bliskim Wschodzie. Nadszedł czas, by dać szansę finansom klimatycznym.
Z angielskiego przetłumaczyła Marz McNamer