Capitalizar na união climática
,
BONN –Quando Donald Trump foi eleito presidente dos EUA, há um ano, alguns disseram que o fim do Acordo climático de Paris estava próximo. Ainda assim, tal como a última ronda de negociações climáticas a nível global, em Bonn, na Alemanha, mostrou, os líderes políticos mundiais estão mais empenhados do que nunca no acordo. Isto são boas notícias, mas o facto é que os compromissos dos países ainda não são suficientes para reverter a maré –e a nossa janela de oportunidade para agirmos eficazmente em relação às alterações climáticas está a fechar-se rapidamente.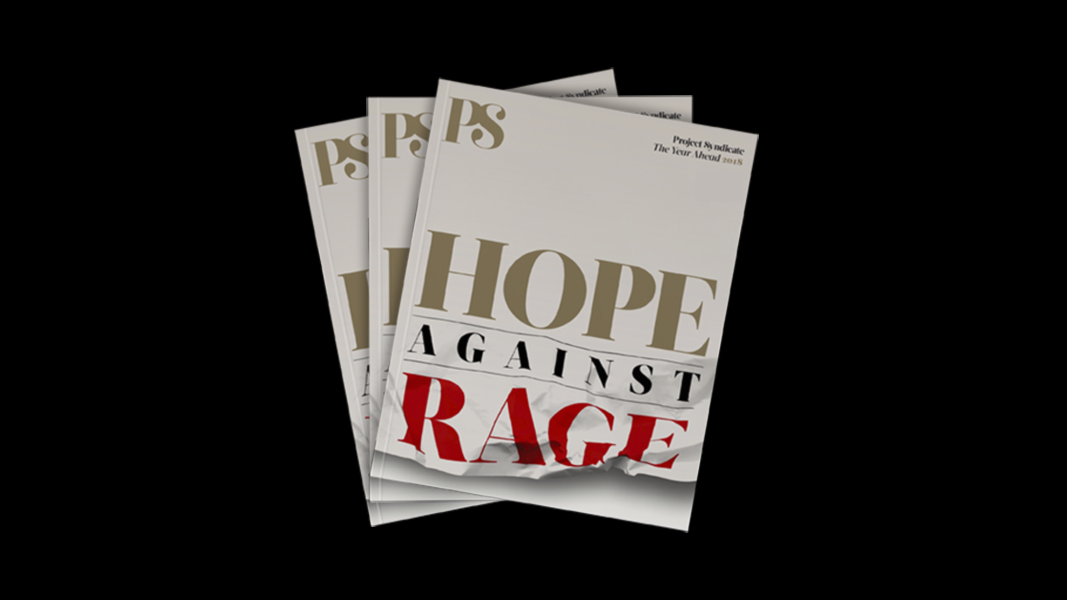 The Year Ahead 2018
The world's leading thinkers and policymakers examine what's come apart in the past year, and anticipate what will define the year ahead.
A decisão de Trump de retirar os Estados Unidos da América –o maior emissor histórico de dióxido de carbono do mundo –do Acordo de Paris infligiu um duro golpe no acordo. Muitos dos aliados mais próximos dos Estados Unidos da América –incluindo os nossos países, as Ilhas Marshall e a Austrália –ficaram profundamente desapontados com a mudança, que era míope, para os Estados Unidos da América e para o mundo.
Mas é difícil não ficar animado com a nova onda de determinação global que a decisão de Trump provocou, tanto a nível mundial como a nível dos Estados Unidos da América. Atualmente, quase todos os principais estados, cidades e empresas dos EUA comprometeram-se a fazer mais para garantir que o seu país possa cumprir os seus compromissos, apesar da oposição da administração Trump.
O facto de a ação climática ser agora a maior oportunidade económica do mundo, certamente ajudou. Segundo a própria análise da administração Trump, há mais do dobro de americanos a trabalhar atualmente na indústria solar do que nas três indústrias juntas do carvão, petróleo e gás. E no início deste ano, a OCDE referiu que podemos alavancar o crescimento global em 5% por ano, até 2050, apenas através da vinculação das agendas do crescimento e climática.
Não há tempo a perder; as alterações climáticas já chegaram. A seca que este ano bateu o recorde nas Ilhas Marshall, as tempestades apocalípticas nas Caraíbas e as inundações devastadoras no Bangladesh e nos EUA demonstram isso.
Tal como o Programa das Nações Unidas para o Meio Ambiente recentemente nos lembrou, mesmo que todos os países atinjam os seus objetivos de redução de emissões para 2030, não conseguiremos limitar o aquecimento a menos de 1,5° Celsius acima dos níveis pré-industriais –o limiar, reconhecido no Acordo de Paris, para além do qual o impacte das alterações climáticas torna-se substancialmente maior. As nossas hipóteses de até mesmo ficarmos dentro do limite mais conservador –e perigoso –dos 2° Celsius serão mais reduzidas.
Ignorar esta realidade é jogar com o futuro existencial de muitos países insulares, já para não falar da prosperidade da economia global. Sem um aumento acentuado na ambição global para reduções de emissões até 2020, seremos incapazes de salvar os países mais vulneráveis do mundo. E se as alterações climáticas descontroladas se mantiverem, nenhum país ficará imune aos seus efeitos.
Infelizmente, as coisas irão piorar muito antes de melhorarem. É por isso que devemos intensificar os nossos esforços para aumentarmos a nossa resistência aos efeitos climáticos, que não conseguiremos evitar, e enfrentar as consequências associadas para a segurança.
Enquanto isso, temos urgentemente de aumentar a ambição dos nossos compromissos climáticos. Felizmente, vários eventos futuros oferecem uma oportunidade de fazê-lo. Temos de agarrar essa oportunidade com as duas mãos.
No próximo mês, o presidente francês, Emmanuel Macron, será o anfitrião de uma conferência para assinalar o segundo aniversário do Acordo de Paris. E no próximo mês de setembro, o governador da Califórnia, Jerry Brown, será o anfitrião da sua própria cimeira para galvanizar uma maior ação por parte das cidades, empresas e de outros intervenientes não estatais. A maior oportunidade, no entanto, chegará em 2019, quando o secretário-geral da ONU, António Guterres, convocar os líderes mundiais em Nova Iorque para o maior encontro climático, desde as conversações de Paris.
Precisamos de construir um arco de ambição em todos esses eventos que podem, segundo as palavras do nosso amigo Tony de Brum, o falecido ministro dos Negócios Estrangeiros marshalês e incansável guerreiro climático na conferência de Paris, proporcionar um caminho de sobrevivência para os mais vulneráveis.
Alguns participantes importantes já estão a ir muito além dos seus compromissos. Outros, incluindo as Ilhas Marshall, deverão apresentar novas metas até 2020, para aumentar as suas metas atuais, que só vão até 2025. E ainda há outros –incluindo a França, Índia e Nova Zelândia –que disseram informalmente que estão ansiosos por fazer mais.
A verdade é que quase todos os países têm a capacidade de fazer mais, especialmente se houver apoio e se as oportunidades estiverem identificadas. O imperativo agora é criar as condições políticas adequadas para motivar e facilitar a ação. À medida que mais países forem demonstrando a sua capacidade de aumentar a ambição dos seus compromissos, outros mais se seguirão.
Ao mesmo tempo, temos de assegurar que todos os setores, bem como todos os países, contribuem com a sua quota-parte. Isso inclui, por exemplo, o transporte marítimo internacional, o qual, se fosse um país, seria o sexto maior emissor do mundo.
O "Diálogo Talanoa" –que decorrerá no próximo ano e será convocado pelas Fiji, que na semana passada tornaram-se no primeiro estado insular a presidir as negociações climáticas da ONU –irá ajudar os países a identificar exatamente o modo como poderão atingir os objetivos estabelecidos no Acordo de Paris. Esse diálogo, que os países devem abordar de boa-fé, tem de ser uma rampa de lançamento para novas medidas. Para atingir esse fim, o recente relatório do Painel Intergovernamental sobre as Alterações Climáticas que estabelece as vias para manter o aumento da temperatura abaixo do limiar de 1,5 °C será crucial. A ciência continua a ser fundamental.
As conversações de Paris provaram que o sucesso político é possível, se aos líderes for dada a plataforma certa, se a sociedade civil se mobilizar por trás deles e se o mundo atuar em uníssono. Para se conseguir o resto do caminho para um futuro sustentável, temos de aplicar esta lição novamente. O slogan na conferência de Bonn era "mais, mais rápido e juntos". O nosso desafio coletivo é traduzir um slogan que soa bem em realidade.