Profijt van klimaateenheid
,
BONN – Toen Donald Trump een jaar geleden tot president van de VS verkozen werd zeiden sommigen dat het einde van het klimaatakkoord van Parijs nabij was. Toch heeft de laatste ronde van mondiale klimaatgesprekken in Bonn bewezen dat politieke leiders van over de hele wereld geëngageerder aan de overeenkomst zijn dan ooit. Dit is goed nieuws, maar feit blijft dat de toezeggingen van alle landen bij elkaar opgeteld nog niet genoeg zijn om het tij te doen keren – en ons venster om effectief actie tegen klimaatverandering te ondernemen sluit zich snel.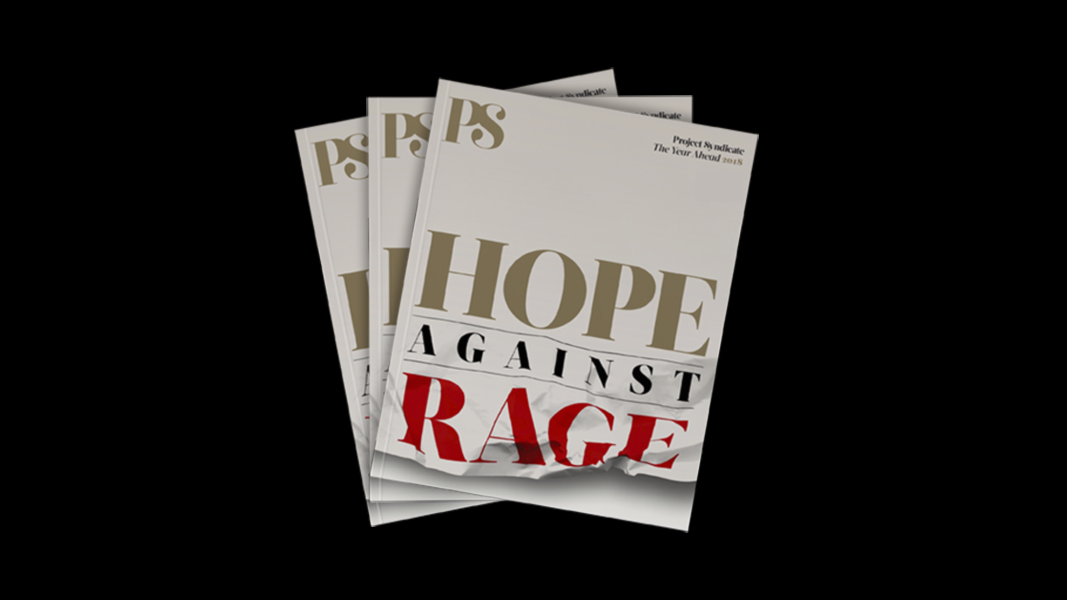 The Year Ahead 2018
The world's leading thinkers and policymakers examine what's come apart in the past year, and anticipate what will define the year ahead.
De beslissing van Trump om de VS –  de grootste uitstoter van koolstofdioxide in de wereldgeschiedenis – uit het akkoord van Parijs terug te trekken was een grote klap voor het verdrag. Veel van de nauwste bondgenoten van Amerika – inclusief ons beider landen, de Marshalleilanden en Australië – waren diep teleurgesteld door deze zowel voor Amerika als de rest van de wereld kortzichtige zet.
Maar het is lastig geen moed te putten uit de nieuwe golf van mondiale vastberadenheid die de beslissing van Trump heeft losgemaakt, zowel internationaal als binnen de VS zelf. Bijna elke grote Amerikaanse staat, stad, of firma heeft inmiddels toegezegd om meer te gaan doen om te garanderen dat hun land aan zijn engagementen kan voldoen, ondanks de oppositie van de regering Trump.
Het feit dat klimaatactie nu de grootste economische kansen ter wereld biedt heeft hierbij zeker geholpen. Volgens de eigen analyse van de regering Trump werken er nu meer dan twee keer zoveel Amerikanen in de zonne-energiesector als in kolen, olie, en gas gecombineerd. En eerder dit jaar gaf de OESO aan dat we de mondiale groei tegen 2050 jaarlijks 5% zouden kunnen opkrikken simpelweg door klimaat- en groeiagenda's aan elkaar te verbinden.
Er is geen tijd te verliezen; de klimaatverandering is al gaande. De recorddroogte van dit jaar op de Marshalleilanden, apocalyptische stormen in het Caraïbisch gebeid, en verwoestende overstromingen in Bangladesh en de VS zijn hier het bewijs van.
Het VN-Milieuprogramma herinnerde er onlangs aan dat we zelfs als elk land zijn huidige uitstootreductie-doelstellingen voor 2030 haalt we niet in meer staat zijn om de opwarming te beperken tot 1,5 graad Celsius boven pre-industriële niveaus – de grens die is vastgelegd in het akkoord van Parijs waarboven de impact van klimaatverandering veel groter wordt. Zelfs onze kansen om onder de meer conservatieve – en gevaarlijke – grens van 2 graden Celsius te blijven zijn mager.
Deze realiteit negeren is gokken met de toekomstige existentie van veel eilandstaten, om nog maar te zwijgen over het welbevinden van de wereldeconomie. Zonder een sterke vergroting van de wereldwijde ambitie voor uitstootvermindering tegen 2020 zullen we niet in staat zijn om de meest kwetsbare landen ter wereld te redden. En als een losgeslagen klimaatverandering doorzet zal geen enkel land immuun voor de effecten blijken.
Helaas zal de situatie voordat deze verbetert eerst veel slechter worden. Daarom moeten we onze inspanningen intensiveren om onze veerkracht tegen klimaateffecten die we niet kunnen voorkomen te vergroten, en de hiermee geassocieerde veiligheidsconsequenties het hoofd bieden.
Ondertussen moeten we urgent de ambitie van ons klimaatengagement vergroten. Gelukkig bieden verschillende aanstaande bijeenkomsten een kans om precies dat te doen. We moeten deze met beide handen aanpakken.
Volgende maand zal de Franse president Emmanuel Macron een conferentie voorzitten om de tweede verjaardag van het akkoord van Parijs te markeren. En volgend jaar september zal gouverneur van Californië Jerry Brown zijn eigen top houden om meer actie door steden, bedrijven, en andere niet-statelijke actoren te katalyseren. De grootste kans doet zich echter voor in 2019 wanneer secretaris-generaal van de VN António Guterres wereldleiders in New York bijeen zal brengen voor de grootste klimaatconferentie sinds de gesprekken in Parijs.
We moeten een overkoepelende ambitie om deze samenkomsten heen creëren die in de woorden van onze vriend Tony de Brum, de verscheiden minister van Buitenlandse Zaken van de Marshalleilanden en onvermoeibaar strijder voor het klimaat bij de conferentie in Parijs, een traject naar overleving voor de meest kwetsbaren biedt.
Een aantal belangrijke spelers doet al meer dan toegezegd. Een heel aantal anderen inclusief de Marshalleilanden ligt op koers om voor 2020 nieuwe doelstellingen te zetten om de huidige die slechts tot 2025 reiken uit te breiden. Nog weer anderen – waaronder Frankrijk, India, en Nieuw Zeeland – hebben informeel laten weten dat ze graag meer willen doen.
De waarheid is dat bijna alle landen de capaciteit hebben om meer te doen, vooral als ze gesteund worden en kansen worden geïdentificeerd. Het is nu imperatief om de juiste politieke omstandigheden te scheppen om actie te motiveren en faciliteren. Nu steeds meer landen aangeven dat ze in staat zijn om het ambitieniveau van hun engagement te verhogen zullen er meer volgen.
Tegelijkertijd moeten we garanderen dat elke sector, zowel als elk land, een eerlijke bijdrage levert. Dit geldt bijvoorbeeld voor de internationale scheepvaart, die wanneer deze een land zou zijn 's wereld op vijf na grootste vervuiler is.
De 'Talanoa Dialoog' van volgend jaar – die gehouden zal worden op Fiji dat vorige week de eerste eilandstaat die voorzitter van klimaatgesprekken van de VN is werd – zal landen helpen te identificeren hoe ze precies kunnen voldoen aan de doelen gezet in het akkoord van Parijs. Deze dialoog, die landen in goed vertrouwen aan zouden moeten gaan, moet een springplank voor verdere actie worden. Tot dat doel zal het recente rapport van het VN-Klimaatpanel dat manieren presenteert om de temperatuur beneden de grens van 1,5 graad te houden cruciaal zijn. De wetenschap blijft de sleutel.
De gesprekken van Parijs hebben bewezen dat politiek succes mogelijk is wanneer leiders het juiste platform geboden wordt, het maatschappelijk middenveld zich achter ze schaart, en de wereld eensgezind actie onderneemt. Om het verdere traject richting een duurzame toekomst te volbrengen moeten we deze les nog eens toepassen. De slagzin van de conferentie van Bonn was 'verder, sneller, en samen.' Onze collectieve uitdaging is nu om deze mooie woorden naar de realiteit te vertalen.
Vertaling Melle Trap