Der Nutzen gemeinsamen Handelns beim Klima
,
BONN – Als Donald Trump vor einem Jahr zum Präsidenten der USA gewählt wurde, sagten manche ein nahes Ende des Pariser Abkommens voraus. Doch wie die jüngste Runde globaler Klimaverhandlungen in Bonn gezeigt hat, sind die politischen Führer der Welt diesem Abkommen stärker verpflichtet denn je. Dies ist die gute Nachricht, doch es bleibt die Tatsache, dass die Zusagen dieser Länder bisher noch nicht ausreichen, um eine Trendwende herbeizuführen – und unser Zeitfenster für ein wirksames Handeln in der Frage des Klimawandels schließt sich rasch.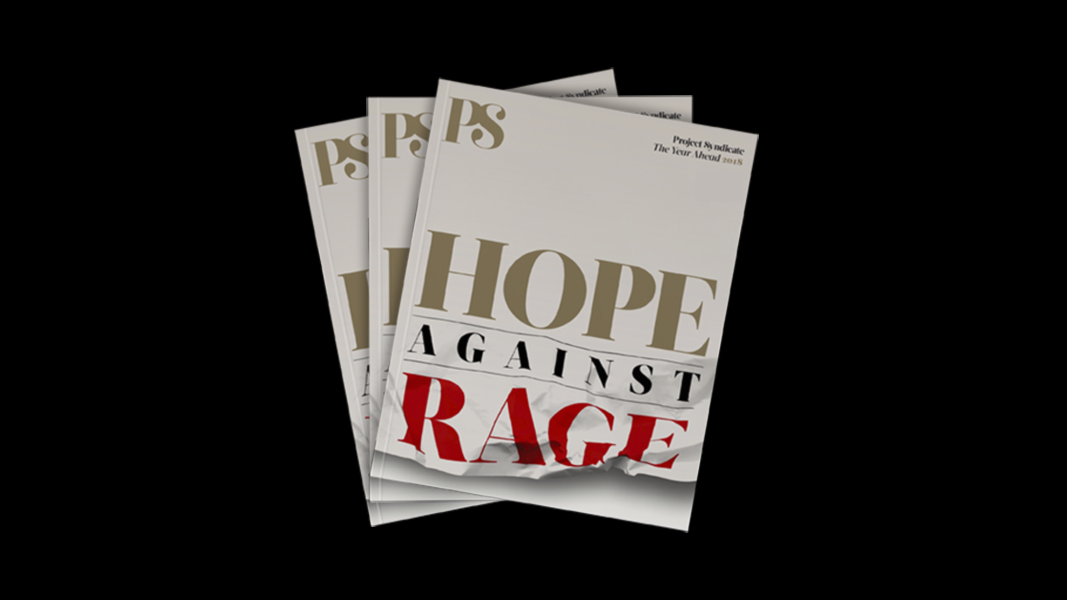 The Year Ahead 2018
The world's leading thinkers and policymakers examine what's come apart in the past year, and anticipate what will define the year ahead.
Trumps Entscheidung zum Austritt der USA – dem weltgrößten CO2-Emittenten der Geschichte – aus dem Pariser Abkommen hat dem Abkommen einen schweren Schlag versetzt. Viele der engsten Verbündeten Amerikas – darunter unsere beiden Länder, die Marshall-Inseln und Australien – waren schwer enttäuscht von diesem sowohl für Amerika als auch für die Welt kurzsichtigen Schritt.
Doch es fällt schwer, sich nicht von der frischen Welle globaler Entschlossenheit ermutigt zu fühlen, die Trumps Entscheidung weltweit und innerhalb der USA selbst freigesetzt hat. Fast alle wichtigen Bundesstaaten, Städte und Unternehmen der USA haben zugesagt, mehr zu tun, damit ihr Land trotz des Widerstandes der Trump-Regierung seinen Verpflichtungen nachkommen kann.
Mit Sicherheit hat die Tatsache geholfen, dass Maßnahmen zur Bekämpfung des Klimawandels inzwischen die weltweit wichtigste wirtschaftliche Chance darstellen. Laut eigener Analyse der Trump-Regierung arbeiten inzwischen über doppelt so viele Amerikaner in der Solarbranche wie in der Kohle-, Öl- und Gasindustrie zusammen. Und in diesem Jahr hat die OECD festgestellt, dass wir das weltweite Wirtschaftswachstum bis 2050 um jährlich 5% steigern könnten, einfach indem wir Klima- und Wachstumsprogramme miteinander verknüpfen.
Wir haben keine Zeit zu verlieren; der Klimawandel hat bereits begonnen. Die Rekorddürre auf den Marshall-Inseln, die apokalyptischen Stürme in der Karibik und die verheerenden Überflutungen in Bangladesch und den USA in diesem Jahr belegen es.
Wie das Umweltprogramm der Vereinten Nationen uns vor kurzem erinnert hat, werden wir es, selbst wenn jedes Land seine bisherigen Ziele zu Emissionsverringerung für 2030 einhält, nicht schaffen, die globale Erwärmung auf unter 1,5 °C über vorindustriellem Niveau zu begrenzen – die im Pariser Abkommen anerkannte Schwelle, ab welcher die Auswirkungen des Klimawandels deutlich steigen. Unsere Chancen, auch nur die konservativere – und gefährlichere – Grenze von 2 °C einzuhalten, sind gering.
Vor dieser Realität die Augen zu verschließen ist ein Glücksspiel mit der künftigen Existenz vieler Inselstaaten, vom weltwirtschaftlichen Wohlstand gar nicht zu reden. Ohne deutlich ehrgeizigere Bemühungen zur Emissionssenkung bis 2020 werden wir es nicht schaffen, die weltweit gefährdetsten Länder zu retten. Und wenn der Klimawandel außer Kontrolle gerät, wird kein Land gegenüber seinen Auswirkungen immun bleiben.
Leider wird sich die Lage noch deutlich verschlechtern, bevor sie sich wieder bessert. Darum müssen wir uns verstärkt bemühen, unsere Widerstandsfähigkeit gegen jene Klimaeffekte, die sich nicht vermeiden lassen, zu steigern, und uns den mit diesen Effekten verbundenen Folgen für die Sicherheitslage stellen.
Zugleich müssen wir unsere Klimazusagen dringend ausweiten. Zum Glück bieten uns mehrere anstehende Veranstaltungen genau hierzu Gelegenheit. Wir müssen diese Chance mit beiden Händen ergreifen.
Im nächsten Monat wird der französische Staatspräsident Emmanuel Macron Gastgeber einer Konferenz anlässlich des zweijährigen Bestehens des Pariser Abkommens sein. Und im nächsten September wird der kalifornische Gouverneur Jerry Brown Gastgeber eines eigenen Gipfels sein, der Städte, Unternehmen und andere nicht staatliche Akteure bewegen soll, mehr zu tun. Die größte Gelegenheit freilich kommt 2019, wenn UN-Generalsekretär António Guterres die weltweiten Staats- und Regierungschefs in New York beim größten Klimagipfel seit den Pariser Verhandlungen begrüßen wird.
Wir müssen einen Bogen des Ehrgeizes um diese Veranstaltungen schlagen, der – um es mit den Worten unseres Freundes Tony de Brum, des verstorbenen Außenministers der Marshall-Inseln und unermüdlichen Klimakämpfers auf der Pariser Konferenz, zu sagen – einen Kurs für das Überleben der am stärksten gefährdeten Gemeinschaften absteckt.
Einige wichtige Akteure gehen bereits deutlich über ihre Zusagen hinaus. Einige andere, darunter die Marshall-Inseln, werden bis 2020 neue Ziele vorlegen, um ihre bisherigen, nur bis 2025 reichenden Zielsetzungen zu erweitern. Wieder andere – darunter Frankreich, Indien und Neuseeland – haben informell erklärt, dass sie bestrebt sind, mehr zu tun.
In Wahrheit können nahezu alle Länder mehr tun, insbesondere wenn die Unterstützung dafür da ist und die Gelegenheiten kenntlich gemacht werden. Eine zwingende Notwendigkeit ist nun, den passenden politischen Rahmen zu schaffen, um zum Handeln anzuregen und die entsprechenden Maßnahmen zu fördern. Wenn mehr Länder ihre Fähigkeit signalisieren, ehrgeizigere Zusagen abzugeben, werden weitere folgen.
Zugleich müssen wir gewährleisten, dass alle Branchen und Länder ihren fairen Anteil beitragen. Dies schließt etwa den internationalen Transportsektor ein, der, wäre er ein Land, der sechstgrößte Emissionsemittent weltweit wäre.
Der "Talanoa-Dialog" im nächsten Jahr auf den Fidschi-Inseln – die letzte Woche als erster Inselstaat den Vorsitz bei UN-Klimaverhandlungen einnahmen – wird Ländern helfen, präzise zu ermitteln, wie sie die im Rahmen des Pariser Abkommens aufgestellten Ziele erreichen können. Dieser Dialog, an dem sich die Länder auf Treu und Glauben beteiligen sollten, muss ein Sprungbrett für weitere Maßnahmen sein. Von entscheidender Bedeutung wird hierbei wird der letzte Bericht des Weltklimarates sein, der Wege beschreibt, den Temperaturanstieg unter der Schwelle von 1,5 °C zu halten. Zentral dabei sind die wissenschaftlichen Erkenntnisse.
Die Pariser Verhandlungen haben gezeigt, dass politische Erfolge möglich sind, wenn die Politik die richtige Plattform erhält, die Zivilgesellschaft hinter ihr steht und die Welt geschlossen handelt. Um den weiteren Weg zu einer nachhaltigen Zukunft zurückzulegen, müssen wir diese Lehre erneut anwenden. Das Motto der Bonner Konferenz war "Further, faster, and together" (Weiter, schneller und gemeinsam). Unsere kollektive Verantwortung besteht nun darin, dieses wohlklingende Motto auch umzusetzen.
Aus dem Englischen von Jan Doolan