Należy Zakończyć Amerykańską Dwuznaczność Strategiczną w Kwestii Tajwanu
TOKYO - Inwazja Rosji na Ukrainę przypomniała nam o napiętych stosunkach między Chinami a Tajwanem. Ale choć istnieją trzy podobieństwa między sytuacją na Ukrainie i w Tajwanie, istnieją też znaczące różnice.
Pierwsze podobieństwo polega na tym, że między Tajwanem a Chinami istnieje bardzo duża luka w sile militarnej, podobnie jak między Ukrainą a Rosją. Co więcej, luka ta powiększa się z każdym rokiem.
Po drugie, ani Ukraina, ani Tajwan nie mają formalnych sojuszników wojskowych. Oba kraje są zmuszone do samotnego stawiania czoła zagrożeniom lub atakom.
Po trzecie, ponieważ zarówno Rosja, jak i Chiny są stałymi, dysponującymi prawem weta członkami Rady Bezpieczeństwa ONZ, nie można polegać na funkcji mediacyjnej ONZ w konfliktach, w które są one zaangażowane. Tak było w przypadku obecnego rosyjskiego ataku na Ukrainę i tak byłoby również w przypadku jakiegokolwiek kryzysu związanego z Tajwanem.
Jednak sytuacja wokół Tajwanu jest jeszcze bardziej niepokojąca. Tajwan nie ma sojuszników, ale ma Taiwan Relations Act - amerykańską ustawę z 1979 roku, która zobowiązuje Stany Zjednoczone do zapewnienia Tajwanowi sprzętu i wyposażenia wojskowego "niezbędnego do umożliwienia Tajwanowi utrzymania wystarczającej zdolności do samoobrony." Ustawa ta funkcjonowała jako forma rekompensaty za to, że Ameryka nie chciała powiedzieć wprost, że będzie "bronić Tajwanu," gdyby został on zaatakowany. To ustalenie powinno się teraz zmienić.
W odpowiedzi na agresję Rosji na Ukrainę Stany Zjednoczone już na początku oświadczyły, że nie będą wysyłać swoich wojsk do obrony Ukrainy. Natomiast w przypadku Tajwanu Stany Zjednoczone przyjęły politykę strategicznej dwuznaczności. To drugi punkt różnicy: nie jest jasne, czy USA będą interweniować zbrojnie w przypadku kryzysu z udziałem Tajwanu.
Subscribe to PS Digital Now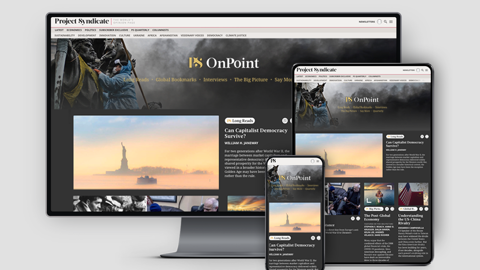 Subscribe to PS Digital Now
Access every new PS commentary, our entire On Point suite of subscriber-exclusive content – including Longer Reads, Insider Interviews, Big Picture/Big Question, and Say More – and the full PS archive.
Ponieważ USA wolą nie określać swojego stanowiska w sprawie odpowiedzi na atak na Tajwan, Chiny (przynajmniej do tej pory) były zniechęcane do militarnej awantury. Dzieje się tak dlatego, że rządzący Chinami muszą liczyć się z możliwością interwencji militarnej ze strony USA. Jednocześnie amerykańska dwuznaczność zmusiła Tajwan do rozważenia możliwości, że USA nie będą interweniować militarnie, co zniechęciło radykalne grupy niepodległościowe na wyspie.
Stany Zjednoczone przez dziesięciolecia utrzymywały swoją dwuznaczną politykę "Janusa." Jednak trzecia, najważniejsza różnica między Ukrainą a Tajwanem zdecydowanie wskazuje na to, że nadszedł czas, aby USA ponownie rozważyły swoje podejście. Mówiąc prościej: o ile Ukraina jest niepodległym państwem ponad wszelką wątpliwość, o tyle Tajwan nie jest.
Inwazja Rosji to nie tylko zbrojne naruszenie suwerenności terytorialnej Ukrainy, ale także próba obalenia rządu suwerennego państwa za pomocą rakiet i pocisków. W tej kwestii nie ma kontrowersji w społeczności międzynarodowej co do interpretacji prawa międzynarodowego i Karty Narodów Zjednoczonych. Chociaż zakres, w jakim państwa uczestniczą w sankcjach przeciwko Rosji jest różny, żadne państwo nie twierdzi, że Rosja nie narusza poważnie prawa międzynarodowego.
Z kolei Chiny twierdzą, że Tajwan jest "częścią ich własnego kraju," a USA i Japonia respektują to twierdzenie. Ani Japonia, ani USA nie utrzymują oficjalnych stosunków dyplomatycznych z Tajwanem, a większość państw na świecie nie uznaje Tajwanu za suwerenne państwo. Inaczej niż w przypadku Ukrainy, chińscy przywódcy mogliby twierdzić, że jakakolwiek inwazja na Tajwan jest konieczna do stłumienia antyrządowych działań w jednym z ich własnych regionów, a zatem takie działania nie naruszają prawa międzynarodowego.
Kiedy Rosja zaanektowała Krym, społeczność międzynarodowa ostatecznie się pogodziła z tym faktem, mimo że Rosja naruszyła suwerenność Ukrainy. Biorąc pod uwagę ten precedens, nie jest zaskakujące, że chińscy przywódcy mogą oczekiwać, iż świat będzie bardziej tolerancyjny, jeśli oni również przyjmą logikę podporządkowania "regionalnego," a nie narodowego.
Taka logika sprawiła, że strategiczna dwuznaczność stała się niemożliwa do utrzymania. Polityka dwuznaczności działała bardzo dobrze, dopóki Stany Zjednoczone były wystarczająco silne, aby ją utrzymać, i dopóki Chiny były znacznie gorsze od USA pod względem siły militarnej. Ale te czasy już przeminęły. Amerykańska polityka dwuznaczności wobec Tajwanu sprzyja obecnie niestabilności w regionie Indo-Pacyfiku, zachęcając Chiny do niedoceniania amerykańskiej determinacji, podczas gdy rząd w Tajpej niepotrzebnie się niepokoi.
 
Biorąc pod uwagę zmianę okoliczności od czasu przyjęcia polityki strategicznej niejednoznaczności, USA powinny wydać oświadczenie, które nie będzie podatne na błędne lub wielorakie interpretacje. Nadszedł czas, aby Stany Zjednoczone jasno dały do zrozumienia, że będą bronić Tajwanu przed każdą próbą chińskiej inwazji.
Za każdym razem, gdy spotykałem się z prezydentem Xi Jinpingiem w czasie, gdy byłem premierem, zawsze starałem się jasno przekazać, że nie powinien źle oceniać zamiarów Japonii dotyczących obrony wysp Senkaku i że intencje Japonii są niezachwiane. Tragedia ludzka, która dotknęła Ukrainę, dała nam gorzką lekcję. Nie może być już miejsca na wątpliwości co do naszej determinacji w sprawie Tajwanu i naszej determinacji w obronie wolności, demokracji, praw człowieka i praworządności.
Z angielskiego przetłumaczyła Marz McNamer