Strategická nejednoznačnost USA v otázce Tchaj-wanu musí skončit
TOKIO – Ruská invaze na Ukrajinu připomněla mnoha lidem složitý vztah mezi Čínou a Tchaj-wanem. Je pravda, že situace na Ukrajině a situace na Tchaj-wanu vykazují tři podobnosti, ale zároveň mezi nimi existují významné rozdíly.
První podobnost spočívá v tom, že mezi Tchaj-wanem a Čínou existuje z hlediska vojenské síly stejně propastný rozdíl jako mezi Ukrajinou a Ruskem. Navíc se tento rozdíl rok od roku zvyšuje.
Za druhé nemají Ukrajina ani Tchaj-wan oficiální vojenské spojence. Obě země jsou nuceny čelit hrozbám či útokům samy.
A za třetí jsou Rusko i Čína stálými členy Rady bezpečnosti Organizace spojených národů s právem veta, takže se v konfliktech, do kterých se tyto země zapojí, nelze spolehnout na zprostředkovatelskou funkci OSN. Tak je tomu v případě současného ruského útoku na Ukrajinu a bylo by tomu tak i v případě jakékoliv krize ohledně Tchaj-wanu.
Situace kolem Tchaj-wanu je však ještě nesnadnější. Tchaj-wan sice nemá spojence, ale má zákon o vztazích s Tchaj-wanem – americký zákon z roku 1979, který zavazuje Spojené státy poskytnout Tchaj-wanu vojenské vybavení a zásoby "nezbytné k tomu, aby bylo Tchaj-wanu umožněno udržet si dostatečné sebeobranné kapacity". Tento zákon funguje jako forma kompenzace za neochotu Ameriky výslovně konstatovat, že bude Tchaj-wan v případě útoku "bránit". Tato úprava by se nyní měla změnit.
V reakci na ruskou agresi proti Ukrajině Spojené státy hned na počátku prohlásily, že nevyšlou své vojáky bránit tuto zemi. Pokud však jde o Tchaj-wan, zaujímají USA politiku strategické nejednoznačnosti. A právě v tom spočívá druhý rozdíl: není jasné, zda by USA v případě krize kolem Tchaj-wanu zasáhly silou.
Subscribe to PS Digital Now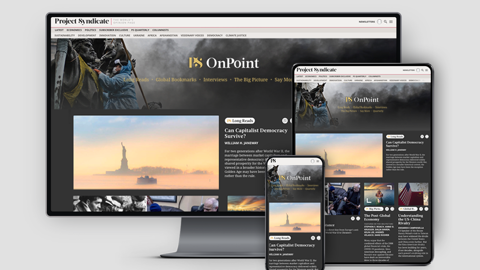 Subscribe to PS Digital Now
Access every new PS commentary, our entire On Point suite of subscriber-exclusive content – including Longer Reads, Insider Interviews, Big Picture/Big Question, and Say More – and the full PS archive.
Rozhodnutí USA nedefinovat předem svou reakci na případný útok na Tchaj-wan odrazuje Čínu (alespoň prozatím) od vojenského avanturismu. Je tomu tak proto, že vedoucí představitelé Číny musí počítat s možností, že by USA v takovém případě skutečně vojensky zasáhly. Současně s tím americká nejednoznačnost nutí Tchaj-wan zohledňovat možnost, že USA vojensky nezasáhnou, což odrazuje radikální skupiny bojující za nezávislost ostrova.
Tuto obojetnou politiku dělají USA už desítky let. Třetí a nejdůležitější rozdíl mezi Ukrajinou a Tchaj-wanem však pádným způsobem naznačuje, že přišel čas, aby USA svůj přístup přehodnotily. Jednoduše řečeno: zatímco Ukrajina je nade vši pochybnost nezávislým státem, Tchaj-wan jím není.
Ruská invaze představuje nejen ozbrojené narušení územní celistvosti Ukrajiny, ale je i pokusem o svržení vlády suverénního státu raketami a granáty. V této otázce neexistuje v mezinárodním společenství žádný spor o výklad mezinárodního práva a Charty OSN. Rozsah sankcí uvalených na Rusko se sice stát od státu liší, ale žádná země neříká, že Rusko vážně neporušuje mezinárodní právo.
Naproti tomu Čína tvrdí, že Tchaj-wan je "součástí její země", a postoje USA a Japonska toto tvrzení respektují. Japonsko ani USA nemají s Tchaj-wanem oficiální diplomatické vztahy a většina zemí světa neuznává Tchaj-wan jako suverénní stát. Na rozdíl od Ruska ve vztahu k Ukrajině mohou čínští představitelé tvrdit, že případná invaze Číny na Tchaj-wan je nezbytná pro potlačení protivládních aktivit v jednom z jejích regionů, a že takové počínání tudíž neporušuje mezinárodní právo.
Když Rusko anektovalo Krym, mezinárodní společenství se s tím nakonec smířilo, přestože tehdy Rusko narušilo ukrajinskou suverenitu. Vzhledem k tomuto precedentu by nebylo překvapivé, kdyby čínští lídři očekávali, že svět bude tolerantnější, pokud i oni použijí logiku podmanění "regionálního" – nikoliv státního – území.
Vzhledem k této logice je strategická nejednoznačnost nadále neudržitelná. Politika obojakosti fungovala mimořádně dobře, dokud byly USA natolik silné, aby ji mohly provádět, a dokud byla vojenská síla Číny výrazně menší než síla USA. Ty doby jsou však pryč. Americká politika nejednoznačnosti v otázce Tchaj-wanu dnes zvyšuje nestabilitu v indopacifickém regionu, neboť podněcuje Čínu k tomu, aby podceňovala odhodlání USA, a současně zbytečně prohlubuje nejistotu vlády v Tchaj-peji.
Vzhledem ke změně okolností od doby, kdy USA tuto politiku strategické nejednoznačnosti zaujaly, by Američané měli vydat prohlášení, které nebude předmětem dezinterpretací nebo vícero možných výkladů. Nastal čas, aby USA daly jasně najevo, že budou bránit Tchaj-wan před jakýmkoliv pokusem o čínskou invazi.
Kdykoliv jsem se během svého působení ve funkci premiéra sešel s prezidentem Si Ťin-pchingem, vždy jsem mu dal jasně najevo, že by neměl pochybovat o odhodlání Japonska bránit souostroví Senkaku a že japonské záměry jsou neochvějné. Lidská tragédie, která postihla Ukrajinu, je pro nás hořkým ponaučením. V našem odhodlání v otázce Tchaj-wanu už nesmí existovat žádný prostor pro pochybnosti, stejně jako v našem odhodlání bránit svobodu, demokracii, lidská práva a vládu zákona.
Z angličtiny přeložil Jiří Kobělka