После золотой лихорадки
ВЕНЕЦИЯ – Повышение цен на золото на протяжении последних лет с 800 долларов США за унцию в начале 2009 года до более 1900 долларов США осенью 2011 года имело все признаки экономического пузыря. В настоящее время, как это бывает со всеми резкими скачками цен на активы в отрыве от основных экономических показателей и спроса, золотой пузырь сдувается.
На пике цен «золотые жуки», представляющие собой сочетание параноидальных инвесторов и других инвесторов с основанной на страхе внутренней политической программой, со счастливым видом предсказывали, что цены на золото достигнут 2000 долларов США, 3000 долларов США и даже 5000 долларов США через несколько лет. Однако с тех пор в основном наблюдалось понижение цен. В апреле золото продавалось по цене близкой к 1300 долларов США за унцию. Цена продолжает колебаться на отметке ниже 1400 долларов, что означает, что цена снизилась почти на 30% по сравнению с самой высокой ценой 2001 года.
Причин, которые привели к тому, что пузырь лопнул, а также по которым цены на золото, скорее всего, снизятся еще ниже, до 1000 долларов США к 2015 году, много.
Во-первых, цены на золото имели тенденцию к повышению в период наличия в мировой экономике серьезных экономических, финансовых и геополитических рисков. Во время мирового финансового кризиса у некоторых инвесторов вызывала сомнения даже надежность банковских депозитов и государственных облигаций. Если вы беспокоитесь по поводу финансового Армагеддона, то, образно говоря, настало время создать в бункере запас оружия, боеприпасов, консервов и золотых слитков.
Но даже при таком катастрофическом сценарии золото может быть неудачным капиталовложением. Фактически в разгар финансового кризиса в 2008 и 2009 годы цены на золото несколько раз резко снижались. В условиях обвала финансово-кредитной системы приобретение золота с использованием заемных средств привело к принудительным продажам. Любая корректировка цены запускает требование увеличения гарантийного депозита. В результате, цена на золото на пике кризиса может быть очень изменчивой, как в сторону повышения, так и в сторону понижения.
Во-вторых, золото лучше всего работает при наличии риска высокого уровня инфляции, т.к. возрастает его популярность в качестве средства сохранения капитала. Однако, несмотря на излишне агрессивную валютную политику, проводимую многими центральными банками, когда количество последовательных раундов «количественного смягчения» удвоило и даже утроило сумму денег в обращении в большинстве стран с развитой экономикой, уровень глобальной инфляции действительно низкий и продолжает снижаться.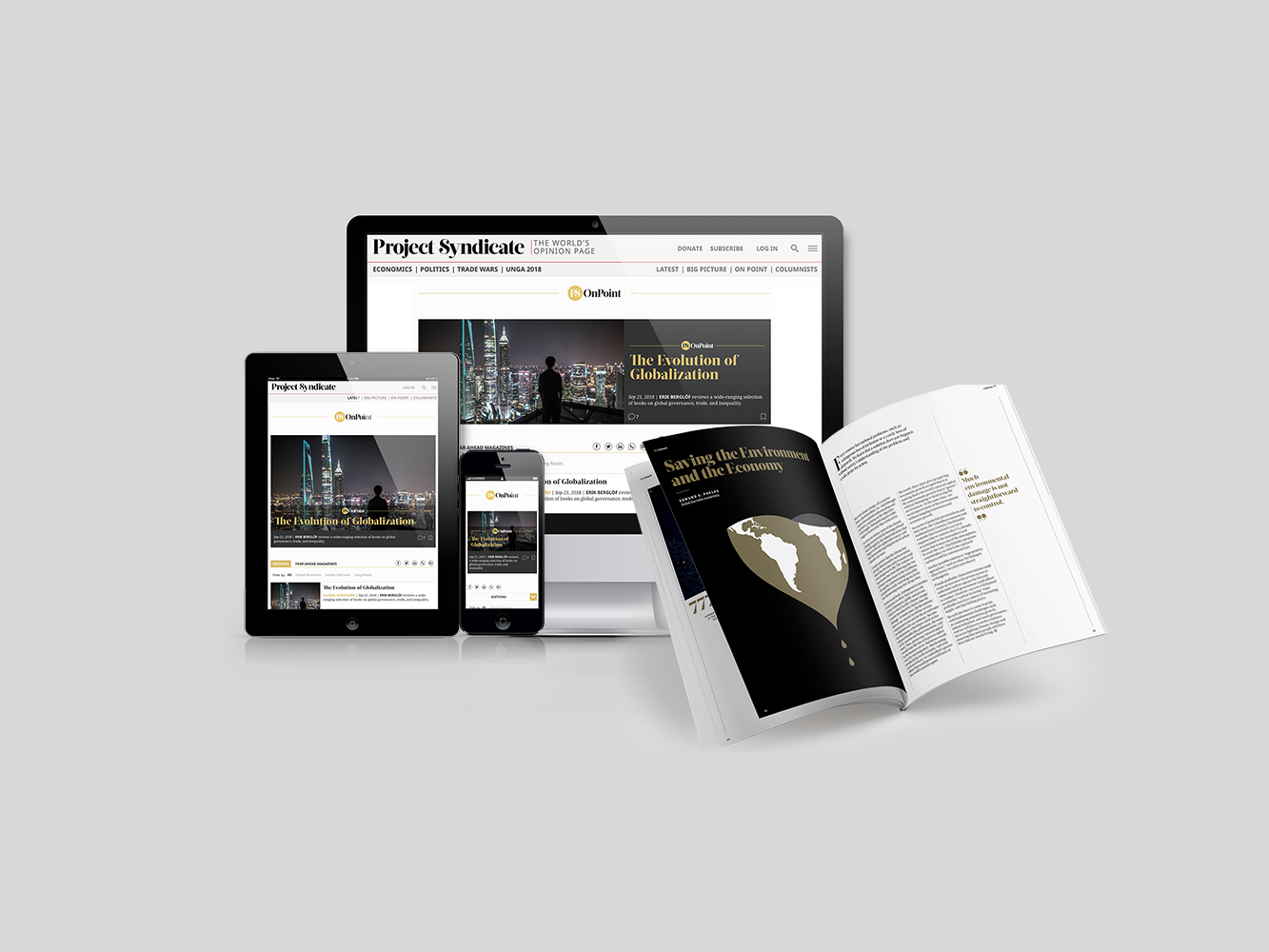 Subscribe now
For a limited time only, get unlimited access to On Point, The Big Picture, and the PS Archive, plus our annual magazine, for less than $2 a week.
Причина для этого проста: несмотря на то что база денежной массы непрерывно возрастает, скорость оборачиваемости денег снизилась, в связи с этим банки обеспечивают ликвидность за счет значительных резервов. Уменьшение долговой нагрузки, как по частным, так и по государственным долгам сохранило уровень мирового спроса ниже уровня предложения.
Таким образом, фирмы обладали низкой ценообразовательной способностью в связи с излишним производственным потенциалом, несмотря на то что у рабочих была небольшая возможность диктовать свои условия из-за высокого уровня безработицы. Кроме того, позиция профессиональных союзов продолжает ослабевать, в то время как глобализация привела к удешевлению производства товаров с широким использованием труда в Китае и других странах с развивающейся рыночной экономикой, снижая зарплаты и перспективы неквалифицированных работников в странах с развитой экономикой.
При низком уровне инфляции, вызванной ростом заработной платы, высокий уровень инфляции, связанной с увеличением количества товаров, маловероятен. Скорее наоборот, инфляция в настоящее время снижается во всем мире, с корректировкой цен на промышленные товары в ответ на слабый глобальный экономический рост. Цена на золото также снижается в условиях фактической и ожидаемой инфляции.
В-третьих, в отличие от других активов золото не приносит никакого дохода. При этом акции имеют дивиденды, облигации ‑ купоны, недвижимость обеспечивает получение ренты, а золото представляет собой игру на повышение цены капитала. В настоящее время, когда глобальная экономика восстанавливается, другие активы, такие как акции или даже вновь набравшая силу недвижимость, обеспечивают большую доходность. Фактически, акции компаний США и акции глобальных корпораций демонстрировали намного опережающую динамику по сравнению с золотом с момента резкого скачка цен на золото в начале 2009 года.
В-четвертых, цены на золото резко выросли, когда фактические (с поправкой на инфляцию) процентные ставки после последовательных раундов количественного смягчения становились все больше отрицательными. Время покупать золото наступает тогда, когда фактическая прибыль на денежные средства и облигации является отрицательной величиной и продолжает снижаться. Однако более позитивные перспективы экономики США и глобальной экономики предполагают, что со временем Федеральная резервная система и центральные банки других стран выйдут из количественного смягчения и политики нулевых процентных ставок, а это означает, что фактические ставки скорее всего повысятся, а не понизятся.
В-пятых, некоторые выдвигают аргументы, что государства с высоким уровнем государственного долга подтолкнут инвесторов к золоту, когда государственные облигации станут еще более рискованными. Однако, в настоящее время имеет место противоположная ситуация. Большое количество этих государств, с высоким уровнем государственного долга, обладают большими запасами золота, в отношении которого они могут принять решение о выбросе его на рынок с целью снижения задолженности. Фактически, данные о том, что Кипр может продать небольшую часть своих золотых запасов, примерно на 400 миллионов евро (520 миллионов долларов США), привело в апреле к падению цены на золото на 13%. Такие страны, как Италия, обладающие значительными золотыми запасами (более 130 миллиардов долларов США) могут испытывать искушение еще больше снизить цены.
В-шестых, некоторые консервативные политические деятели, особенно в США, проводили настолько активную рекламную компанию золота, что в конце концов она привела к обратному результату. Для этого ультраправого направления золото ‑ это единственная защита от риска, созданного государственным сговором по конфискации частного капитала. Эти фанатики верят, что возврат к золотому стандарту неизбежен, т.к. гиперинфляция происходит из-за «фальсификации» центральными банками бумажных денег. Однако, принимая во внимание отсутствие какого-либо заговора, снижающуюся инфляцию, а также невозможность использования золота в качестве валюты, такие  аргументы не поддерживаются.
Валюта выполняет три функции, обеспечивает средство платежа, является расчетной денежной единицей и средством сохранения капитала. Золото может быть средством сохранения капитала для получения дохода, но оно не является средством платежа и золотом нельзя заплатить за продовольственные товары. Кроме того, оно также не является расчетной денежной единицей, цены на товары и услуги, и стоимость финансовых активов не устанавливается в золоте.
Поэтому золото остается, согласно Джону Мейнарду Кейнсу, «пережитком варварских времен» без какой-либо внутренней стоимости и используется, в основном, в качестве инструмента хеджирования против большинства иррациональных страхов и паники. Действительно, инвесторы должны иметь в своих портфолио небольшую долю золота в качестве инструмента против исключительных побочных исков. Однако аналогичным инструментом может быть также и другое недвижимое имущество, а его побочные риски, хотя и не исключены полностью, без сомнения значительно ниже сегодня, чем в пик глобальных финансовых кризисов.
Несмотря на то что цены на золото могут временно повыситься в течение нескольких следующих лет, они будут колебаться, и со временем, когда мировая экономика восстановится, будут иметь тенденцию к снижению. Золотая лихорадка завершилась.