Incluam o Estado terrorista de Putin na lista suja
KIEV – Uma catástrofe humanitária está se desenrolando na Ucrânia, e o resto do mundo é testemunha ocular. Vladimir Putin está travando uma guerra indiscriminada contra a população civil da Ucrânia. O devastador cerco de Mariupol pelas forças russas, que inclui o bombardeio deliberado de uma maternidade e hospital infantil, é parte de um padrão. Como diz o presidente ucraniano Volodymyr Zelensky, é mais uma evidência de que o genocídio está acontecendo em nosso país.
Mais de 2,1 mil pessoas foram mortas só em Mariupol desde o início da invasão. Em toda a Ucrânia, as tropas russas estão mantendo centenas de milhares de pessoas reféns, impedindo-as de deixar suas cidades e vilas enquanto as bombardeiam indiscriminadamente e sem aviso. Estima-se que 2,8 milhões de pessoas fugiram do país, e outros milhões tiveram de deixar suas casas em busca de refúgio. Há dias a população faz filas na fronteira, e muitos encontram segurança em lares de vizinhos e estranhos. Milhares de comunidades não têm nenhum aquecimento, energia elétrica ou água. Há relatos de pessoas bebendo de poças e de crianças morrendo de desidratação.
Ao longo dos 22 anos de governo de Putin, a Rússia agiu repetidas vezes com impunidade, chantageando o mundo com a ameaça tácita de retaliação nuclear. A comunidade internacional assistiu o regime de Putin devastar a Chechênia e a Geórgia com o mesmo tipo de campanha de terra arrasada que tem aplicado à Ucrânia, anexando ilegalmente a Crimeia e travando uma guerra híbrida contra outros países ao redor do mundo. O regime apoiado pelo Kremlin na Síria levou 90% do povo daquele país à pobreza, e as Nações Unidas relatam que 14,6 milhões de sírios, de uma população total de 17,5 milhões, necessitam de auxílio humanitário. Agora, a Ucrânia está se tornando o cavalo de batalha do Ocidente contra Putin.
Com o sistema de segurança internacional em frangalhos e as leis humanitárias sofrendo violações constantes, a Ucrânia precisa urgentemente de armas e sistemas de mísseis para proteger o espaço aéreo. Mas, além da ajuda militar, econômica e humanitária, a Ucrânia precisa desesperadamente do mundo para isolar ainda mais Putin, por meio de ações legais.
É por isso que o Comitê de Política Anticorrupção do Parlamento ucraniano está apelando à Força-Tarefa de Ação Financeira sobre Lavagem de Dinheiro (FTAF) para expulsar a Federação Russa e incluí-la na lista suja de jurisdições de alto risco. Como o órgão internacional encarregado de combater o financiamento do terrorismo e a lavagem de dinheiro, a FTAF poderia tornar impossíveis as transações internacionais com a Rússia, paralisando assim o mecanismo de guerra do país. No entanto, mesmo diante de crimes como os cometidos em Mariupol, a FTAF falhou em agir.
A FTAF foi criada pelo G7 em 1989 para coordenar ações legais e regulatórias contra ameaças ao sistema financeiro mundial decorrentes de lavagem de dinheiro e financiamento do terrorismo. A organização tem 39 membros, entre eles a Federação Russa, e mais de 200 jurisdições integrantes. Entre as principais responsabilidades de seus membros (descritas em suas Recomendações 40+9) estão criminalizar " o financiamento do terrorismo e a lavagem de dinheiro associada" e congelar e confiscar "ativos terroristas."
Secure your copy of PS Quarterly: The Year Ahead 2023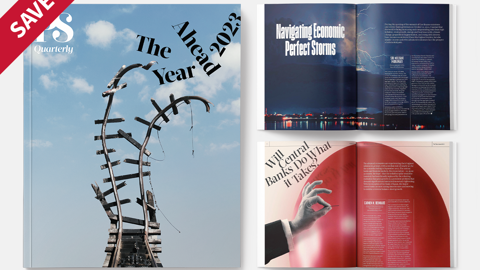 Secure your copy of PS Quarterly: The Year Ahead 2023
Our annual fourth-quarter magazine is here, and available only to Digital Plus and Premium subscribers. Subscribe to Digital Plus today, and save $15.

Entre outras tarefas, a FTAF identifica jurisdições que representem ameaça ao sistema financeiro internacional por meio da fraca aplicação de regras contra lavagem de dinheiro e financiamento do terrorismo, e as coloca em uma lista de jurisdições de alto risco. A Rússia foi incluída na lista em 2000 por seu repetido descumprimento das normas internacionais contra a lavagem de dinheiro, e removida dela em 2002 por avanços em sua conformidade às regras. Obviamente, dada a quantidade de informações sobre lavagem de dinheiro e financiamento do terrorismo conduzidas pelo governo russo, qualquer progresso conquistado foi revertido.
E não se enganem: as ações da Rússia na Ucrânia constituem terrorismo. As chamadas República Popular de Donetsk e República Popular de Lugansk têm se envolvido em terrorismo ao mesmo tempo em que operam sob controle direto da Rússia há oito anos. Em julho de 2014, um míssil Buk russo derrubou o voo 17 da Malaysia Airlines no leste da Ucrânia, matando 298 passageiros e tripulantes. O Ministério Público holandês acusou três russos (Igor Girkin, Sergey Dubinsky e Oleg Pulatov) e um ucraniano (Leonid Kharchenko) de assassinato.
Desde o início da invasão em larga escala da Rússia à Ucrânia em 24 de fevereiro, ocorreram inúmeros ataques a civis. Estes incluem ataques de foguetes em edifícios residenciais, hospitais, jardins de infância e asilos em Kiev, Kharkiv, Sumy, Chernihiv e outros centros populacionais. As forças russas atacaram até instalações nas usinas nucleares de Chernobyl e Zaporizhzhya, além do reservatório de Kiev, mostrando extraordinária imprudência. Todos esses atos se enquadram na definição de terrorismo. Eles são pensados para levar adiante os objetivos políticos da Rússia, matando, mutilando e intimidando a população civil.
Portanto, a Rússia está violando tanto a Convenção Internacional das Nações Unidas para a Supressão do Financiamento do Terrorismo (1999) quanto a Convenção Internacional para a Supressão de Atos de Terrorismo Nuclear (2005). A resolução 1373 (2001) do Conselho de Segurança da ONU exige que todos os Estados impeçam o financiamento de atos terroristas, mas a Rússia tem feito precisamente isso em Lugansk e Donetsk.
Nestas circunstâncias, a adesão contínua da Rússia à FTAF é mais uma afronta ao direito internacional. O presidente da organização, Marcus Pleyer, e os governos do G7 devem se movimentar para expulsar a Rússia e adicioná-la à Lista de Jurisdições de Alto Risco, definida como aquelas "com graves deficiências estratégicas para combater a lavagem de dinheiro, o financiamento do terrorismo e o financiamento de sua proliferação".
Até o momento, a FTAF  expressou "grave preocupação" com a situação na Ucrânia, e indicou que está "revisando o papel da Rússia" dentro da organização. No entanto, o órgão só deve se encontrar de novo em junho, e parece estar mantendo esse cronograma. Tal inação equivale a apoio a Putin. Os acordos internacionais são inúteis, a menos que sejam implementados e fiscalizados em tempo hábil.
Uma das grandes lições não aprendidas da história é que o apaziguamento não funciona. Meu avô tem 93 anos e se recusa a deixar Kiev. Ele era um menino quando os nazistas tomaram sua cidade em 1941.Qual é o sentido de dizer "nunca mais" durante 80 anos se você não estiver preparado para agir quando chegar a hora da verdade? O mínimo que o Ocidente poderia fazer é responsabilizar Putin por atacar deliberadamente alvos civis. Um movimento decisivo da FTAF seria um bom começo.
O mundo está assistindo. O ministro das relações exteriores da Rússia, Sergei Lavrov, chamou de "patéticas" as críticas ao bombardeio do hospital de Mariupol. De certo modo, ele tem razão. Responder a tais crimes com palavras é patético. O Ocidente deve fazer mais para garantir que "nunca mais" ainda signifique alguma coisa.
Tradução por Fabrício Calado Moreira