Mettre l'État terroriste de Poutine sur liste noire
KYIV – Une catastrophe humanitaire se déroule en Ukraine et le reste du monde en est témoin. Vladimir Poutine mène une guerre aveugle contre la population civile ukrainienne. Le siège dévastateur de Marioupol par les forces russes, notamment par le bombardement délibéré d'un hôpital pour enfants et d'une maternité, s'inscrit dans un plan d'action. Comme le dit le président ukrainien Volodymyr Zelensky, cela constitue une preuve supplémentaire qu'un génocide est en cours dans notre pays.
Plus de 2 100 personnes ont été tuées à Marioupol depuis le début de l'invasion. En Ukraine, les troupes russes détiennent des centaines de milliers de personnes en otage, les empêchant de quitter leurs villes tout en les bombardant sans discernement et sans avertissement. On estime que 2,8 millions de personnes ont fui le pays et que des millions d'autres ont dû quitter leur foyer pour échapper aux bombardements. Les gens se sont mis en file d'attente à la frontière pendant des jours et un grand nombre ont trouvé refuge dans les foyers de voisins et d'étrangers. Un millier de communautés sont sans chauffage, sans électricité ou sans eau. On entend de récits de personnes qui boivent dans des flaques et d'enfants qui meurent de déshydratation.
Tout au long des 22 ans de règne de Poutine, la Russie a agi en toute impunité à plusieurs reprises, faisant du chantage au monde avec la menace tacite de représailles nucléaires. La communauté internationale a vu son régime ravager la Tchétchénie et la Géorgie avec le même genre de campagne de terre brûlée qu'il poursuit en Ukraine, annexer illégalement la Crimée et mener une guerre hybride contre d'autres pays du monde. Le régime syrien soutenu par le Kremlin a poussé 90 % de la population de ce pays dans la pauvreté et les Nations Unies indiquent que 14,6 millions de Syriens, sur une population de 17,5 millions, ont besoin d'aide humanitaire. Aujourd'hui, l'Ukraine est devenue le bouclier usé que l'Occident brandit contre Poutine.
Le système de sécurité international étant en lambeaux et les lois humanitaires violées à maintes reprises, ce dont l'Ukraine a besoin de toute urgence, ce sont des armes et des missiles capables de protéger le pays contre des attaques aériennes. Mais en plus de l'aide militaire, économique et humanitaire, l'Ukraine a désespérément besoin que le monde isole davantage Poutine par une action en justice.
C'est pourquoi le Comité de la politique de lutte contre la corruption du Parlement ukrainien demande au Groupe d'action financière contre le blanchiment d'argent d'expulser la Fédération de Russie et de l'ajouter à la liste noire des Juridictions à haut risque. En tant qu'organisme international chargé de lutter contre le financement du terrorisme et le blanchiment de capitaux, le GAFI pourrait rendre impossibles les transactions internationales avec la Russie, en paralysant ainsi le moteur de guerre du pays. Pourtant, même face à des crimes comme ceux commis à Marioupol, le GAFI n'a pas pu agir.
Le GAFI a été créé par le G7 en 1989 pour coordonner les mesures juridiques et réglementaires contre les menaces de blanchiment de capitaux et de financement du terrorisme pour le système financier mondial. L'organisation compte 39 membres, dont la Fédération de Russie et plus de 200 juridictions membres. Parmi les principales responsabilités de ses membres (décrites dans ses Recommandations 40+9), il y a la criminalisation du « financement du terrorisme et du blanchiment d'argent associé » et le gel et la confiscation des « biens terroristes ».
WINTER SALE: Save 25% on a new PS subscription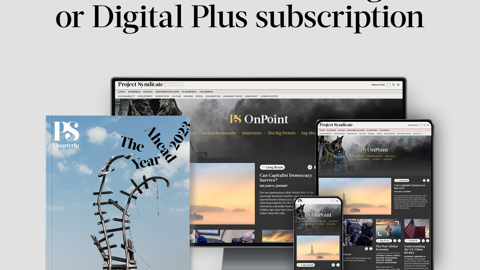 WINTER SALE: Save 25% on a new PS subscription
For a limited time, you can gain greater access to Project Syndicate – including every commentary and our entire On Point suite of subscriber-exclusive content – starting at less than $6 per month.
Entre autres tâches, le GAFI identifie les juridictions qui constituent une menace pour le système financier international par le biais d'une faible mise en application des règles contre le blanchiment de capitaux et le financement du terrorisme, et les place sur une liste de Juridictions à haut risque. La Russie a été inscrite sur la liste noire en 2000 pour son incapacité répétée à se conformer aux mesures internationales de lutte contre le blanchiment de capitaux, et a été retirée de la liste en 2002 pour des progrès dans le respect de ces dispositions. Évidemment, étant donné la quantité d'informations sur le blanchiment d'argent et de financement du terrorisme mené par le gouvernement russe, les progrès accomplis ont été inversés.
Et ne nous méprenons pas : les actions de la Russie en Ukraine sont bel et bien du terrorisme. La République populaire de Donetsk et la République populaire de Lougansk sont engagées dans des actes terroristes tout en opérant sous le contrôle direct de la Russie depuis huit ans. En juillet 2014, un missile russe Buk a abattu le vol 17 de Malaysia Airlines au-dessus de l'Est de l'Ukraine, tuant 298 passagers et membres d'équipage. Le Ministère public néerlandais a accusé trois Russes (Igor Girkin, Sergey Dubinsky et Oleg Pulatov) et un Ukrainien (Leonid Kharchenko) de meurtre.
Depuis le début de l'invasion à grande échelle de l'Ukraine par la Russie le 24 février, de nombreuses attaques ont été lancées contre des civils. Elles comprennent notamment des tirs de roquettes sur des bâtiments résidentiels, des hôpitaux, des jardins d'enfants et des asiles à Kyiv, Kharkiv, Soumy, Tchernihiv et dans d'autres centres de population. Les forces russes ont même attaqué des installations des centrales nucléaires de Tchernobyl et Zaporijjia et du réservoir de Kyiv, ce qui dénote une insouciance extraordinaire. Tous ces actes relèvent de la définition du terrorisme. Ils sont conçus pour promouvoir les objectifs politiques de la Russie en tuant, en mutilant et en intimidant la population civile.
La Russie a ainsi violé à la fois la Convention internationale des Nations Unies pour la répression du financement du terrorisme (1999) et la Convention internationale pour la répression des actes de terrorisme nucléaire (2005). La résolution 1373 (2001) du Conseil de sécurité de l'ONU exige que tous les États empêchent le financement d'actes terroristes – et pourtant la Russie a fait exactement cela à Lougansk et Donetsk.
Dans ces circonstances, le maintien de la Russie au sein du GAFI constitue un autre affront envers le droit international. Le président de l'organisation, Marcus Pleyer et les gouvernements du G7 devraient s'orienter vers l'expulsion de la Russie et l'ajouter à la liste des Juridictions à haut risque, définies comme celles « présentant de graves lacunes stratégiques pour lutter contre le blanchiment d'argent, le financement du terrorisme et le financement de la prolifération ».
À ce jour, le GAFI a exprimé sa « grave préoccupation » au sujet de la situation en Ukraine et a indiqué qu'il « réexamine le rôle de la Russie » au sein de l'organisation. Toutefois, il ne se réunira plus avant juin et semble s'en tenir à ce calendrier. Une telle inaction revient à soutenir Poutine. Les accords internationaux sont sans valeur à moins qu'ils ne soient appliqués et mis en œuvre dans les meilleurs délais.
L'une des grandes leçons ignorées de l'histoire, c'est que l'apaisement ne fonctionne pas. Mon grand-père a 93 ans et il refuse de quitter Kyiv. Il était un jeune garçon quand les nazis ont pris sa ville en 1941. À quoi cela rime-t-il de dire « plus jamais » pendant 80 ans si vous n'êtes pas prêt à agir quand sonne l'heure de vérité ? Le moins que l'Occident puisse faire, c'est de tenir Poutine pour responsable d'attaquer délibérément des cibles civiles. Une décision décisive du GAFI serait un bon début.
Le monde en est témoin. Le ministre russe des Affaires étrangères, Sergei Lavrov, a qualifié de « pitoyable » la critique à l'encontre des bombardements de l'hôpital de Marioupol. D'une certaine manière, il a raison. Répondre à de tels crimes par des mots est pitoyable. L'Occident doit faire davantage pour s'assurer que « plus jamais » veuille encore dire quelque chose.