Ein Anschlag auf die Demokratie in den USA
NEW YORK – Die USA sind seit ihrer Gründung im Jahr 1776 eine sich ständig weiterentwickelnde Demokratie, doch nun ist ihr Überleben als Demokratie stark gefährdet. Verantwortlich für diese Krise ist eine Anzahl lose verknüpfter Entwicklungen im In- und Ausland.
Vom Ausland her werden die USA durch repressive Regime unter Führung von Xi Jinping in China und durch Wladimir Putins Russland bedroht, die weltweit eine autokratische Regierungsform durchsetzen wollen.
Noch größer jedoch ist die Gefahr, der die USA durch Feinde der Demokratie im eigenen Land ausgesetzt sind. Hierzu gehören der aktuelle von Rechtsextremisten dominierte Supreme Court und Donald Trumps Republikanische Partei, die diese Extremisten ernannt hat.
Was qualifiziert die Mehrheit des Gerichts als Extremisten? Es ist nicht bloß ihre Entscheidung zur Aufhebung von Roe v. Wade, dem bahnbrechenden Gerichtsentscheid aus dem Jahr 1973, in dem das Recht einer Frau, selbst zu entscheiden, ob sie gebären möchte, anerkannt wurde. Was sie als Extremisten qualifiziert, sind die Argumente, auf die sie ihre Entscheidung gründen, und die Andeutungen, wie weit sie bei der Umsetzung dieser Argumente zu gehen bereit sein könnten.
Richter Samuel Alito, der Verfasser der Mehrheitsmeinung, stützte sein Votum auf die Behauptung, dass der 14. Verfassungszusatz nur jene Rechte schützt, die zum Zeitpunkt seiner Ratifizierung 1868 allgemein anerkannt waren. Dieses Argument gefährdet viele weitere seit damals anerkannt Rechte, darunter das Recht auf Verhütung, gleichgeschlechtliche Eheschließungen und LGBTQ-Rechte.
Bis zu ihrer logischen Schlussfolgerung fortgeführt, könnte diese Argumentation es den Einzelstaaten sogar erlauben, Eheschließungen zwischen den Rassen zu verbieten, wie das einige bis 1967 taten. Es ist zudem klar, dass dieses Gericht die Absicht hat, einen Frontalangriff auf die Exekutive zu starten. Eines der folgenschwersten Urteile der gerade zu Ende gegangenen Gerichtsperiode entzog der US-Umweltschutzbehörde die Befugnis, zur Bekämpfung des Klimawandels erforderliche Rechtsverordnungen zu erlassen.
Subscribe to PS Digital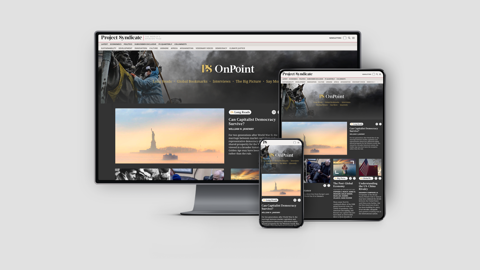 Subscribe to PS Digital
Access every new PS commentary, our entire On Point suite of subscriber-exclusive content – including Longer Reads, Insider Interviews, Big Picture/Big Question, and Say More – and the full PS archive.

Man braucht nicht lange, um den gemeinsamen Nenner der jüngsten Entscheidungen des Gerichts zu finden: Anliegen zu fördern, die von Trumps Republikanischer Partei unterstützt werden, und von der Demokratischen Partei favorisierte Anliegen zu schwächen oder für ungesetzlich zu erklären. Man denke an die Waffengesetze. Der radikale Flügel des Gerichts schenkt der Waffenlobby umfassend Gehör. Obwohl also eine jüngste Epidemie von Amokläufen landesweit einen derartigen Aufschrei hervorgerufen hat, dass selbst einige Republikaner ein neues Bundesschusswaffengesetz unterstützten, entschädigte das Gericht die National Rifle Association für den Verlust, indem es ein seit langem bestehendes Gesetz des Staates New York, das strenge Beschränkungen für das verdeckte Tragen von Handfeuerwaffen umfasste, für ungültig erklärte. (Der Staat New York verabschiedete umgehend neue Schusswaffengesetze, die vermutlich vor dem Supreme Court landen werden.)
Der Supreme Court war einmal eine jener US-Institutionen, die besonderen Respekt genossen. Durch ihre jüngsten Entscheidungen hat die extremistische Mehrheit seine Zustimmungsrate auf einen historischen Tiefstwert sinken und die Missbilligung gegenüber dem Gericht auf neue Höchstwerte steigen lassen. Die Minderheitsmeinung in dem Fall, der Roe v. Wade aufhob, erklärte ausdrücklich, dass die Mehrheitsentscheidung "die Legitimität des Gerichts untergräbt". Unglücklicherweise dürfte die Minderheit noch lange die Minderheit bleiben, weil die Extremisten jünger sind und eine Mehrheit von 6:3 Stimmen haben.
Es gibt nur einen Weg, um dem Supreme Court Grenzen zu setzen: der Republikanischen Partei bei den Wahlen eine Erdrutschniederlage zu bescheren. Das würde dem Kongress gestatten, die Rechte gesetzlich zu schützen, deren Schutz dem Supreme Court übertragen worden war. Es ist inzwischen klar, dass Letzteres ein großer Fehler war. Der Kongress muss handeln – angefangen mit dem Schutz des freien Entscheidungsrechts von Frauen. Falls hierzu das Filibuster geändert werden muss, dann sei es so.
Doch was die Organisation eines Erdrutschsieges gegen die radikalisierten Republikaner angeht, stehen deren Gegner vor schier unüberwindlichen Hindernissen. Die Republikaner haben nicht nur den Supreme Court und viele untergeordnete Gerichte mit extremistischen Richtern besetzt. In Staaten wie Florida, Georgia und Texas haben sie zudem eine Vielzahl von Gesetzen erlassen, die das Wählen stark erschweren.
Während sich diese Gesetze darauf konzentrieren, die Rechte von Afroamerikanern, anderen Minderheiten und Jungwählern im Allgemeinen zu beschneiden, besteht ihr letztliches Ziel darin, den Republikanern zu Wahlsiegen zu verhelfen. Ein Bundesrichter in Florida hat es kürzlich, als er eines dieser Gesetze für ungültig erklärte, so formuliert: Es sei verabschiedet worden "um Floridas Wahlsystem so umzustrukturieren, dass es die Republikanische Partei gegenüber der Demokratischen Partei begünstigt".
Diese Gesetze wären schlimm genug, wenn sie nur darauf zielten, wer wählen darf. Doch die Republikaner gehen inzwischen sogar noch weiter, indem sie das Auszählungsverfahren und das Verfahren zur Zertifizierung des Wahlergebnisses zu untergraben suchen. Wir erleben derzeit, wie die Republikaner unser demokratisches System von jedem Winkel aus attackieren – von Gesetzesänderungen, um die Zersetzung des Wahlsystems zu vereinfachen, bis hin zum Einsatz von Anhängern von Trumps großer Lüge, man habe ihn 2020 um den Wahlsieg betrogen, zur Beaufsichtigung des Verfahrens. Und auch hier hat der radikale Supreme Court seinen Beitrag geleistet, indem er den Voting Rights Act ausgehöhlt und eine offenkundig parteiliche Neuordnung der Wahlkreise zur Schwächung der Stimmrechte von Minderheiten zugelassen hat.
Zum Glück bin ich nicht der Einzige, der behauptet, dass das Überleben der Demokratie in den USA stark gefährdet ist. Die amerikanische Öffentlichkeit wurde durch die Entscheidung zur Aufhebung von Roe v. Wade aufgerüttelt. Doch müssen die Menschen diese Entscheidung als das erkennen, was sie ist: als Teil eines sorgfältigen Plans, die USA in ein repressives Regime zu verwandeln.
Wir müssen alles in unserer Macht Stehende tun, um dies zu verhindern. Dieser Kampf sollte auch viele derjenigen einschließen, die in der Vergangenheit für Trump gestimmt haben. Ich bin ein Unterstützer der Demokratischen Partei, aber dies ist keine parteipolitische Frage. Es geht darum, wieder ein funktionierendes Zweiparteiensystem zu etablieren, das den Kern der amerikanischen Demokratie bildet.
Aus dem Englischen von Jan Doolan