La lucha contra el cambio climático vuelve a París
PARÍS – Han pasado casi dos años desde que el entonces ministro de asuntos exteriores de Francia, Laurent Fabius, hizo sonar el mazo y declaró: "El acuerdo climático de París ha sido aceptado". La próxima semana, el presidente Emmanuel Macron y el gobierno francés recibirán a líderes mundiales y actores no estatales para la cumbre One Planet, una reunión cuyo propósito es celebrar los avances hechos desde 2015 y fortalecer el apoyo político y económico al cumplimiento de los objetivos del acuerdo de París.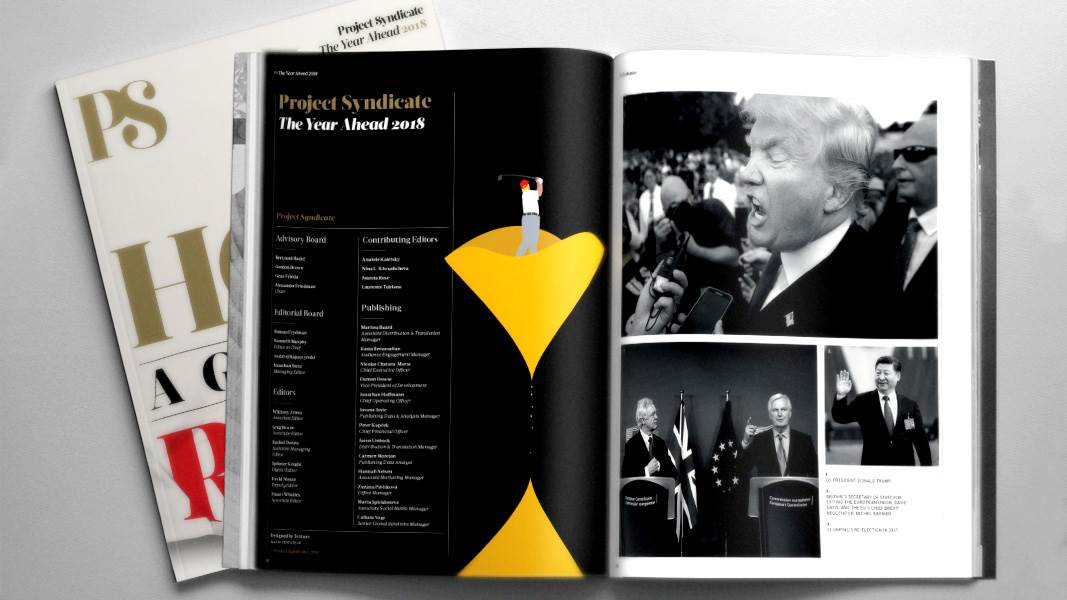 The Year Ahead 2018
The world's leading thinkers and policymakers examine what's come apart in the past year, and anticipate what will define the year ahead.
Dicho acuerdo, una hazaña histórica de la diplomacia que inició una nueva era de cooperación internacional en torno del clima, fue posible gracias a la acción de una variedad de fuerzas políticas y sociales. Una de las más influyentes fue el grupo de más de cien países de la "coalición ambiciosa", que ayudó a cerrar el acuerdo en los postreros días de la Conferencia de las Naciones Unidas sobre Cambio Climático 2015 (COP21). Esta variada coalición (que incluía desde los países más ricos a los estados insulares más vulnerables del Pacífico) logró superar un atasco político de años, o tal vez décadas.
A la luz de este triunfo de la diplomacia, hoy resulta evidente la necesidad de una nueva coalición ambiciosa. Así como hace dos años un decidido liderazgo internacional logró anotarse una victoria, hoy se necesitan nuevas alianzas económicas y políticas que conviertan los compromisos asumidos entonces en acciones.
El éxito diplomático del acuerdo de París es de por sí digno de elogio; fue un avance notable en la lucha contra el cambio climático. Pero no debemos dormirnos en los laureles. Ahora que Estados Unidos (mayor emisor histórico de gases de efecto invernadero) abandonó el acuerdo, el resto de la comunidad internacional debe reafirmar el compromiso de reducir las emisiones de dióxido de carbono. Se necesitan medidas drásticas, significativas e inmediatas.
Los mejores modelos científicos disponibles indican que sólo nos quedan tres años para comenzar una reducción permanente de las emisiones de gases de efecto invernadero, o no podremos alcanzar el objetivo del acuerdo de París de mantener el calentamiento "muy por debajo de 2 °C" respecto de los niveles preindustriales. Y por si la ciencia no transmitiera suficiente urgencia, el planeta mismo se encarga de hacerlo, con una feroz exhibición de huracanes, inundaciones, incendios forestales y sequías mortales.
Dada la inmediatez del desafío, ¿qué podemos y debemos hacer para evitar la crisis?
La financiación es el primer paso de todas las soluciones; por eso, un objetivo central de la cumbre One Planet es movilizar fondos públicos y privados para financiar proyectos descontaminantes. La cumbre tendrá un "día de la financiación", en el que empresas, bancos, inversores y países anunciarán nuevas iniciativas que ayuden a financiar la costosa transición a una futura economía descarbonizada.
En esta reunión no hay lugar para promesas huecas; sólo se discutirán compromisos reales, de dinero real, para proyectos tangibles. Por eso esperamos que los gobiernos comprometan cientos de millones de dólares para financiar soluciones en todos los frentes de la batalla contra el cambio climático. Gran parte de esa cifra irá a proyectos de energía renovable, pero también se asignará dinero a áreas como transporte, agricultura, infraestructura y sistemas urbanos, y se reservarán fondos para proyectos que faciliten la protección de las comunidades más vulnerables al calentamiento global.
La cumbre One Planet será una ocasión para que países, empresas e instituciones privadas elaboren estrategias concretas para el abandono de los combustibles fósiles. En las negociaciones de la ONU celebradas el mes pasado en Bonn (Alemania), veinte países (liderados por Canadá y el Reino Unido) anunciaron planes para el abandono gradual del carbón como fuente de electricidad; la reunión de París dará a otros países la oportunidad de unirse a esta <>Alianza para el Abandono del Carbón, que busca formalizar una transición planificada al uso de otras fuentes de energía y ayudar a las empresas a reducir a cero sus niveles de emisión neta.
En definitiva, la cumbre de la próxima semana debe ser un lugar para que gobiernos, empresas, inversores y otros actores centrales colaboren y compartan ideas, muestren proyectos exitosos y coordinen objetivos. Este evento no debe ser un hecho aislado, sino punto de partida para otras reuniones internacionales en los próximos años: en este breve lapso de tiempo se definirá la posibilidad de cumplir los límites de temperatura estipulados por el acuerdo de París.
Dos años después de la aprobación de un revolucionario acuerdo sobre el clima, la dirigencia internacional se dispone a reunirse otra vez en la Ciudad Luz. Allí volverá a ser necesaria su ambición colectiva, pero esta vez, para garantizar que los acuerdos previos no sean sólo palabras en un papel.
Traducción: Esteban Flamini