De strijd tegen klimaatverandering keert terug naar Parijs
PARIJS – Er zijn bijna twee jaar verstreken sinds toenmalig Frans minister van Buitenlandse Zaken Laurent Fabius afhamerde en verklaarde: 'Het klimaatverdrag van Parijs is hierbij gesloten.' Deze week zijn president Emmanuel Macron en de Franse regering gastheer van wereldleiders en niet-statelijke actoren voor de One Planet Summit. Het doel van deze bijeenkomst is om de klimaatwinst die sinds 2015 bereikt is te celebreren, en om de politieke en economische steun voor het voldoen aan de objectieven en doelstellingen van het akkoord van Parijs een impuls te geven.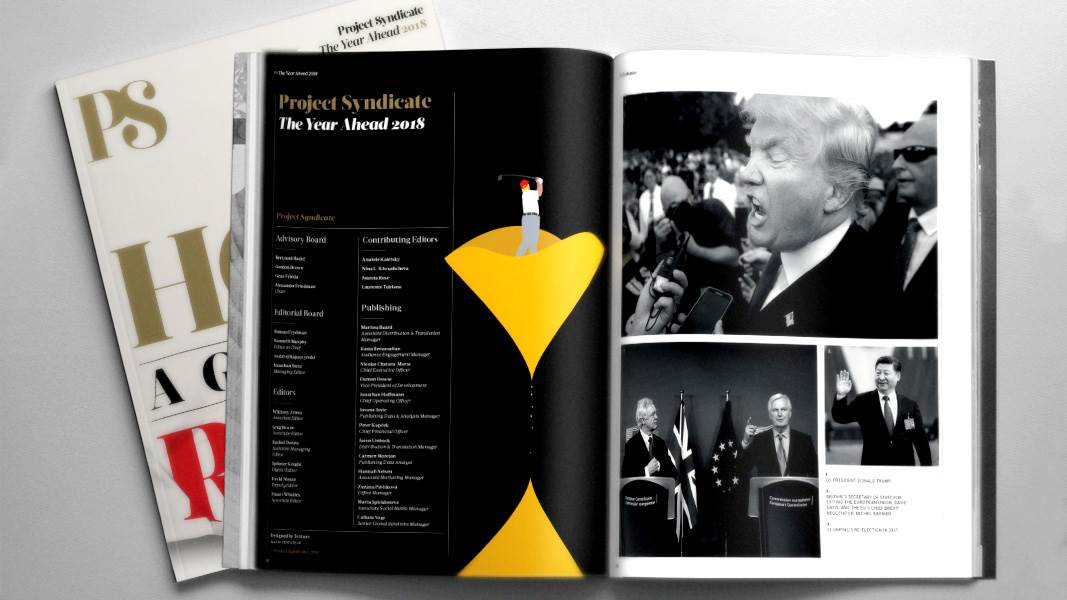 The Year Ahead 2018
The world's leading thinkers and policymakers examine what's come apart in the past year, and anticipate what will define the year ahead.
Het klimaatverdrag van Parijs, een historische diplomatieke prestatie die een nieuw tijdperk van internationale samenwerking op gebied van klimaat heeft ingeluid, werd gefaciliteerd door een hele reeks politieke en sociale krachten. Eén van de meest invloedrijke hiervan was een groep van meer dan 100 landen die bekend staat als de 'hoge ambities coalitie' die de deal hielpen te beklinken in de laatste uren van de Klimaatconferentie van de Verenigde Naties van 2015 (COP21). Deze diverse coalitie van leiders – van de rijkste landen tot de meest kwetsbare eilandstaten in de Stille Oceaan – doorbrak een politieke patstelling die de vooruitgang qua klimaat jaren, als niet decennia, had belemmerd.
Als we terugkijken op dat succes is één ding overduidelijk: de noodzaak tot ambitieuze coalities is teruggekeerd. Sterk mondiaal leiderschap qua klimaatverandering behaalde twee jaar geleden een diplomatieke overwinning, en vandaag de dag zijn er nieuwe economische en diplomatieke allianties nodig om de toezeggingen van toen in actie te veranderen.
Het diplomatieke succes van het akkoord van Parijs is op zichzelf al prijzenswaardig; het was een opmerkelijke sprong voorwaarts in het gevecht tegen klimaatverandering. Maar we mogen nu niet op ons lauweren rusten. Nu de Verenigde Staten, de grootste uitstoter van broeikasgassen uit de geschiedenis, het akkoord niet meer onderschrijft moet de rest van de wereld zijn engagement aan het terugdringen van de uitstoot van koolstofdioxide herbevestigen. Er moeten drastische, betekenisvolle, en onmiddellijke stappen worden ondernomen.
Met de nieuwste wetenschappelijke kennis wordt geschat dat de wereld als ze nog enige hoop wil koesteren om het doel van het klimaatakkoord van Parijs om de opwarming 'ruim beneden de 2 graden Celsius' boven pre-industriële niveaus te houden te bereiken nog maar drie jaar heeft om aan een permanente reductie van de uitstoot van broeikasgassen te beginnen. En alle urgentie die de wetenschap niet kan overbrengen wordt wel gecommuniceerd door de planeet zelf – door een woedend vertoon van orkanen, overstromingen, bosbranden, en dodelijke droogtes.
Wat kan en moet er gegeven de urgentie van deze uitdaging gedaan worden om crisis af te wenden?
Oplossingen starten met geld, en een hoofddoel van de One Planet Summit is om publieke en private fondsen te mobiliseren om projecten te financieren die klimaatveranderende vervuiling direct kunnen verminderen. Tijdens 'Climate Finance Day' gedurende de top zullen bedrijven, banken, investeerders, en landen nieuwe initiatieven aankondigen om de kostbare transitie naar een koolstofvrije toekomst te helpen financieren.
Er is op deze bijeenkomst geen ruimte voor loze beloften; alleen echte toezeggingen van echt geld voor tastbare projecten zullen besproken worden. Als resultaat hiervan hopen we te zien dat er honderden miljoenen dollars zullen worden toegezegd door regeringen om oplossingen op alle fronten van de strijd tegen klimaatverandering te financieren. Veel hiervan zal naar projecten voor hernieuwbare energie gaan, maar er zal ook geld worden toegewezen aan schoon transport, landbouw, infrastructuur, en stadsplanning. Er zullen ook fondsen geoormerkt worden voor projecten die helpen de gemeenschappen te beschermen die het meest kwetsbaar zijn voor de impact van de opwarming van de aarde.
De One Planet Summit zal een mogelijkheid zijn voor landen, bedrijven, en particuliere organisaties om concrete strategieën te smeden om afscheid te nemen van fossiele brandstoffen. Op de VN-klimaatgesprekken in Bonn afgelopen maand kondigden 20 landen aangevoerd door Canada en het Verenigd Koninkrijk plannen aan om het gebruik van kolen voor elektriciteitsopwekking uit te faseren. De bijeenkomst in Parijs zal voor andere landen een kans bieden om mee te gaan doen aan de Powering Past Coal Alliance, die tot doel heeft een doelgerichte transitie van kolen te formaliseren, en om bedrijven te helpen netto nuluitstoot te bereiken.
Uiteindelijk moet de top van deze week een plek worden waar regeringen, bedrijven, investeerders, en andere cruciale belanghebbenden samenwerken en ideeën delen, succesvolle projecten belichten, en hun doelen coördineren. Deze bijeenkomst mag niet op zichzelf blijven staan, maar moet in plaats daarvan als springplank dienen voor de internationale bijeenkomsten die de komende jaren zullen plaatsvinden. Het zal tenslotte tijdens deze korte tijdspanne zijn dat het lot van de temperatuurdoelen van het akkoord van Parijs bepaald zal worden.
Twee jaar na de aanname van een baanbrekende klimaatovereenkomst komen wereldleiders weer samen in de lichtstad. Daar gearriveerd zal hun collectieve ambitie weer hard nodig zijn. Deze keer echter moet het doel zijn te garanderen dat overeenkomsten uit het verleden meer zijn dan slechts woorden.
Vertaling Melle Trap