Boj proti klimatickým změnám se vrací do Paříže
PAŘÍŽ – Od chvíle, kdy tehdejší francouzský ministr zahraničí Laurent Fabius klepl kladívkem a prohlásil: "Pařížská dohoda o klimatu je přijata," uplynuly téměř dva roky. Příští týden přivítají prezident Emmanuel Macron a francouzská vláda vedoucí světové představitele i nestátní aktéry na summitu One Planet. Cílem tohoto shromáždění bude oslavit pokrok dosažený v oblasti klimatu od roku 2015 a upevnit politickou a ekonomickou podporu pro plnění cílů pařížské dohody.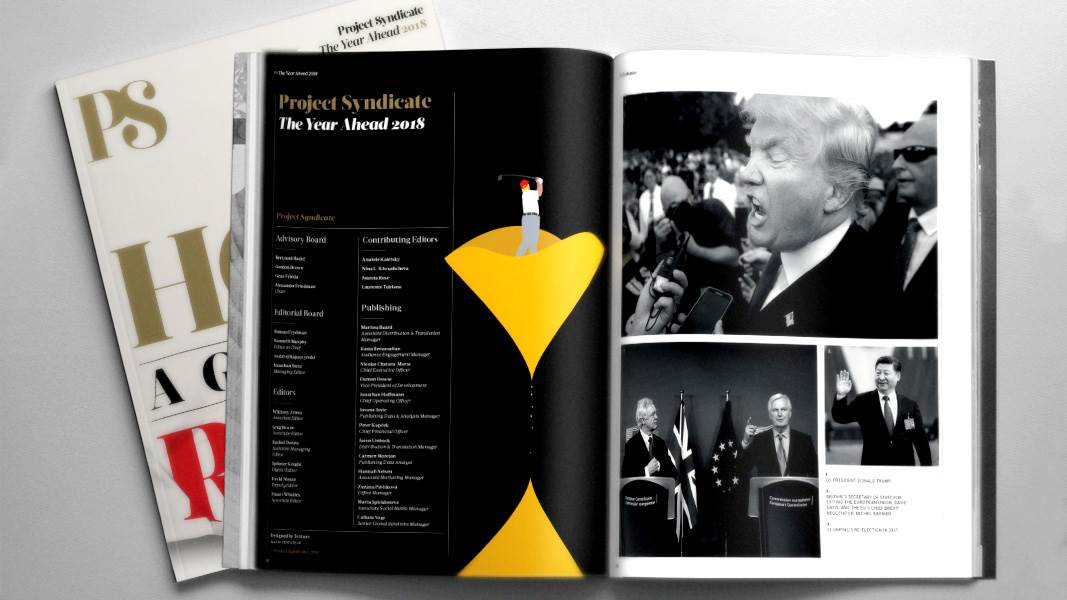 The Year Ahead 2018
The world's leading thinkers and policymakers examine what's come apart in the past year, and anticipate what will define the year ahead.
Pařížskou klimatickou dohodu, tento historický úspěch diplomacie, jímž započala nová éra mezinárodní spolupráce v oblasti ochrany klimatu, umožnila řada politických a společenských sil. Mezi nejvlivnější z nich patřila skupina více než 100 zemí známých jako "koalice vysokých ambicí", která pomohla dohodu finalizovat v závěrečných dnech Konference OSN o změnách klimatu 2015 (COP21). Tato rozmanitá koalice lídrů – od nejbohatších států po nejzranitelnější tichomořské ostrovní státečky – zlomila politický pat, který několik let, ne-li desetiletí bránil klimatickému pokroku.
Když se nad tímto úspěchem zamýšlíme, jedna věc je naprosto zřejmá: potřeba ambiciózních koalic se vrátila. Silné globální vedení v oblasti klimatických změn vedlo předloni k diplomatickému vítězství a dnes je zapotřebí uzavřít nové ekonomické a politické aliance, aby se tyto závazky proměnily v činy.
Diplomatický úspěch pařížské dohody je sám o sobě chvályhodný; byl to pozoruhodný krok vpřed v boji proti klimatickým změnám. Nesmíme však usnout na vavřínech. V době, kdy Spojené státy jakožto největší historický emitent skleníkových plynů dohodu odmítají, se musí zbytek globálního společenství opětovně přihlásit ke svému závazku snížit emise oxidu uhličitého. Je nutné učinit dramatické, smysluplné a okamžité kroky.
Nejlepší dostupné vědecké poznatky odhadují, že svět má pouhé tři roky na to, aby začal trvale snižovat emise skleníkových plynů, pokud si chce zachovat naději na dosažení "pařížského" cíle udržet oteplování na hodnotě "výrazně nižší než 2°C oproti předindustriální úrovni". A i kdyby věda nedokázala naléhavost tohoto problému dostatečně ozřejmit, nejlépe ji dokládá planeta samotná – formou zběsilého víru hurikánů, záplav, lesních požárů a ničivých such.
Co v této naléhavé situaci můžeme a měli bychom udělat, abychom odvrátili krizi?
Řešení začínají u peněz a hlavním cílem summitu One Planet je mobilizace veřejných a soukromých financí na projekty, které dokážou ještě dnes snížit znečištění měnící klima. Během "Dne klimatických financí", jenž bude součástí summitu, oznámí firmy, banky, investoři a státy nové iniciativy, které pomohou financovat nákladný přechod na bezuhlíkovou budoucnost.
Na tomto setkání nebude místo na prázdné sliby; diskutovat se bude pouze o skutečných závazcích skutečných peněz na hmatatelné projekty. S ohledem na to doufáme, že vlády vyčlení stamiliony dolarů na financování řešení na všech frontách boje proti klimatickým změnám. Spousta peněz poputuje do projektů obnovitelné energie, avšak prostředky budou vyčleněny i na čistou dopravu, zemědělství, infrastrukturu a městské systémy. Finance budou vyhrazeny rovněž na projekty, které pomáhají chránit komunity nejzranitelnější vůči dopadům globálního oteplování.
Summit One Planet bude pro státy, firmy i soukromé instituce příležitostí zformulovat konkrétní strategie odklonu od fosilních paliv. Na klimatických rozhovorech OSN, které se v listopadu uskutečnily v německém Bonnu, oznámilo 20 zemí v čele s Kanadou a Velkou Británií plány postupného vytěsňování uhlí z výroby elektrické energie. Schůzka v Paříži poskytne i dalším zemím příležitost vstoupit do Aliance za neuhelnou energii, která si klade za cíl formalizovat cílevědomý odklon od uhlí a pomoci firmám dosáhnout nulových čistých emisí.
A konečně by se summit měl stát příští týden místem, kde vlády, firmy, investoři a další klíčoví protagonisté vzájemně spolupracují a vyměňují si nápady, předvádějí úspěšné projekty a koordinují cíle. Tato akce by neměla být ojedinělá, ale spíše by měla posloužit jako odrazový můstek pro mezinárodní setkání, která se uskuteční v příštích několika letech. Koneckonců se během tohoto krátkého času rozhodne o osudu teplotních cílů pařížské dohody.
Dva roky po přijetí přelomové klimatické dohody se globální lídři mají ve "městě světla" sejít znovu. Jakmile dorazí, budou jejich společné ambice znovu zapotřebí. Tentokrát ovšem musí být cílem zajištění, aby se předchozí dohody staly něčím více než jen slovy na papíře.
Z angličtiny přeložil Jiří Kobělka.