Perlawanan Terhadap Perubahan Iklim Kembali ke Paris
PARIS – Hampir dua tahun telah berlalu sejak Menteri Luar Negeri Perancis ketika itu, Laurent Fabius, mengetukkan palu dan menyatakan: "Perjanjian Perubahan Iklim Paris disetujui". Minggu depan, Presiden Perancis Emmanuel Macron dan Pemerintahan Perancis akan menjadi tuan rumah bagi para pemimpin dunia dan aktor bukan negara dalam KTT One Planet Summit. Tujuan dari pertemuan ini adalah untuk merayakan kemajuan dalam bidang perubahan iklim yang telah dicapai sejak tahun 2015, dan untuk meningkatkan dukungan politik dan ekonomi untuk mencapai tujuan dan target dari perjanjian Paris.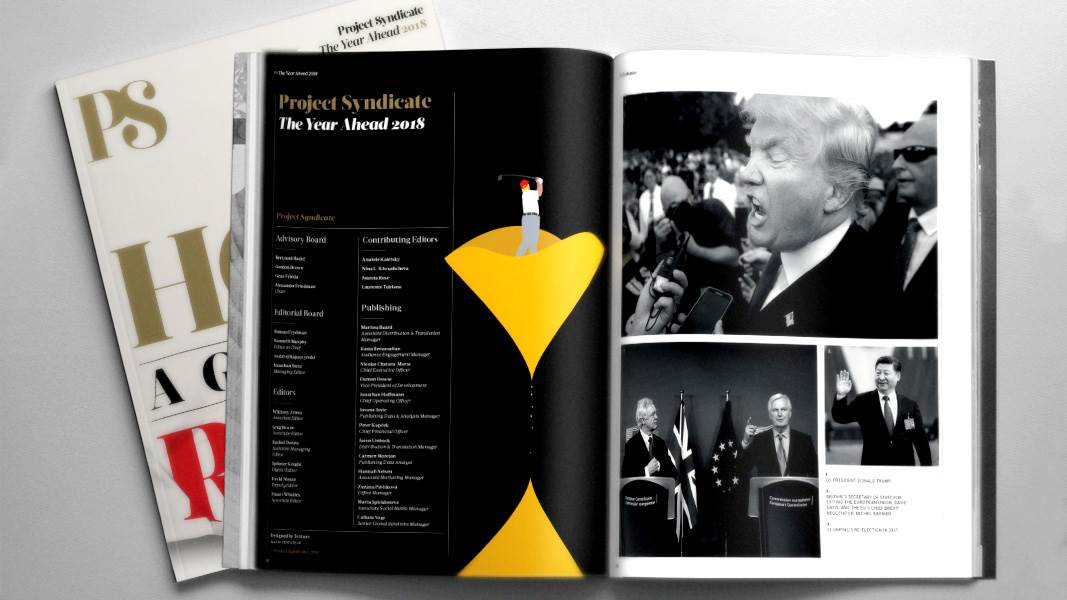 The Year Ahead 2018
The world's leading thinkers and policymakers examine what's come apart in the past year, and anticipate what will define the year ahead.
Perjanjian Perubahan Iklim Paris, yang merupakan suatu prestasi historis diplomasi yang membuka sebuah era kerja sama internasional baru dalam bidang perubahan iklim, difasilitasi oleh sejumlah kekuatan politik dan sosial. Salah satu kelompok yang paling berpengaruh adalah kelompok yang terdiri dari 100 negara yang dikenal sebagai "koalisi ambisi tinggi" yang membantu menyelesaikan perjanjian tersebut di hari-hari menjelang akhir Konferensi Perubahan Iklim PBB tahun 2015 (COP21). Koalisi yang terdiri dari beragam pemimpin ini – mulai dari pemimpin negara terkaya hingga negara Kepulauan Pasifik yang paling rentan – memecahkan kebuntuan politik yang telah menghambat kemajuan dalam bidang perubahan iklim selama bertahun-tahun, atau bahkan puluhan tahun.
Ketika kita merenungkan kesuksesan tersebut, terdapat satu hal yang sangat jelas: kebutuhan akan koalisi yang ambisius kembali muncul. Kepemimpinan global yang kuat dalam bidang perubahan iklim meraih kemenangan diplomatis dua tahun yang lalu, dan saat ini, aliansi perekonomian dan politik yang baru diperlukan untuk mengubah komitmen tersebut menjadi tindakan.    
Kesuksesan diplomatis perjanjian Paris layak untuk mendapatkan pujian; hal ini merupakan sebuah kemajuan yang luar biasa dalam perlawanan terhadap perubahan iklim. Namun kita tidak bisa berpuas diri. Ketika Amerika, yang merupakan penghasil gas rumah kaca terbesar di dunia, mengabaikan perjanjian tersebut, seluruh komunitas global harus menegaskan kembali komitmen mereka dalam mengurangi emisi karbon dioksida. Langkah-langkah yang dramatis, berarti, dan dapat diterapkan segera harus dilakukan.
Estimasi sains terbaik memperkirakan bahwa dunia hanya mempunyai waktu tiga tahun untuk mulai melakukan penurunan permanen emisi gas rumah kaca agar dapat mencapai tujuan perjanjian Paris untuk menjaga pemanasan "di bawah 2°C" dibandingkan suhu sebelum masa industrialisasi. Dan, hal mendesak apa pun yang tidak bisa dikomunikasikan dengan sains disampaikan sendiri oleh bumi – melalui badai, banjir, kebakaran hutan yang ganas, dan kekeringan yang mematikan.
Mengingat mendesaknya tantangan ini, apa yang bisa dilakukan untuk mencegah krisis?
Solusi dimulai dengan pendanaan, dan tujuan utama dari One Planet Summit adalah untuk memobilisasi massa dan pendanaan swasta untuk mendanai proyek yang bisa mengurangi polusi yang menyebabkan perubahan iklim saat ini. Pada pelaksanaan "Hari Pendanaan Iklim" di KTT ini, perusahaan, bank, investor, dan negara-negara akan mengumumkan inisiatif baru untuk membantu mendanai peralihan yang mahal menuju masa depan bebas karbon.
Janji kosong tidak akan diterima dalam KTT ini; hanya komitmen pendanaan riil untuk proyek nyata yang akan dibahas. Oleh karena itu, kami berharap untuk melihat komitmen senilai ratusan juta dolar dari pemerintah untuk mendanai solusi di seluruh bidang yang berkaitan dengan perlawanan terhadap perubahan iklim. Banyak dari dana ini yang akan disalurkan pada proyek energi terbarukan, namun dana juga akan disalurkan untuk transportasi, pertanian, infrastruktur, dan sistem perkotaan yang ramah lingkungan. Dana juga akan dianggarkan untuk proyek yang membantu melindungi komunitas yang paling rentan terhadap dampak perubahan iklim.
KTT One Planet Summit akan menjadi kesempatan bagi negara, perusahaan, dan institusi swasta untuk menghasilkan strategi nyata untuk melakukan peralihan dari bahan bakar fosil. Pada perundingan perubahan iklim PBB di Bonn Jerman, pada bulan lalu, 20 negara yang dipimpin oleh Kanada dan Inggris mengumumkan rencana untuk menghapuskan penggunaan batu bara untuk pembangkit listrik. Pertemuan di Paris akan memberikan kesempatan bagi negara-negara lain untuk ikut serta dalam Aliansi Penghentian Pemakaian Batubara, yang bertujuan untuk mengesahkan peralihan yang disengaja dari batu bara, dan untuk membantu perusahaan-perusahaan untuk mencapai emisi bersih-nol. 
Pada akhirnya, KTT yang akan dilakukan minggu depan harus menjadi kesempatan bagi pemerintah, dunia usaha, investor, dan pemangku kepentingan penting lainnya berkolaborasi dan berbagi ide, menampilkan proyek yang berhasil, dan berkoordinasi untuk mencapai tujuan. Hal ini tidak dapat berdiri sendiri, melainkan berfungsi sebagai batu loncatan bagi pertemuan-pertemuan internasional yang akan diadakan pada beberapa tahun mendatang. Bagaimanapun, jangka waktu yang sempit inilah yang akan menentukan nasib target suhu dalam perjanjian Paris. 
Dua tahun setelah diberlakukannya perjanjian perubahan iklim yang inovatif, para pemimpin global akan kembali bertemu di Kota Cahaya. Ketika mereka tiba, ambisi kolektif mereka kembali dibutuhkan. Namun kali ini, tujuannya adalah untuk memastikan bahwa perjanjian yang telah dicapai dimasa lalu dapat benar-benar dilakukan.