El problema dentro del islam
LONDRES – Sólo hay una opinión posible sobre el asesinato del soldado británico Lee Rigby en una calle del sur de Londres: horripilante.
Pero hay dos opiniones sobre su transcendencia. Una es la de que fue un acto de locos, motivado en su caso por una idea pervertida del islam, pero sin importancia en sentido más amplio. Los locos hacen locuras, conque no hay que reaccionar con exageración. La otra es la de que la ideología que inspiró el asesinato de Rigby es profundamente peligrosa.
Yo soy de esta última opinión. Naturalmente, no debemos reaccionar con exageración. No lo hicimos después de los ataques del 7 de julio de 2005 en el sistema público de transporte de Londres, pero sí que actuamos e hicimos bien. Las acciones de nuestros servicios de seguridad previnieron indudablemente otros ataques graves. El "programa "Prevenir" en las comunidades locales fue una medida sensata.
También las nuevas medidas del Gobierno parecen racionales y proporcionadas, pero, si creemos que podemos proteger el Reino Unido simplemente con lo que hacemos dentro de nuestro país, estamos engañándonos. La ideología está ahí fuera. No está disminuyendo.
Pensemos en Oriente Medio. Ahora Siria está en un proceso de desintegración acelerada. El Presidente Bashar Al Assad está pulverizando brutalmente comunidades enteras que son hostiles a su régimen. Al menos 80.000 personas han muerto, hay casi un millón y medio de refugiados y el número de personas desplazadas dentro del país ha ascendido a más de cuatro millones. Muchos en la región creen que el objetivo de Assad es el de limpiar de suníes las zonas dominadas por su régimen y formar un Estado separado en torno al Líbano. Después podría haber un Estado suní de facto en el resto de Siria, separado de la riqueza del país y sin acceso al mar.
La oposición siria comprende muchos grupos, pero los combatientes asociados con el grupo Jabhat Al Nusra, afiliado a Al Qaeda, están obteniendo cada vez más apoyo, incluidos dinero y armas procedentes de fuera del país.
Subscribe to PS Digital Now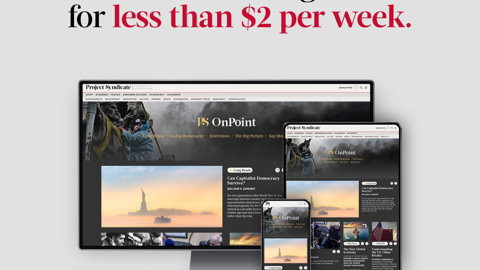 Subscribe to PS Digital Now
Access every new PS commentary, our entire On Point suite of subscriber-exclusive content – including Longer Reads, Insider Interviews, Big Picture/Big Question, and Say More – and the full PS archive.
Assad está utilizando armas químicas en escala limitada, pero mortífera. Algunos de los arsenales se encuentran en zonas ferozmente disputadas.
El deseo abrumador de Occidente de permanecer al margen es completamente comprensible, pero también debemos entender que estamos en el comienzo de esa tragedia. Su capacidad para desestabilizar la región está clara. Jordania está actuando con una valentía ejemplar, pero el número de refugiados que se puede esperar razonablemente que absorba tiene un límite. Ahora el Líbano es frágil, pues el Irán incita a Hezbolá a la batalla. Al Qaeda está intentando de nuevo causar una carnicería en el Iraq, mientras que el Irán sigue inmiscuyéndose en este país.
Entretanto, en Egipto y en todo el norte de África, los partidos de los Hermanos Musulmanes están en el poder, pero la contradicción entre su ideología y su capacidad para gestionar economías modernas ha alimentado una inestabilidad en aumento y las presiones de grupos más extremos.
Además, no hay que olvidar el régimen iraní, que sigue decidido a obtener un arma nuclear y continúa exportando el terror y la inestabilidad. En el África subsahariana, Nigeria está afrontando ataques terroristas espantosos. En Malí, Francia riñó una dura batalla para impedir que los extremistas invadieran el país.
Tampoco hay que olvidar al Pakistán y al Yemen. Más al Este, una guerra fronteriza entre Birmania y Bangladesh está a punto de estallar y acontecimientos recientes en la propia Bangladesh o en la región de Mindanao –de mayoría musulmana– de las Filipinas amplían aún más la lista.
En muchas de las zonas más gravemente afectadas, otra cosa es patente: una población en rápido aumento. La edad media en Oriente Medio es de veintitantos años. En Nigeria, es de 19 años. En Gaza, donde Hamás ocupa el poder, una cuarta parte de la población es menor de cinco años de edad.
Cuando pronto regrese a Jerusalén, será mi centésima visita a Oriente Medio desde que abandoné mi cargo y me puse a contribuir a la creación de un Estado palestino. Veo de primera mano lo que está sucediendo en esa región.
Así, pues, entiendo el deseo de mirar ese mundo y explicarlo mediante referencia a agravios locales, alienación económica y, naturalmente, "personas locas", pero, ¿de verdad no podemos encontrar un hilo común, nada que conecte los puntos de conflicto, ninguna sensación de una ideología que esté activándolo o exacerbándolo todo?
No hay un problema con el islam. Para quienes lo hemos estudiado, no cabe duda de su naturaleza verdadera y pacífica. No hay un problema con los musulmanes en general. En Gran Bretaña, la mayoría de ellos está horrorizada con el asesinato de Rigby.
Pero hay un problema dentro del islam y tenemos que ponerlo sobre la mesa y ser sinceros al respecto. Naturalmente, hay cristianos extremistas y también judíos, budistas e hinduistas, pero me temo que la variedad problemática dentro del islam no está compuesta por unos pocos extremistas. Tiene en su centro una concepción de la religión –y de las relaciones entre religión y política– que no es compatible con las sociedades pluralistas, liberales y de amplias miras. En el último extremo del espectro hay terroristas, pero la concepción del mundo penetra y se extiende más de lo que nos resulta cómodo reconocer. Así, pues, por lo general no lo reconocemos.
Hay dos efectos resultantes. Primero, quienes profesan opiniones extremas creen que nosotros somos débiles y eso les da fuerza. Segundo, los musulmanes  que saben que el problema existe y quieren hacer algo al respecto –y lo bueno es que hay muchos– se desaniman.
En todo Oriente Medio y más allá de él, se está desarrollando una lucha. En un bando, hay islamistas y su concepción del mundo exclusivista y reaccionaria. Constituyen una minoría importante, estridente y bien organizada. En el otro, están los de mentalidad moderna, los que aborrecían la antigua opresión por parte de dictadores corruptos y desprecian la nueva opresión por parte de fanáticos religiosos. Potencialmente, son la mayoría; lamentablemente, están mal organizados.
Se están sembrando las semillas del fanatismo y del terror futuros: posiblemente de un conflicto importante incluso. Nuestra tarea es la de contribuir a sembrar las semillas de la reconciliación y la paz, pero la preparación del terreno para la paz no siempre es pacífica.
Los largos y duros conflictos en el Afganistán y en el Iraq han hecho que las potencias occidentales se muestren cautelosas ante la intervención extranjera, pero no debemos olvidar nunca por qué fueron largos y duros esos conflictos: permitimos que nacieran Estados fallidos.
Sadam Husein fue el responsable de dos guerras importantes, en las que murieron centenares de miles, muchos por armas químicas. Mató un número similar de sus propios compatriotas. Los talibanes surgieron a partir de la ocupación soviética del Afganistán y convirtieron el país en un campo de entrenamiento para el terror. Una vez eliminados esos regímenes, los dos países empezaron a luchar contra las mismas fuerzas que en todas partes promueven la violencia y el terror en nombre de la religión.
No todas las intervenciones tienen que ser militares y no todas las intervenciones  militares deben ir acompañadas de tropas, pero retirarnos de esa lucha no traerá la paz.
Tampoco la seguridad por si sola lo hará. Aunque la resistencia al comunismo revolucionario se basó en la determinación en materia de seguridad, en última instancia fue derrotado por una idea mejor: la de la libertad. Lo mismo se puede hacer en este caso. La idea mejor es una concepción moderna de la religión y del lugar que le corresponde en la sociedad y la política: un modelo basado en el respeto y la igualdad entre personas de credos diferentes. La religión puede tener voz en el sistema político, pero no debe gobernarlo.
Tenemos que comenzar con los niños, aquí y en el extranjero. Ésa es la razón por la que creé una fundación, cuyo objeto concreto es el de educar a los niños de credos diferentes en todo el mundo para que aprendan a conocerse y vivir juntos. Ahora estamos en veinte países y el programa funciona, pero es una gota en el océano en comparación con el diluvio de intolerencia que se enseña a muchos otros.
Ahora, más que nunca, hemos de ser fuertes y tener visión estratégica.
Traducido del inglés por Carlos Manzano.