Het probleem binnen de islam
LONDEN – Er is maar één manier om aan te kijken tegen de moord op de Britse soldaat Lee Rigby, een maand geleden op straat in Zuid-Londen: het is een weerzinwekkende daad.
Er zijn echter twee manieren om de betekenis ervan te duiden. Eén is dat het een daad van waanzin was, die in dit geval werd gemotiveerd door een geperverteerd begrip van de islam, maar geen bredere betekenis had. Waanzinnigen doen nu eenmaal waanzinnige dingen, dus je moet niet overreageren. De andere interpretatie is dat de ideologie die de inspiratie vormde voor de moord op Rigby zeer gevaarlijk is.
Ik ben die laatste mening toegedaan. Uiteraard moeten we niet overreageren. Dat hebben we ook niet gedaan na de aanslagen van 7 juli 2005 op de Londense underground. Maar we zijn toen wel in actie gekomen, en daar hadden we gelijk in. Het optreden van onze veiligheidsdiensten heeft ongetwijfeld andere, ernstige aanslagen voorkomen. Het "Prevent"-programma in lokale gemeenschappen was verstandig.
De nieuwe maatregelen van de regering lijken ook redelijk en proportioneel. Maar we houden onszelf voor de gek als we geloven dat we Groot-Brittannië kunnen beschermen door wat we thuis doen. De ideologie bevindt zich ook daarbuiten, en zij neemt niet in belang af.
Neem het Midden-Oosten. Syrië verkeert nu in een staat van versnelde desintegratie. President Bashar al-Assad verwoest op meedogenloze wijze hele gemeenschappen die vijandig tegenover zijn regime staan. Tenminste 80.000 mensen zijn gedood, er zijn bijna 1,5 miljoen vluchtelingen, en het aantal intern ontheemden is gestegen tot boven de vier miljoen. Velen in de regio geloven dat Assad zich ten doel heeft gesteld de soennieten te verdrijven uit de gebieden die door zijn regime worden gedomineer, en een afzonderlijke staat te stichten rond Libanon. Er zou dan een de facto soennitische staat overblijven in de rest van Syrië, afgesneden van de rijkdommen van het land en van de toegang tot de zee.
De Syrische oppositie bestaat uit vele groeperingen. Maar de strijders die verbonden zijn met Jabhat al-Nusra, een aan Al Qaeda gelieerde groepering, krijgen steeds meer steun – inclusief wapens en geld van buitenaf.
Subscribe to PS Digital Now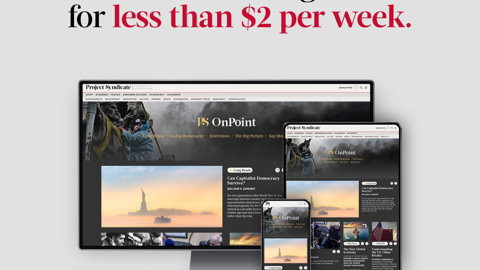 Subscribe to PS Digital Now
Access every new PS commentary, our entire On Point suite of subscriber-exclusive content – including Longer Reads, Insider Interviews, Big Picture/Big Question, and Say More – and the full PS archive.
Assad maakt gebruik van chemische wapens, op beperkte maar dodelijke schaal. Sommige van zijn voorraden bevinden zich in hevig omstreden gebieden.
De wens van het Westen om buiten het conflict te blijven is volledig begrijpelijk. Maar we moeten ook begrijpen dat we pas aan het begin van deze tragedie staan. Haar vermogen om de regio te destabiliseren is duidelijk. Jordanië gedraagt zich met voorbeeldige moed, maar er is een grens aan het aantal vluchtelingen dat het land in alle redelijkheid kan opnemen. Libanon is kwetsbaar, omdat Iran Hezbollah in de strijd heeft gegooid. Al Qaeda probeert opnieuw bloedbaden in Irak teweeg te brengen, terwijl Iran zich met dat land blijft bemoeien.
Ondertussen zijn in Egypte en heel Noord-Afrika partijen van de Moslimbroederschap aan de macht gekomen, maar de tegenstelling tussen hun ideologie en hun vermogen om moderne economieën draaiende te houden heeft voeding gegeven aan toenemende instabiliteit en geleid tot druk van extremere groeperingen.
Dan is er het Iraanse regime, dat nog steeds graag over kernwapens zou willen beschikken, en nog steeds terreur en instabiliteit exporteert. In het ten zuiden van de Sahara gelegen deel van Afrika wordt Nigeria geconfronteerd met gruwelijke terreuraanslagen. In Mali heeft Frankrijk een zware strijd gevochten om te voorkomen dat extremisten het land in handen kregen.
En dan zijn er nog Pakistan – en Jemen. Verder naar het oosten sluimert er een grensoorlog tussen Birma en Bangladesh. En de recente gebeurtenissen in Bangladesh zelf, of in de Mindanao-regio van de Filippijnen, waar de moslims in de meerderheid zijn, maken de lijst nog langer.
In veel van de ernstigst getroffen gebieden is daarnaast sprake van nog een andere, belangrijke factor: de bevolking groeit er razendsnel. De gemiddelde leeftijd in het Midden-Oosten ligt ergens rond de 25. In Nigeria is het 19 jaar, en in Gaza, waar Hamas de macht in handen heeft, is een kwart van de bevolking nog geen vijf jaar oud.
Als ik binnenkort naar Jeruzalem terugkeer, zal dat mijn honderdste bezoek aan het Midden-Oosten zijn sinds ik mijn ambt als premier vaarwel heb gezegd, om mee te helpen bouwen aan een Palestijnse staat. Ik heb uit de eerste hand gezien wat er in deze regio gebeurt.
Dus ik begrijp het verlangen om naar deze wereld te kijken en haar te verklaren door te verwijzen naar lokale grieven, economische vervreemding en, uiteraard, 'waanzinnigen'. Maar kunnen we echt geen gemeenschappelijke factor aanwijzen, niets dat alle conflictpunten verbindt, geen ideologie die hierachter schuilgaat of alles op z'n minst verscherpt?
Er is geen probleem met de islam. Degenen onder ons die de islam hebben onderzocht, twijfelen niet aan zijn werkelijke, vreedzame aard. Er is ook geen probleem met de moslims in het algemeen. De meeste Britse moslims vinden de moord op Rigby afschuwelijk.
Maar er is wel een probleem binnen de islam, en dat moeten we eerlijk onder ogen zien. Er zijn natuurlijk ook christelijke extremisten, en joodse, boeddhistische en hindoeïstische. Maar ik ben bang dat de problematische tak van de islam niet het domein is van een paar extremisten. Er ligt een kijk op religie aan ten grondslag – en op de betrekkingen tussen religie en politiek – die niet verenigbaar is met pluralistische en liberale samenlevingen met een open geest. Aan het uiterste van dit spectrum staan de terroristen, maar hun visie op de wereld gaat dieper en is breder verbreid dan we graag zouden willen toegeven. Dus over het algemeen doen we dat maar liever niet.
Dit heeft twee gevolgen. In de eerste plaats geloven degenen met extreme gezichtspunten dat we zwak zijn, en dat geeft hun kracht. In de tweede plaats verliezen de moslims – en het goede nieuws is dat het er velen zijn – die weten dat het probleem bestaat en er iets aan willen doen, langzamerhand de moed.
In het hele Midden-Oosten en daarbuiten vindt een strijd plaats. Aan de ene kant zijn er de islamisten met hun buitensluitende en reactionaire kijk op de wereld. Zij vormen een aanzienlijke minderheid, luidruchtig en goed georganiseerd. Aan de andere kant staan de modernen, zij die de oude onderdrukking door corrupte dictators haatten en de nieuwe repressie door religieuze fanatici afwijzen. Zij vormen in potentie de meerderheid, maar zijn helaas slecht georganiseerd.
De kiemen voor het fanatisme en de terreur van de toekomst – mogelijk zelfs een groot conflict – worden gelegd. Het is onze taak om te helpen verzoening en vrede te zaaien. Maar het vrijmaken van het speelveld om de vrede een kans te geven is niet altijd een vreedzame aangelegenheid.
De lange en harde strijd in Afghanistan en Irak heeft de westerse machten beducht gemaakt voor interventies in het buitenland. Maar we mogen nooit vergeten waarom deze strijd lang en hard was: we hebben toegestaan dat staten uiteenvielen.
Saddam Hoessein was verantwoordelijk voor twee grote oorlogen, waarin honderdduizenden de dood vonden, velen door toedoen van chemische wapens. Hij heeft vergelijkbare aantallen mensen van zijn eigen volk over de kling gejaagd. De Taliban zijn voortgekomen uit de Sovjet-bezetting van Afghanistan en hebben van het land een trainingscentrum voor terreur gemaakt. Toen deze regimes eenmaal opzij waren gezet, kregen beide landen te maken met de strijd tegen dezelfde krachten die overal geweld en terreur in de naam van de religie propageren.
Niet iedere betrokkenheid hoeft militair van aard te zijn, en niet iedere militaire betrokkenheid hoeft met de inzet van troepen gepaard te gaan. Maar het ons losmaken van deze strijd zal ons geen vrede brengen.
Ook veiligheid alleen zal niet helpen. Hoewel het revolutionaire communisme kon worden weerstaan door vastberadenheid te tonen op het gebied van de veiligheid, werd het uiteindelijk verslagen door een beter idee: dat van de vrijheid. Hetzelfde kan in dit geval gebeuren. Dit betere idee is een moderne kijk op religie en haar plaats in de samenleving en de politiek – een model, gebaseerd op respect en de gelijkheid van mensen met een verschillend geloof. Religie mag een stem hebben in het politieke systeem, maar het niet overheersen.
We moeten beginnen met onze kinderen, hier en in het buitenland. Dat is de reden dat ik een stichting heb opgericht, met als specifieke doelstelling het onderrichten van kinderen met een verschillend geloof in de hele wereld om over elkaar te leren en met elkaar te leven. We werken nu in twintig landen, en de programma's beginnen vruchten af te werpen. Maar het is een druppel op een gloeiende plaat in vergelijking met de vloedgolf aan intolerantie die zo velen met de paplepel krijgen binnen gegoten.
Nu, meer dan ooit, zullen we sterk en strategisch moeten zijn.
Vertaling: Menno Grootveld