O problema no seio do Islão
LONDRES – Só há uma opinião em relação ao assassinato do soldado britânico Lee Rigby que ocorreu numa rua no Sul de Londres, há três semanas: horrível.
Mas há duas opiniões sobre o seu significado. Uma delas é que foi um acto praticado por pessoas loucas, motivado neste caso por uma noção pervertida do Islão, mas sem nenhum significado mais amplo. Os loucos fazem coisas loucas, por isso não exagerem. A outra é a de que a ideologia que inspirou o assassinato de Rigby é profundamente perigosa.
Eu sou apologista da segunda opinião. É claro que não devemos exagerar. Não exagerámos após os ataques na rede dos transportes públicos de Londres, no dia 7 de Julho de 2005. Mas tomámos uma atitude. E estávamos certos em fazê-lo. As acções dos nossos serviços de segurança impediram, sem dúvida, outros ataques graves. O programa "Prevenir" nas comunidades locais foi sensato.
As novas medidas do governo também parecem razoáveis e proporcionais. Mas só nos estamos a iludir, se acharmos que podemos proteger o Reino Unido simplesmente com o que fazemos em casa. A ideologia anda por aí. Ela não está a diminuir.
Vejam o exemplo do Médio Oriente. A Síria está agora num estado de desintegração acelerada. O Presidente Bashar al-Assad está a aniquilar brutalmente comunidades inteiras que são hostis em relação ao seu regime. Pelo menos 80 mil pessoas morreram, há quase 1,5 milhões de refugiados e o número de pessoas deslocadas internamente aumentou acima dos quatro milhões. Muitos na região acreditam que o objectivo de Assad é limpar os sunitas das áreas dominadas pelo seu regime e formar um Estado independente ao redor do Líbano. Haveria, então, um Estado sunita de facto no resto da Síria, separado da riqueza do país e do acesso ao mar.
A oposição síria abrange muitos grupos. Mas os combatentes associados ao grupo Jabhat al-Nusra, afiliado à Al Qaeda, estão a gerar um apoio que cresce cada vez mais - inclusive armas e dinheiro do exterior do país.
Subscribe to PS Digital Now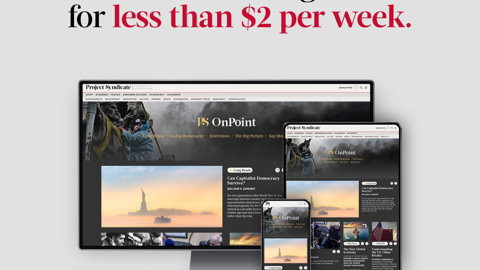 Subscribe to PS Digital Now
Access every new PS commentary, our entire On Point suite of subscriber-exclusive content – including Longer Reads, Insider Interviews, Big Picture/Big Question, and Say More – and the full PS archive.
Assad está a utilizar armas químicas numa escala limitada, mas mortal. Algumas das reservas estão em áreas ferozmente disputadas.
O desejo avassalador do Ocidente em ficar de fora é completamente compreensível. Mas também temos de compreender que estamos no início desta tragédia. A sua capacidade de desestabilizar a região é clara. A Jordânia está a comportar-se com uma coragem exemplar, mas há um limite para o número razoável de refugiados que se espera que possa acolher. Neste momento o Líbano está frágil, à medida que o Irão empurra Hezbollah para a batalha. A Al-Qaeda está a tentar causar novamente uma carnificina no Iraque, enquanto o Irão continua com a sua interferência no país.
Entretanto, no Egipto e no Norte de África, os partidos da Irmandade Muçulmana estão no poder, mas a contradição entre a sua ideologia e a sua capacidade de fazer funcionar as economias modernas tem alimentado uma crescente instabilidade e pressão de grupos mais radicais.
Depois, há o regime iraniano, que continua com a intenção de obter uma arma nuclear e que continua a exportar terror e instabilidade. Na África Subsaariana, a Nigéria enfrenta ataques terroristas horrendos. No Mali, a França travou uma dura batalha para impedir que os extremistas invadam o país.
Depois, temos o Paquistão - e o Iémen. Mais a leste, a guerra fronteiriça entre Mianmar e Bangladesh está a fervilhar. E os recentes acontecimentos em Bangladesh, ou na região de maioria muçulmana de Mindanau nas Filipinas, ampliam ainda mais a lista.
Em muitas das áreas mais afectadas, uma outra coisa é evidente: uma população que cresce rapidamente. A idade média no Médio Oriente anda à volta dos 25 anos. Na Nigéria, é 19. Em Gaza, onde o Hamas detém o poder, um quarto da população tem menos de cinco anos.
Quando regressar a Jerusalém, em breve, será a minha centésima visita ao Médio Oriente desde que deixei o cargo de ministro, a trabalhar para construir um Estado palestino. Assisto em primeira mão ao que está a acontecer nesta região.
Por esse motivo, entendo o desejo de olhar para este mundo e de explicá-lo tendo como referência as queixas locais, a alienação económica e, claro, as "pessoas loucas". Mas será que não conseguimos encontrar realmente um traço comum, nada que ligue os pontos de conflito, nenhuma sensação de uma ideologia que conduza ou que pelo menos exacerbe tudo isso?
Não há nenhum problema com o Islão. Para os que entre nós estudaram isso, não há qualquer dúvida sobre a sua natureza verdadeira e pacífica. Não existe qualquer problema com os muçulmanos em geral. A maior parte das pessoas na Grã-Bretanha está horrorizada com o assassinato de Rigby.
Mas existe um problema no seio do Islão e temos de colocá-lo em cima da mesa e sermos honestos em relação a ele. Há, é claro, cristãos extremistas e judeus, budistas e hindus. Mas receio que a tensão problemática no seio do Islão não seja do domínio de poucos extremistas. Tem no seu coração uma visão da religião - e da relação entre a religião e a política - que não é compatível com as sociedades pluralistas, liberais e tolerantes. No extremo do espectro estão os terroristas, mas a visão do mundo é mais profunda e mais ampla do que é confortável para nós admitir. Assim, de modo geral, não o admitimos.
Isto tem dois efeitos. Em primeiro lugar, aqueles que detêm opiniões extremas, acreditam que somos fracos, e isso dá-lhes força. Em segundo lugar, os muçulmanos - e a boa notícia é que existem muitos - que sabem que o problema existe, e querem fazer algo sobre isso, desanimam.
Em todo o Médio Oriente e além, desenrola-se uma luta. De um lado, estão os islâmicos e a sua visão do mundo exclusivista e reaccionária. Eles constituem uma minoria significativa, que chama a atenção e está bem organizada. Do outro lado estão os tolerantes, aqueles que odiavam a antiga opressão praticada pelos ditadores corruptos e desprezam a nova opressão dos fanáticos religiosos. Eles são potencialmente a maioria; mas, infelizmente, estão mal organizados.
As sementes do fanatismo e do terror futuros - possivelmente até mesmo de um conflito grave- estão a ser espalhadas. A nossa tarefa é ajudar a espalhar as sementes da reconciliação e da paz. Mas desbravar o terreno para a paz nem sempre é um processo pacífico.
Os longos e duros conflitos no Afeganistão e no Iraque fizeram com que as potências ocidentais desconfiassem da intervenção estrangeira. Mas nunca devemos esquecer o porquê de estes conflitos serem longos e duros: nós permitimos que surgissem estados debilitados.
Saddam Hussein foi responsável por duas grandes guerras, nas quais centenas de milhares de pessoas morreram, muitas devido a armas químicas. Ele matou um igual número dos seus compatriotas. Os Talibã nasceram da ocupação soviética do Afeganistão e transformaram o país num campo de treinos para o terror. Assim que esses regimes foram retirados, ambos os países começaram a lutar contra as mesmas forças, promovendo a violência e o terror por todo o lado em nome da religião.
Nem todo o envolvimento precisa de ser militar e nem todo o compromisso militar tem de envolver tropas. Mas separarmo-nos desta luta não nos trará paz.
Nem sequer a segurança só por si o fará. Enquanto a resistência ao comunismo revolucionário baseou-se na firmeza da segurança, foi finalmente derrotado por uma ideia melhor: a liberdade. O mesmo pode ser feito aqui. A ideia melhor é uma visão moderna da religião e do seu lugar na sociedade e na política – um modelo baseado no respeito e na igualdade entre pessoas de diferentes crenças. A religião pode ter voz no sistema político, mas não deve governá-lo.
Temos de começar com as crianças, aqui e no estrangeiro. É por isso que fundei uma fundação cuja finalidade específica é educar as crianças de diferentes religiões, em todo o mundo, a aprenderem mais sobre os outros e a saberem viver com os outros. Actualmente, estamos em 20 países e os programas funcionam. Mas é uma gota no oceano comparado com a enchente de intolerância que se ensina a tantos outros.
Agora, mais do que nunca, temos de ser fortes e temos de ter uma visão estratégica.