Potíž uvnitř islámu
LONDÝN – Na vraždu britského vojáka Lee Rigbyho na ulici v jižním Londýně před třemi týdny existuje jediný názor: byla otřesná.
Na její význam jsou ale pohledy dva. Jeden vychází z toho, že šlo o čin šílenců, motivovaných v tomto případě zvráceným výkladem islámu, ale bez většího dosahu. Šílenci se projevují šílenými skutky, nereagujme proto přehnaně. Druhý pohled má za to, že ideologie, která se stala pohnutkou k Rigbyho vraždě, je nesmírně nebezpečná.
Mně je vlastní druhý názor. Samozřejmě že bychom neměli reagovat přehnaně. To jsme neučinili po útocích na londýnskou veřejnou dopravu ze 7. července 2005. Přesto jsme jednali. A plným právem. Naše bezpečnostní služby nepochybně předešly dalším vážným útokům. Rozumný byl též program "Prevent" v místních komunitách.
Nová opatření současné vlády se také zdají rozumná a adekvátní. Šálíme ale sami sebe, pokud se domníváme, že dokážeme Spojené království ochránit jednoduše tím, co děláme doma. Ona ideologie přichází odjinud. A neslábne.
Pohlédněme na Střední východ. Sýrie je dnes státem v čím dál rychlejším rozkladu. Prezident Bašár al-Assad brutálně drtí celé komunity, které k jeho režimu projevily nepřátelství. Zemřelo už přinejmenším 80 tisíc lidí, uprchlíků je téměř 1,5 milionu a počet vnitrostátně přesídlených osob přesáhl čtyři miliony. Mnozí v regionu jsou přesvědčeni, že Assadovým cílem je vyčistit od sunnitů oblasti, jimž jeho režim dominuje, a vytvořit oddělený stát kolem Libanonu. Ve zbytku Sýrie by vznikl fakticky sunnitský stát, odříznutý od bohatství země a od přístupu k moři.
Syrská opozice se skládá z mnoha skupin. Narůstající podporu – a také zbraně a peníze ze zahraničí – ovšem získávají bojovníci spojovaní s uskupením Džabhat an-Nasra s vazbou na al-Káidu.
Subscribe to PS Digital Now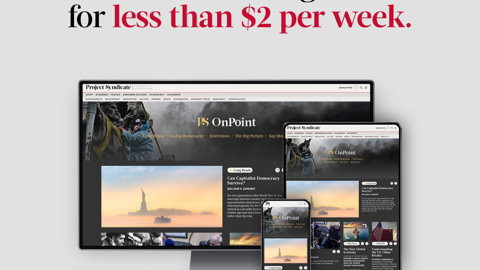 Subscribe to PS Digital Now
Access every new PS commentary, our entire On Point suite of subscriber-exclusive content – including Longer Reads, Insider Interviews, Big Picture/Big Question, and Say More – and the full PS archive.
Assad v omezeném, ale smrtonosném rozsahu nasazuje chemické zbraně. Část arzenálu je v oblastech, o něž se vedou úporné boje.
Drtivě převažující přání Západu držet se mimo tento střet je naprosto pochopitelné. Musíme si ale uvědomit, že jsme na začátku této tragédie. Její potenciál destabilizovat region je zjevný. Jordánsko se chová s příkladnou odvahou, ale počet uprchlíků, jejichž přijetí od něj lze rozumně očekávat, má své meze. Libanon je v současnosti křehký, jelikož Írán postrkuje Hizballáh do bitvy. Al-Káida se opět snaží způsobit krveprolití v Iráku, do jehož záležitostí se přitom nepřestává vměšovat Írán.
Současně jsou v Egyptě a napříč severní Afrikou u moci strany Muslimského bratrstva, leč rozpor mezi jejich ideologií a schopností řídit moderní ekonomiky vyvolává narůstající nestabilitu a tlak ze strany extrémnějších skupin.
Dále je tu íránský režim, stále odhodlaný získat jadernou zbraň a exportovat teror a nestabilitu. V subsaharské Africe pak Nigérii postihují hrůzné teroristické útoky. V Mali svedla Francie tuhou bitvu, aby předešla ovládnutí země extremisty.
Pak tu máme Pákistán – a Jemen. Dále na východ probublává hraniční válka mezi Barmou a Bangladéšem. Konečně je výčet delší ještě o nedávné události v samotném Bangladéši či v převážně muslimském regionu Mindanao na Filipínách.
V mnoha nejsilněji postižených oblastech je zřetelná jedna věc: překotně narůstající počet obyvatel. Mediánní věk na Středním východě je kolem 25 let. V Nigérii činí 19 let. V Gaze, ovládané Hamásem, je čtvrtina populace mladší pěti let.
Až se zanedlouho opět vrátím do Jeruzaléma, bude to od doby, kdy jsem odešel z úřadu, má stá návštěva na Středním východě, kde se snažím přispět k budování palestinského státu. Co se děje v regionu, vidím z první ruky.
Chápu tedy touhu pohlížet na tento svět a vysvětlovat jej poukazem na lokální křivdy, ekonomické odcizení a samozřejmě "šílence". Opravdu ale nedokážeme najít žádnou spojitost, nic, co by ohniska střetů spojovalo, žádný smysl pro ideologii, která to vše vyvolává či přinejmenším zhoršuje?
Islám problém nepředstavuje. Ti z nás, kdo jsme jej studovali, nemáme pochybnosti o jeho pravé a mírové podstatě. S muslimy obecně žádný problém není. Většina muslimů v Británii je z Rigbyho vraždy zděšena.
Existuje ale problém uvnitř islámu a musíme jej vynést na světlo a poctivě se k němu postavit. Samozřejmě že existují křesťanští extremisté, jakož i židovští, buddhističtí a hinduističtí. Obávám se však, že problematická linie uvnitř islámu není sférou hrstky extremistů. Vychází z pohledu na náboženství a na vztah mezi náboženstvím a politikou, který je s pluralitními, liberálními a tolerantními společnostmi neslučitelný. Na nejkrajnějším pólu spektra jsou teroristé, ale tento světonázor má hlubší a širší kořeny, než je nám milé připustit. Povětšinou si to proto nepřipouštíme.
To má dva důsledky. Zaprvé, zastánci extrémních názorů jsou přesvědčeni, že jsme slabí, a to jim dodává sílu. Zadruhé, ti muslimové – a naštěstí je jich mnoho –, kteří o existenci problému vědí a chtějí s ním něco dělat, klesají na mysli.
Napříč Středním východem i v dalších oblastech probíhá určitý zápas. Na jedné straně jsou islamisté a jejich exkluzivistický a reakční světonázor. Představují výraznou menšinu, hlasitou a dobře organizovanou. Na druhé straně jsou lidé moderně smýšlející, kteří nenáviděli dřívější represe zkorumpovaných diktátorů a pohrdají novým útlakem náboženských fanatiků. Potenciálně tvoří většinu, ale bohužel jsou špatně organizovaní.
Právě teď jsou zasévána semena budoucího fanatismu a teroru, ba snad i významného střetu. Naším úkolem je pomoci zasít semena usmíření a míru. Vytvořit prostor pro mír ale nejde vždy jen mírovými prostředky.
Dlouhé a náročné konflikty v Afghánistánu a Iráku vyvolaly v západních mocnostech ostražitost před zahraničními intervencemi. Nikdy bychom ale neměli zapomínat, proč byly tyto konflikty dlouhé a náročné: dopustili jsme vznik rozvrácených států.
Saddám Husajn byl zodpovědný za dvě významné války, při nichž zahynuly statisíce lidí, mnozí zasaženi chemickými zbraněmi. O život připravil i podobný počet svých občanů. Tálibán vzklíčil ze sovětské okupace Afghánistánu a proměnil zemi ve cvičiště teroristů. Jakmile byly tyto režimy odstraněny, obě země začaly zápasit s týmiž silami prosazujícími po celém světě násilí a teror ve jménu náboženství.
Ne každý zásah musí být vojenský a ne každý vojenský zásah musí znamenat nasazení pozemních vojsk. Nicméně neangažovanost v tomto zápase nám mír nepřinese.
To nedokáže ani samotný bezpečnostní aparát. Přestože se revolučnímu komunismu vzdorovalo bezpečnostní rezolutností, nakonec jej porazila lepší myšlenka: svoboda. Totéž lze uplatnit i tady. Lepší myšlenkou je moderní pohled na náboženství a jeho místo ve společnosti a politice – model založený na respektu a rovnosti lidí různého vyznání. Náboženství může mít v politickém systému svůj hlas, ale nesmí jej ovládat.
Musíme začít u dětí, doma i za hranicemi. Právě proto jsem založil nadaci, jejímž konkrétním účelem je vzdělávat děti různých vyznání po celém světě, aby se navzájem poznaly a naučily se společně žít. Aktuálně působíme ve 20 zemích a programy se osvědčují. Ve srovnání s přívalem nesnášenlivosti, již hlásá tolik osob, jde však o kapku v moři.
Více než kdy dřív teď musíme projevit sílu a jednat strategicky.
Z angličtiny přeložil David Daduč