De la justice climatique à la responsabilité climatique
LONDRES - La conférence sur le climat de la 27e Conférence des Parties (COP27) du mois dernier n'a pas été vraiment prise au sérieux. En effet, elle a plutôt été considérée comme un échec, suite à l'absence de progrès sur certains engagements pris au sommet de la COP26 l'année dernière et à l'absence d'engagements clairs quant à une stratégie de suppression progressive des combustibles fossiles. De façon plus générale, le processus de la CdP a lui-même été décrit comme étant inadéquat et finalement inapplicable, étant donné qu'il repose sur l'unanimité entre toutes les parties.
Mais la COP27 a produit une avancée notable : les économies avancées du monde, en particulier les États-Unis et l'Union européenne, ont finalement accepté une certaine responsabilité dans « les pertes et préjudices » causés par le changement climatique. Dans la langue bureaucratique de la version finale du communiqué, ils ont accepté « d'établir de nouveaux arrangements de financement pour aider les pays en développement qui sont particulièrement vulnérables aux effets nuisibles du changement climatique à répondre à ces pertes et préjudices. » Un comité spécial de 24 pays a été établi pour déterminer comment les nouveaux fonds seront financés, contrôlés et distribués. Leurs conclusions sont attendues au sommet de la COP28 aux Émirats arabes unis à la fin de l'année prochaine.
Toutefois, étant donné que les Républicains auront bientôt le contrôle de la Chambre des Représentants, il est difficile de croire que les États-Unis vont mettre beaucoup d'argent sur la table. Il y a également une incertitude quant à la forte contribution de la Chine à cette mesure. Bien que ce pays soit à présent une source principale des émissions, les Nations Unies considèrent toujours la Chine comme étant un pays « en développement ». Enfin, alors que l'UE a accepté, en principe, que les pays les plus fortement responsables du changement climatiques devraient aider à supporter ses coûts, l'UE s'oriente vers une récession, ce qui va très probablement limiter la contribution des Européens.
L'implication de la Chine dans ce processus est particulièrement importante. Non seulement la Chine produit près d'un tiers des émissions mondiales, mais l'UE a fait à des contributions chinoises une condition de sa propre participation. Par conséquent, l'ancien Premier ministre Gordon Browna averti que nous pourrions nous retrouver avec « un fonds dépourvu de bailleurs de fonds. »
Bien que ce danger soit réel, il ne devrait pas diminuer l'importance de l'accord qui a été conclu entre les gouvernements à la COP27. L'acceptation du monde développé de la responsabilité de l'impact du changement climatique établit des motifs pour des réparations et indique un degré de responsabilité qui sera maintenant examiné par les tribunaux du monde entier. La « justice climatique » va évoluer et passer du simple statut de slogan puissant à celui de question juridique brûlante. Si le changement climatique est le résultat des émissions – passées et présentes – et s'il est à l'origine de l'incidence et de la gravité accrues des conditions météorologiques extrêmes, cela signifie que les inondations de cette année au Pakistan et la désertification rampante en Afrique du Nord peuvent être attribuées à ceux qui ont causé les émissions.
Mais qui est responsable, exactement ? Les gouvernements des pays développés ont accepté d'être en partie responsables. Mais la responsabilité, et donc l'obligation de réparation, pourraient également être attribuées aux entreprises qui ont produit, vendu et profité des ventes des produits qui ont généré les émissions. Les compagnies d'énergie peuvent prétendre que jusqu'aux années 1980 et 1990, il n'y avait pas de consensus scientifique sur les effets climatiques néfastes de la combustion des hydrocarbures. Mais à partir des années 1990, cette ligne de défense n'est plus tenable.
Subscribe to PS Digital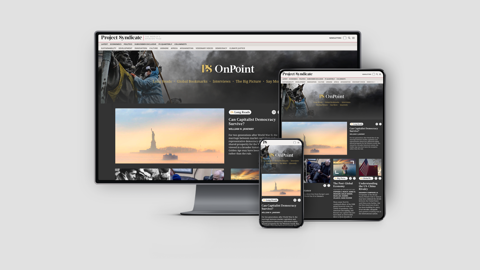 Subscribe to PS Digital
Access every new PS commentary, our entire On Point suite of subscriber-exclusive content – including Longer Reads, Insider Interviews, Big Picture/Big Question, and Say More – and the full PS archive.
L'âge de l'obligation de réparation potentielle a ainsi commencé il y a près de 30 ans, quand le Groupe d'experts intergouvernemental sur l'évolution du climat (GIEC) a commencé à établir un corps de recherches scientifiques solides. À présent, l'âge de la véritable responsabilité climatique frappe à notre porte. Pour les entreprises impliquées - en particulier celles sujettes aux lois et aux décisions politiques des économies avancées - une telle obligation de réparation est une menace existentielle. Elle est analogue au Master Settlement Agreement qui a résolu le conflit entre l'industrie du tabac et 46 procureurs des États-Unis quant à la responsabilité des coûts médicaux liés au tabagisme.
Mais bien que ce règlement ait exigé que de sentreprises paient un total de 206 milliards de dollars sur 25 ans, le changement climatique et ses coûts associés sont beaucoup plus importants. Les risques sont mondiaux et ils continuent de croître, parce que les émissions continuent d'augmenter. En fait, le pire reste à venir et les coûts potentiels sont presque au delà de notre capacité de calcul.
Il ne fait aucun doute que la bataille légale sera féroce. Mais en acceptant simplement la responsabilité des coûts mondiaux du changement climatique, en principe, les parties de la Convention-cadre des Nations Unies sur les changements climatiques ont ouvert la boîte de Pandore. Les compagnies de combustibles fossiles et leurs investisseurs ne pourront pas dire qu'on ne les a pas prévenus.
Certes, la COP27 a laissé un grand nombre de participants et d'observateurs sur leur faim. Les scientifiques, les activistes et d'autres acteurs du climat sont consternés en voyant que l'urgence du changement climatique est ignorée et que des questions plus immédiates telles que la crise du coût de la vie et la guerre de la Russie en Ukraine accaparent toute l'attention des décisionnaires et de l'opinion publique. Mais en réalité, la COP27 restera comme un moment décisif. À présent que le monde développé a finalement accepté un degré de responsabilité financière dans les pertes et les préjudices provoqués par le changement climatique, la discussion plus large sur le climat va dorénavant activer la question de l'obligation de réparation. Et cela, en conséquence, pourrait fondamentalement modifier les mesures incitatives des principaux acteurs de ce débat.