Quand les gouvernements protègent les investissements polluants
,
GENÈVE – Les solutions à la crise climatique passent souvent par les grandes conférences et les deux prochaines semaines devraient apporter leur lot de « réponses ». Plus de 20.000 participants sont rassemblés pour la 23e conférence des parties (COP 23) qui s'est ouverte à Bonn, en Allemagne, le 6 novembre.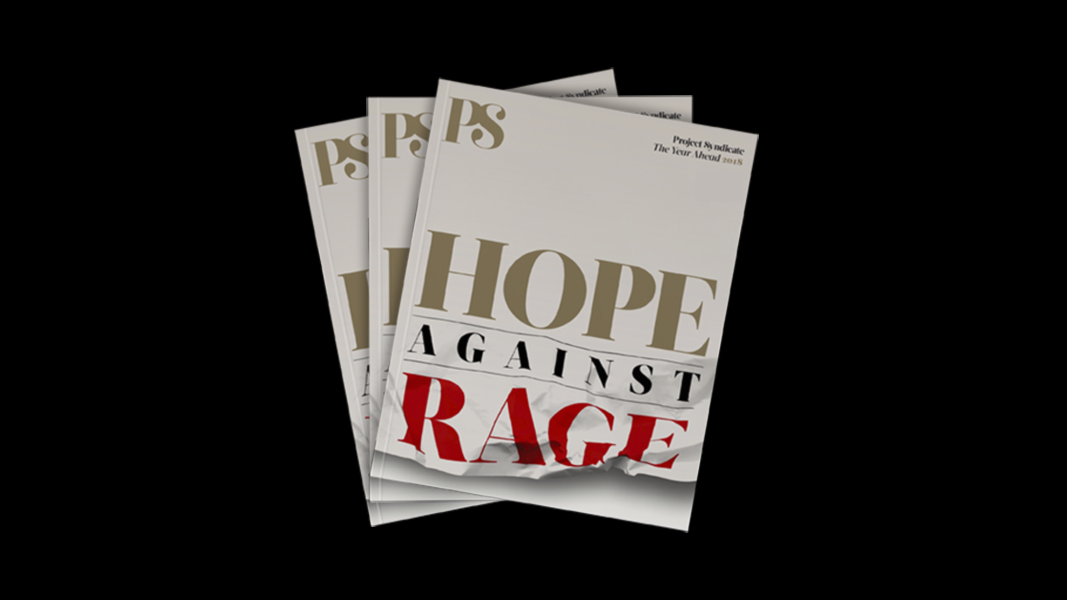 The Year Ahead 2018
The world's leading thinkers and policymakers examine what's come apart in the past year, and anticipate what will define the year ahead.
Les discussions à Bonn auront pour mission de faire avancer la mise en œuvre de l'Accord de Paris sur le climat. Et la voie à suivre est claire. La seule façon de se conformer à la décision prise à Paris – limiter le réchauffement climatique en deçà de 2°C par rapport à l'ère préindustrielle – est de ne plus investir dans les combustibles fossiles, mais dans les projets zéro-carbone. A cette fin, il faut changer les cadres réglementaires régissant les investissements.
A l'heure actuelle, ce sont ces mêmes gouvernements qui jouent un rôle de premier plan dans la lutte contre le changement climatique qui continuent à soutenir et à protéger les investissements dans la prospection, l'extraction et le transport des combustibles fossiles. Au lieu d'investir dans l'efficacité énergétique des bâtiments, la mobilité zéro-carbone, les énergies renouvelables et de meilleures techniques d'utilisation des sols, ces gouvernements continuent à ne pas joindre le geste à la parole.
Selon le dernier rapport de l'Agence internationale de l'énergie sur les investissements consentis en 2016 dans le secteur énergétique, les dépenses globales pour le secteur du pétrole et du gaz se sont élevées à 649 milliards de dollars en 2016, soit plus du double des 297 milliards investis dans la production d'électricité à partir de sources d'énergie renouvelables, alors même que les objectifs fixés par l'Accord de Paris impliquent de laisser les trois-quarts au moins des réserves connues de combustibles fossiles dans les sols. Comme le démontrent ces chiffres, l'inertie institutionnelle et les intérêts corporatistes de l'industrie pétrolière continuent à bloquer la transition vers les investissements dans les énergies renouvelables.
Une grande partie du problème tient aux traités bilatéraux et aux dispositions sur l'investissement inscrites dans les accords commerciaux plus généraux, dont l'Accord de libre-échange nord-américain (ALENA), le Traité sur la Charte de l'Énergie et l'Accord économique et commercial global (CETA) entre l'Union européenne et le Canada. Parce que ces traités ont été conçus pour protéger les investisseurs étrangers contre l'expropriation, ils comprennent des mécanismes de règlement des différends entre investisseurs et États (RDIE) qui permettent aux investisseurs de demander aux gouvernements une compensation pour perte, dans le cas de décisions nuisant à leur activité, devant des tribunaux d'arbitrage internationaux.
Ces dispositions ont restreint les moyens d'action des gouvernements qui cherchent à limiter l'extraction des énergies fossiles. Le montant des compensations demandées peut être faramineux. En 2012, une entreprise américaine a engagé une action en justice contre le gouvernement du Québec pour avoir annulé un permis de fracturation hydraulique sous le fleuve Saint-Laurent. Soutenant que la décision du gouvernement était « arbitraire, capricieuse et illégale » au titre du chapitre 11 de l'ALENA, cette entreprise incorporée au Delaware demandait 250 millions de dollars de dommages et intérêts.
Après la décision prise par le président Barack Obama de rejeter le projet d'oléoduc transfrontalier Keystone XL, la société TransCanada a en janvier 2016 réclamé 15 milliards de dollars en dommages et intérêts au gouvernement des États-Unis, en vertu de ce même chapitre de l'ALENA. (La société a abandonné les poursuites après que le président Donald Trump ait donné son feu vert au projet).
Et en juillet 2017, le gouvernement du Québec a accepté de verser 50 millions de dollars de compensation à diverses compagnies pétrolières pour avoir rendu illégale, par un arrêté ministériel, toute activité de recherche ou d'exploitation de pétrole ou de gaz naturel sur l'île d'Anticosti dans le Golfe du Saint-Laurent. Ces paiements et d'autres s'ajoutent aux centaines de milliards de dollars de subventions qui continuent à être allouées à l'industrie des combustibles fossiles.
Ces importants montants compensatoires ne vident pas seulement les caisses de l'État ; la simple menace qu'ils représentent décourage les gouvernements d'adopter des politiques climatiques plus ambitieuses de peur que celles-ci puissent être contestées devant des tribunaux d'arbitrage internationaux par les compagnies pétrolières.
Fort heureusement, cette situation n'est pas gravée dans le marbre. De nombreux gouvernements estiment aujourd'hui qu'une réforme du régime des accords internationaux d'investissement n'est plus seulement envisageable, mais indispensable. Le mois dernier, la Conférence des Nations unies sur le commerce et de développement a organisé une réunion d'experts à Genève dans le but d'étudier les options en vue d'une réforme approfondie du régime de l'investissement, dont la renégociation ou l'abandon de quelques 3000 traités obsolètes.
Les gouvernements devraient commencer par s'atteler à une refonte ou prévoir une sortie du Traité sur la Charte de l'Énergie (TCE), le seul pacte mondial sur l'investissement spécifiquement consacré à l'énergie. Les dispositions du TCE sur la protection de l'investissement et l'absence de dispositions sur le climat ne sont plus d'actualité. Depuis son entrée en vigueur, le TCE a servi de base à plus de 100 demandes de compensation d'investisseurs à des États hôtes, contestant parfois les politiques environnementales nationales, comme l'abandon progressif du nucléaire par l'Allemagne. La Russie et l'Italie se sont déjà retirées du TCE, et d'autres pays doivent en faire autant ou s'engager à le renégocier.
Les États doivent de plus placer les préoccupations climatiques au centre de leurs négociations sur le commerce et l'investissement, notamment en excluant les projets d'énergies fossiles des clauses sur l'investissement. C'est ce que la France a essentiellement proposé récemment, lorsque le ministre de la Transition écologique Nicolas Hulot a annoncé que son pays avait l'intention de mettre en place un « veto climatique » au CETA. Hulot a précisé que la France ne ratifierait cet accord que s'il contenait des assurances disant que « ses propres engagements climatiques ne puissent en aucun cas, et notamment dans le cadre des tribunaux d'arbitrage, être attaquées par un investisseur ». Les projets d'énergies fossiles pourraient également ne pas bénéficier de protections de l'investissement dans les nouveaux traités environnementaux, comme le prévoit le projet de Pacte mondial pour l'environnement présenté par le président français Emmanuel Macron à l'Assemblée générale des Nations unies en septembre dernier.
Rééquilibrer le régime mondial de l'investissement n'est que la première étape vers une économie zéro carbone. Pour transférer les capitaux des initiatives à forte intensité carbone à des projets d'énergies vertes, les gouvernements auront besoin de nouveaux cadres juridiques et politiques, aux niveaux national, régional et international. Ces accords doivent promouvoir et faciliter les investissements zéro carbone. Les grandes réunions, dont la COP23 de cette semaine et le Sommet de Paris sur le climat le mois prochain, le One Planet Summit, peuvent donner une nouvelle impulsion à ces discussions.
(Les auteurs souhaitent remercier Ivetta Gerasimchuk et Martin Dietrich Brauch de l'IISD pour l'aide qu'ils ont apportée à la rédaction du présent article.)