Hoe klimaatvoorvechters smerige investeringen beschermen
,
GENÈVE – Oplossingen voor de klimaatcrisis worden vaak met grote conferenties geassocieerd, en de komende twee weken zullen zonder twijfel weer veel 'antwoorden' opleveren. Ongeveer 20.000 afgevaardigden zijn momenteel naar Bonn afgedaald voor een nieuwe ronde klimaatgesprekken van de Verenigde Naties.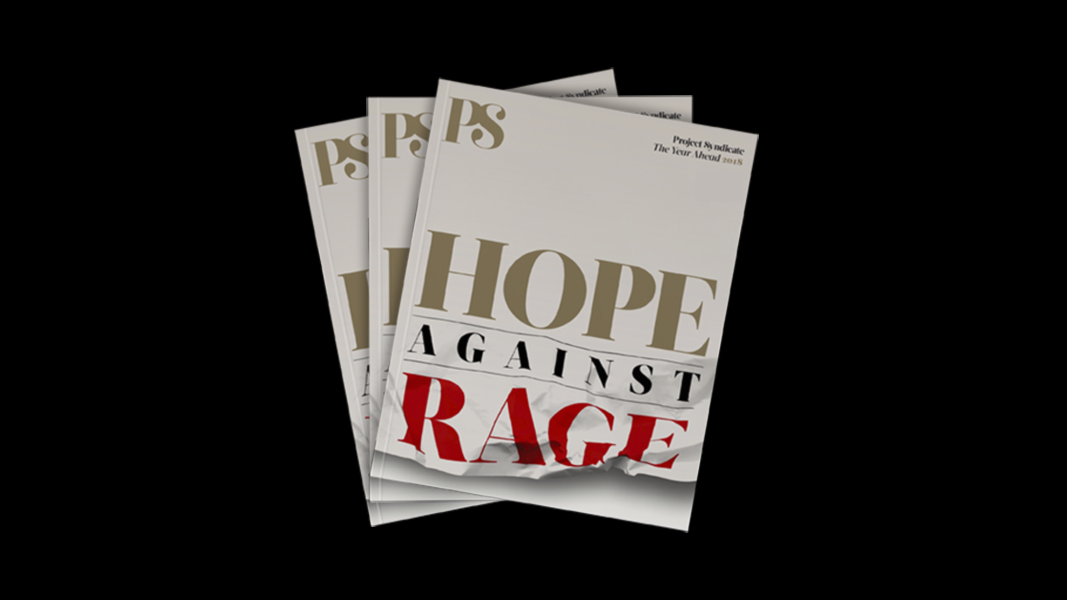 The Year Ahead 2018
The world's leading thinkers and policymakers examine what's come apart in the past year, and anticipate what will define the year ahead.
De gesprekken in Bonn moeten zich richten op de implementatie van het klimaatakkoord van Parijs, en het te volgen pad is duidelijk. De enige manier om de stijging van de mondiale temperaturen binnen de limiet gezet in Parijs – 'ver beneden de 2 graden Celsius' hoger dan pre-industriële niveaus – te houden is om kapitaal weg te halen bij fossiele brandstoffen richting projecten met nuluitstoot. Om dit te bewerkstelligen moeten we veranderen hoe mondiale energie-investeringen worden overzien.
Momenteel blijven de regeringen die het gevecht tegen klimaatverandering leiden investeringen in de ontginning, winning, en het transport van fossiele brandstoffen ondersteunen en beschermen. In plaats van te investeren in efficiënte huisvesting, mobiliteit zonder uitstoot, hernieuwbare energie, en betere systemen voor het gebruik van land zeggen deze regeringen het ene maar doen het andere.
Volgens het laatste World Energy Investment rapport van het Internationaal Energieagentschap lagen de totale bestedingen in de olie- en gassector in 2016 op 649 miljard dollar. Dat was meer dan het dubbele van de 297 miljard dollar geïnvesteerd in de opwekking van hernieuwbare energie, ondanks dat voldoen aan de doelstelling van het akkoord van Parijs impliceert dat we op zijn minst drie kwart van de bekende fossiele-brandstoffen-reserves in de grond moeten laten zitten. Zoals deze getallen suggereren blijven institutionele inertie en gevestigde belangen van de industrie het verschuiven van investeringen richting duurzame energie in de weg staan.
Een groot gedeelte van het probleem kan herleid worden naar bilaterale investeringsverdragen en investeringsregels verankerd binnen bredere handelsverdragen zoals de Noord-Amerikaanse Vrijhandelsovereenkomst (NAFTA), het Energy Charter Treaty, en de Comprehensive Economic and Trade Agreement (CETA) tussen de EU en Canada. Omdat deze verdragen zijn ontworpen om buitenlandse investeerders te beschermen tegen onteigening omvatten ze mechanismes voor schikkingen van disputen tussen staten en investeerders (ISDS) die investeerders toestaan om via internationale hoven van arbitrage compensatie van overheden te eisen wanneer beleid hun handel treft.
Dit heeft regeringen die de winning van fossiele brandstoffen willen beperken aan handen en voeten gebonden. De compensaties door middel van ISDS kunnen gigantisch zijn. In 2012 spande een Amerikaanse investeerder een rechtszaak aan vanwege de beslissing van de regering van Quebec om een vergunning voor hydraulisch kraken onder de St. Lawrencerivier niet te verstrekken. Door te betogen dat deze weigering 'arbitrair, willekeurig, en illegaal' was binnen de NAFTA eiste de in Delaware gevestigde energiefirma 250 miljoen dollar schadevergoeding.
In januari 2016 gebruikte het energiebedrijf TransCanada NAFTA om de Verenigde Staten aan te klagen, en claimde 15 miljard dollar schadevergoeding nadat president Barack Obama de vergunning voor de Keystone XL pijpleiding weigerde. (Het bedrijf schortte de rechtszaak op nadat president Donald Trump het project in januari 2017 alsnog goedkeurde).
En in juli 2017 kwam Quebec overeen om bijna 50 miljoen dollar te betalen als compensatie aan bedrijven nadat olie- en gaswinningscontracten op het eiland Anticosti in de St. Lawrencebaai werden ingetrokken. Deze en andere betalingen komen nog eens bovenop de honderden miljarden dollars aan subsidies die nog steeds naar de fossiele-brandstoffen-industrie stromen.
Grote uitbetalingen putten niet alleen publieke gelden uit; alleen al de dreiging ervan ontmoedigt regeringen een ambitieuzer klimaatbeleid na te jagen, vanwege de angst dat van koolstof afhankelijke industrieën ze voor internationale tribunalen dagen.
Gelukkig is deze gang van zaken niet in beton gegoten. Veel regeringen zien hervorming van het investeringsregime inmiddels niet alleen meer als mogelijkheid maar ook als noodzaak. Afgelopen maand riep de VN-conferentie inzake Handel en Ontwikkeling een topontmoeting bijeen in Genève met als doel opties voor een omvattende hervorming van het investeringsregime te ontwikkelen, inclusief de heronderhandeling of beëindiging van plusminus 3000 gedateerde verdragen.
Regeringen zouden moeten beginnen met de herziening van het Energy Charter Treaty, 's werelds enige energiespecifieke investeringspact. De protectie van investeringen door het ECT en het ontbreken van klimaatvoorzieningen is niet meer van deze tijd. Sinds zijn ontstaan heeft het ECT gediend als basis voor meer dan 100 claims door energiebedrijven tegen gastlanden, waarbij sommigen nationaal milieubeleid uitdaagden, zoals het uitfaseren van atoomenergie in Duitsland. Rusland en Italië hebben zich al uit het ECT teruggetrokken; andere landen zouden hetzelfde moeten doen of zich er op moeten toeleggen het te hervormen.
Bovendien moeten landen klimaatoverwegingen tot kern van hun investerings- en handelsonderhandelingen maken, zoals door fossiele-brandstoffen-projecten uit investeringsclausules te halen. Dat is in de basis wat Frankrijk onlangs heeft voorgesteld, toen energieminister Nicolas Hulot de intentie van het land om een 'klimaatveto' tegen de CETA uit te brengen uitsprak. Hulot zei dat Frankrijk het verdrag alleen zal ratificeren als het garanties bevat dat zijn klimaattoezeggingen niet uitgedaagd kunnen worden voor hoven van arbitrage. Projecten voor fossiele brandstoffen moeten ook uitgesloten worden van investeringsprotectie in nieuwe klimaatverdragen zoals het Global Pact for the Environment dat in september door de Franse president Emmanuel Macron werd voorgesteld aan de Algemene Vergadering van de Verenigde Naties.
Het in evenwicht brengen van het mondiale investeringsregime is slechts de eerste stap richting een koolstofvrije economie. Om kapitaal te verschuiven van fossiele-brandstoffen-intensieve initiatieven naar projecten voor groene energie behoeven landen nieuwe wettelijke en beleidskaders op regionaal, nationaal, en internationaal niveau. Deze overeenkomsten moeten investeringen met nuluitstoot bevorderen en faciliteren. Grote bijeenkomsten zoals die van afgelopen week en de Klimaattop van Parijs komende maand kunnen deze gesprekken op stoom brengen.
(De auteurs danken Ivetta Gerasimchuck en Martin Dietrich Brauch van het IISD voor hun hulp bij dit commentaar.)
Vertaling Melle Trap