En defensa del umbral del cambio climático del 1,5ºC
MANILA – En la actualidad, la Tierra es más de 1ºC más cálida que en los tiempos preindustriales y ya se están haciendo evidentes los terribles síntomas de esta fiebre. Solo este año, huracanes inacabables han devastado las islas del Caribe, las inundaciones monzónicas han desplazado a decenas de millones en el sur de Asia, y los incendios han asolado casi cada continente. No podría ser más urgente hacer que el planeta salga del borde del precipicio.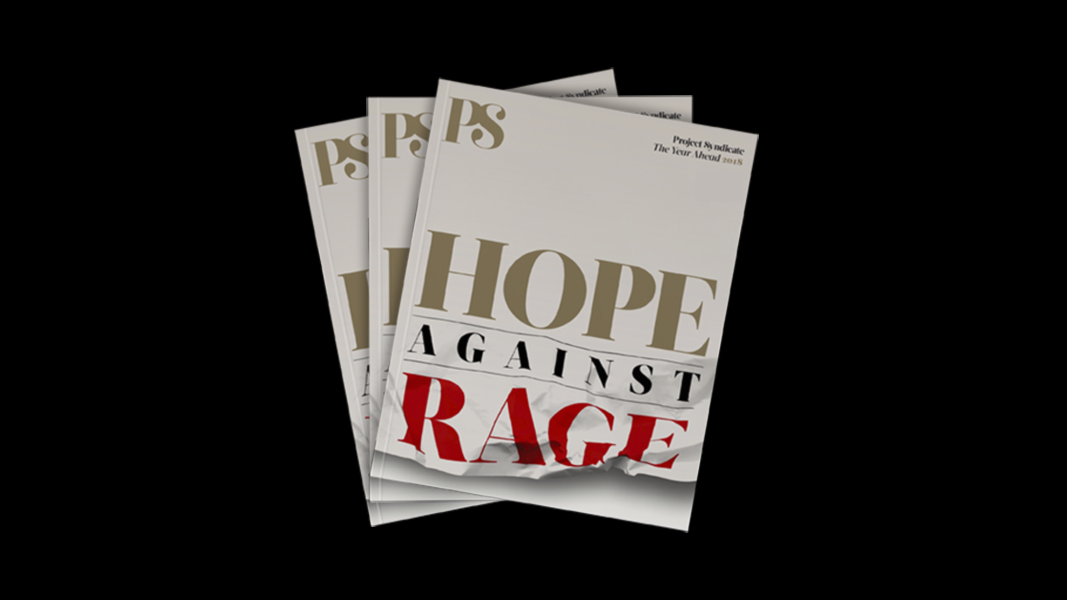 The Year Ahead 2018
The world's leading thinkers and policymakers examine what's come apart in the past year, and anticipate what will define the year ahead.
Quienes vivimos en las líneas más afectadas por el cambio climático (en archipiélagos, islas pequeñas, zonas costeras bajas y planicies en rápida desertificación) no podemos esperar a ver qué producirá otro grado más. Ya se están perdiendo demasiadas vidas y formas de subsistencia. Hay gente que se ha visto obligada a abandonar sus lugares de origen y sus recursos vitales se vuelven cada vez más escasos, mientras quienes sufren las consecuencias más graves del cambio climático son también los que menos han hecho por provocarlo.
Por esto las Filipinas hicieron uso de su presidencia del Foro de Países Vulnerables al Clima (CVF), una alianza de 48 países que deberán sufrir las consecuencias más serias del cambio climático, para luchar por asegurar que el acuerdo climático de París 2015 apuntara explícitamente a limitar el calentamiento global a un 1,5ºC por sobre los niveles preindustriales. Para nosotros, no se trata tan solo de una cifra simbólica o "ambiciosa" para poner en los acuerdos internacionales: es un límite existencial. Si las temperaturas globales se elevan por sobre ese nivel, los lugares que llamamos nuestro hogar (y muchos otros hogares en este planeta) se volverán inhabitables o desaparecerán por completo.
En 2009, cuando primero definimos este objetivo de 1,5ºC, nos enfrentamos a una resistencia sustancial. Los negacionistas del cambio climático (es decir, quienes se niegan a aceptar la base científica del calentamiento global inducido por el hombre) siguen descartando cada iniciativa para limitar el aumento de la temperatura del planeta como fútil e innecesaria. Pero incluso autoridades y partidarios bien intencionados de limitar el cambio climático a menudo se han opuesto al objetivo de 1,5ºC, argumentando que, según la ciencia, los seres humanos ya habían emitido suficientes gases de invernadero como para hacer casi imposible su cumplimiento.
Sin embargo, en este frente la ciencia no es tan clara como podría haber parecido. Según un artículo reciente publicado en la revista Nature, el "presupuesto de carbono" que le resta al mundo (la cantidad de equivalentes al dióxido de carbono que podemos emitir antes de pasar el umbral de los 1,5ºC) es un poco mayor de lo que antes se había supuesto.
No es razón para la complacencia, como parecen pensar algunos comentaristas (no científicos). No significa que los modelos climáticos previos hayan sido excesivamente alarmistas ni que podamos adoptar un enfoque más relajado para limitar el cambio climático. En lugar de ello, el artículo debería inspirar (de hecho, llama a ello) a tomar medidas más inmediatas, deliberadas y dinámicas para asegurar que las emisiones de gases de invernadero alcancen su pico en unos cuantos años y sea posible lograr cero emisiones netas para mediados de siglo.
¿Cómo serían esas medidas? Habría que reducir las emisiones globales entre un 4 y un 6% cada año, hasta llegar a cero. Mientras tanto, sería necesario recuperar tierras de bosques y cultivos, de modo que puedan capturar y absorber mayores niveles de dióxido de carbono. Descarbonizar por completo nuestros sistemas energéticos y de transporte en cuatro décadas exigirá un esfuerzo hercúleo, pero no es imposible.
Más allá de sus consecuencias sobre el medio ambiente, son medidas que generarían importantes ventajas económicas, dando impulso a la clase media en los países desarrollados y sacando a millones de la pobreza en el mundo en desarrollo, entre otras cosas con la creación de empleos. La transición energética llevará a un masivo ahorro en términos de eficiencia, al tiempo que se mejora la resistencia de la infraestructura, las cadenas de suministro y los servicios urbanos en los países en desarrollo, en particular los que se encuentran en regiones vulnerables.
Según un informe publicado el año pasado por el Programa de las Naciones Unidas para el Desarrollo, mantener el umbral del 1,5ºC y crear una economía con bajo uso de carbono elevaría el PIB global en $12 billones, en comparación con un escenario en que el mundo mantiene las políticas y promesas de reducción de emisiones actuales.
El artículo que afirma que se puede lograr el objetivo del 1,5ºC tuvo como autores a expertos climáticos prestigiosos y se publicó en una revista de primera línea tras una amplia evaluación de pares. Pero es tan solo un artículo: todavía hay mucho que aprender acerca de nuestra capacidad de limitar el cambio climático. Por eso los científicos más destacados ya están hablando y debatiendo sus hallazgos; sus respuestas también se publicarán en revistas de primer nivel. Así funciona la investigación científica y por eso podemos confiar en la ciencia del cambio climático y sus urgentes advertencias.
El año próximo, el Panel Intergubernamental sobre Cambio Climático publicará su propio metaanálisis de todos los avances científicos relacionados con la meta del 1,5ºC, en lo que promete ser el resumen más amplio en este ámbito. Pero no nos podemos permitir esperar a que se publique antes de tomar medidas.
Los miembros del CVF ya nos hemos comprometido a hacer nuestra parte, prometiendo en la Conferencia sobre el Cambio Climático de las Naciones Unidas realizada en Marrakech el año pasado completar la transición a un 100% de energías renovables tan pronto como sea posible. Nuestras emisiones ya son de las menores del mundo, pero nuestros objetivos climáticos son los más ambiciosos.
Pero logro de este objetivo depende en último término de la voluntad de los grandes emisores actuales e históricos de gases de invernadero para cumplir su responsabilidad moral y ética en este asunto. Puede que mantener las temperaturas globales por debajo de los 1,5ºC aún no sea una imposibilidad geofísica, pero para alcanzar el objetivo debemos asegurarnos de que tampoco se la trate como un imposible político ni económico.
Traducido del inglés por David Meléndez Tormen