Obhajoba klimatického prahu 1,5°C
MANILA – Zeměkoule je dnes o více než 1°C teplejší než v průmyslové éře a strašlivé příznaky její horečky se už projevují. Jen v tomto roce pustošily po sobě jdoucí hurikány karibské ostrovy, monzunové záplavy vyhnaly z domovů desetimiliony obyvatel jižní Asie a téměř na všech kontinentech zuřily požáry. Vytáhnout planetu od okraje propasti je dnes mimořádně naléhavý úkol.
Ti z nás, kdo žijí na frontové linii klimatických změn – na souostrovích, malých ostrovech, v pobřežních nížinách a na planinách, které se rychle mění v poušť –, si nemohou dovolit čekat, co přinese další stupeň oteplování. Už teď je ztraceno příliš mnoho životů a živobytí. Lidé jsou vytrháváni z kořenů, životně důležité zdroje jsou stále vzácnější a následky klimatických změn trpí nejvíce lidé, kteří se o ně přičinili nejméně.
Proto Filipíny využily svého předsednictví ve Fóru klimaticky zranitelných států (CVF) – tedy v alianci 48 zemí nesoucích největší dopady klimatických změn – k boji za to, aby si pařížská dohoda o klimatu z roku 2015 výslovně stanovila za cíl omezit globální oteplení na 1,5°C oproti předindustriální úrovni. 1,5°C pro nás není jen symbolické či "aspirační" číslo, které se jednoduše včlení do mezinárodních dohod; je to hranice naší existence. Vystoupají-li globální teploty nad tuto úroveň, pak místa, která nazýváme domovem – a mnoho dalších domovů na této planetě – začnou být neobyvatelná nebo úplně zmizí.
Když jsme v roce 2009 poprvé zavedli cíl ve výši 1,5°C, narazili jsme na značný odpor. Popírači klimatických změn – ti, kdo odmítají uvěřit vědeckým argumentům o globálním oteplování způsobeném člověkem – dál zavrhují jakoukoliv snahu omezit vzestup teplot na zeměkouli jakožto marnou a zbytečnou. Proti cíli ve výši 1,5°C se však často stavějí i bojovníci proti změnám klimatu a politici, kteří tvrdí, že podle vědeckých důkazů už lidé vypustili tolik skleníkových plynů, že je splnění tohoto cíle prakticky nemožné.
Přesto není věda v této oblasti tak jednoznačná, jak by se mohlo zdát. Podle nedávné studie zveřejněné v časopise Nature je zbývající "uhlíkový rozpočet" světa – tedy množství ekvivalentního oxidu uhličitého, které můžeme emitovat, než překročíme práh 1,5°C – o něco větší, než se dosud předpokládalo.
Toto zjištění není důvodem k sebeuspokojení, jak si někteří komentátoři (na rozdíl od vědců) zřejmě myslí. Neznamená to, že předešlé klimatické modely byly přehnaně alarmující nebo že můžeme zaujmout volnější přístup k omezování globálního oteplování. Spíše by nás tato studie měla podnítit – a ostatně k tomu i vyzývá – k okamžitější, odhodlanější a agresivnější akci vedoucí k tomu, že emise skleníkových plynů během několika let kulminují a do poloviny století dosáhneme nulových čistých emisí.
Introductory Offer: Save 30% on PS Digital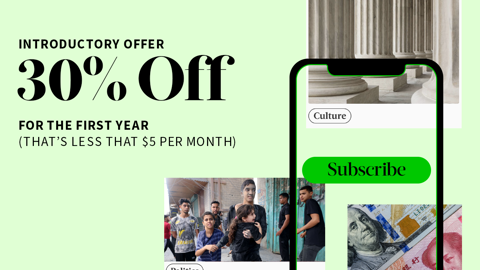 Introductory Offer: Save 30% on PS Digital
Subscribe now to gain greater access to Project Syndicate – including every commentary and our entire On Point suite of subscriber-exclusive content – starting at less than $5 per month.
Jak by taková akce vypadala? Globální emise by se musely každoročně snižovat o 4-6%, až klesnou na nulu. Zároveň by se měly obnovit lesní a zemědělské plochy tak, aby dokázaly zachycovat a odlučovat větší množství oxidu uhličitého. Úplná dekarbonizace našich energetických a dopravních systémů během čtyř desetiletí si vyžádá obrovské úsilí, ale není nemožná.
Kromě ekologických dopadů by toto úsilí vytvořilo i značný ekonomický zisk, protože by pozvedlo střední třídu v rozvinutých zemích a vytáhlo stamiliony lidí z chudoby v rozvojovém světě – mimo jiné i tím, že by podpořilo tvorbu pracovních míst. Přechod na jiné formy energie povede k masivním úsporám a současně zlepší odolnost infrastruktury, nabídkových řetězců a městských služeb v rozvojových zemích, zejména těch, které se nacházejí ve zranitelných regionech.
Podle zprávy, kterou loni zveřejnil Rozvojový program Organizace spojených národů, by udržení prahu 1,5°C a vytvoření nízkouhlíkové ekonomiky zvýšilo globální HDP o plných 12 bilionů dolarů oproti scénáři, v němž se svět bude držet současné politiky a záruk snižování emisí.
Studii, která tvrdí, že cíl ve výši 1,5°C je dosažitelný, napsali uznávaní klimatičtí experti a po rozsáhlém peer review ji zveřejnil špičkový časopis. Je to však jen jedna studie; o naší schopnosti omezit globální oteplování toho musíme zjistit ještě mnohem více. Právě proto renomovaní vědci už dnes diskutují a debatují o jejích zjištěních; také jejich reakce budou otištěny v nejlepších časopisech. Vědecký výzkum takto funguje, a proto musíme klimatologii – a jejím naléhavým varováním – věřit.
Příští rok zveřejní Mezivládní panel pro změnu klimatu vlastní metaanalýzu všech vědeckých podkladů týkající se cíle 1,5°C a lze předpokládat, že půjde o nejobsáhlejší souhrn tohoto výzkumu. Nemůžeme si však dovolit na tuto analýzu čekat a teprve pak podniknout příslušné kroky.
Členové CVF se už zavázali k akci na své straně, když na konferenci OSN o změnách klimatu, která se uskutečnila loni v Marrákéši, slíbili, že co nejdříve dokončí přechod na stoprocentně obnovitelnou energii. Naše emise patří už dnes k nejnižším, avšak naše klimatické cíle jsou přesto nejambicióznější z celého světa.
Zda ovšem svět nakonec dokáže omezit klimatické změny, to bude záviset na ochotě největších současných i dřívějších emitentů skleníkových plynů splnit svou morální a etickou zodpovědnost a podniknout rázné kroky. Udržení vzestupu globálních teplot pod 1,5°C zatím nemusí být geofyzikálně nemožné. Chceme-li však tohoto cíle dosáhnout, musíme zajistit, aby se k němu ani z politického a ekonomického hlediska nepřistupovalo jako k předem vyloučené variantě.
Z angličtiny přeložil Jiří Kobělka.