Ter verdediging van de drempel van 1,5°C temperatuurstijging
MANILA – De aarde is vandaag de dag ruim 1°C warmer dan in het pre-industriële tijdperk, en de vreselijke symptomen van deze "koorts" zijn nu al manifest. Alleen dit jaar al hebben opeenvolgende orkanen Caribische eilanden verwoest, zijn tientallen miljoenen mensen in Zuid-Azië door overstromingen als gevolg van moessonregens van huis en haard verdreven, en hebben op vrijwel ieder continent oncontroleerbare branden gewoed. De noodzaak had niet groter kunnen zijn om de planeet van de rand van de afgrond weg te trekken.
Degenen onder ons die in de buurt van de frontlinie van de klimaatverandering wonen – op archipels en kleine eilanden, en in laag gelegen kustgebieden of in snel verwoestijnende vlakten – kunnen het zich niet veroorloven af te wachten wat nog meer opwarming met zich mee zal brengen. Er gaan al veel te veel levens en inkomstenbronnen verloren. Mensen raken ontheemd en cruciale hulpbronnen worden steeds schaarser, terwijl degenen die de zwaarste gevolgen ondervinden van de klimaatverandering tot degenen behoren die het minst hebben gedaan om die te veroorzaken.
Dat is de reden dat de Filippijnen hun voorzitterschap van het Climate Vulnerable Forum (CVF) – een alliantie van de 48 landen die de zwaarste klappen van de klimaatverandering moeten opvangen – hebben benut om ervoor te zorgen dat het klimaatverdrag van Parijs uit 2015 zich expliciet ten doel zou stellen de opwarming van de aarde te beperken tot maximaal 1,5°C boven pre-industrieel niveau. Voor ons is die 1,5°C niet louter een symbolisch of "wenselijk" cijfer dat in internationale overeenkomsten moet worden opgenomen; het is een existentiële grens. Als de temperaturen op aarde boven dit niveau uitstijgen, zullen de plekken die wij "thuis" noemen – en vele andere, soortgelijke plekken op onze planeet – onbewoonbaar worden, of zelfs volledig verdwijnen.
Toen we de doelstelling van niet méér dan 1,5°C opwarming in 2009 introduceerden, stuitten we op aanzienlijke weerstand. Klimaatveranderings-ontkenners – degenen die weigeren in de wetenschap van de door de mens veroorzaakte opwarming van de aarde te geloven – blijven iedere poging als futiel en onnodig van de hand wijzen om de temperatuurstijging op de planeet een halt toe te roepen. Maar zelfs goedbedoelende klimaat-pleitbezorgers en beleidsmakers hebben zich dikwijls tegen de doelstelling van maximaal 1,5°C temperatuurstijging verzet, op grond van het betoog dat de mens – volgens de wetenschap – al genoeg broeikasgassen had uitgestoten om het bereiken van dit doel nagenoeg onmogelijk te maken.
Toch is de wetenschap op dit punt niet zo uitgesproken als dat misschien lijkt. Volgens een recent document dat in Nature is verschenen is het resterende "koolstofbudget" van de wereld – de hoeveelheid koolstofdioxide-equivalenten die we mogen uitstoten voordat we door de grens van 1,5°C opwarming heen breken – iets groter dan aanvankelijk werd gedacht.
Deze uitkomst is geen reden voor zelfgenoegzaamheid, zoals sommige analisten (geen wetenschappers) lijken te denken. Het betekent niet dat eerdere klimaatmodellen overdreven alarmerend waren, of dat we een relaxtere houding kunnen innemen met betrekking tot het indammen van de opwarming van de aarde. In plaats daarvan zou het document moeten inspireren tot meer onmiddellijke en agressieve stappen om te verzekeren dat de broeikasgasuitstoot binnen een paar jaar zijn piek bereikt en dat de netto-uitstoot tegen het midden van de eeuw nul is.
Subscribe to PS Digital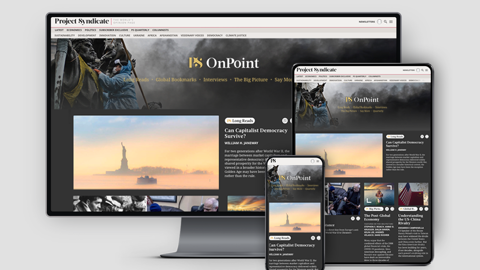 Subscribe to PS Digital
Access every new PS commentary, our entire On Point suite of subscriber-exclusive content – including Longer Reads, Insider Interviews, Big Picture/Big Question, and Say More – and the full PS archive.
Hoe moeten dergelijke stappen eruit zien? De wereldwijde emissies zouden ieder jaar met 4 tot 6 procent moeten worden teruggebracht, totdat ze het nulniveau hebben bereikt. Intussen zouden bos- en landbouwgebieden moeten worden hersteld, zodat ze grotere hoeveelheden koolstofdioxide kunnen opslaan. Voor een volledige uitbanning van fossiele brandstoffen in onze energie- en transportsystemen binnen vier decennia is een gigantische inspanning nodig, maar het is niet onmogelijk.
Afgezien van de milieugevolgen zouden dergelijke inspanningen grote economische winst opleveren, de middenklasse in de ontwikkelde landen een impuls geven en honderden miljoenen mensen in de ontwikkelingslanden uit de armoede trekken, onder meer door de werkgelegenheidsschepping van nieuwe energie te voorzien. De energietransitie zal tot een enorme efficiency-winst leiden en de veerkracht van infrastructuur, aanbodketens en stedelijke dienstverlening in de ontwikkelingslanden verbeteren, met name in kwetsbare regio's.
Volgens een vorig jaar uitgegeven rapport van het Ontwikkelingsprogramma van de Verenigde Naties zou het overeind houden van de drempel van 1,5°C en het creëren van een economie met weinig fossiele brandstoffen het mondiale bbp met $12 bln laten groeien, in vergelijking met een scenario waarin de wereld vasthoudt aan het huidige beleid en de gangbare beloften om de uitstoot te verlagen.
Het document waarin staat dat de doelstelling van 1,5°C haalbaar is, werd geschreven door zeer gerespecteerde klimaatexperts en gepubliceerd in een gerenommeerd tijdschrift, na een uitgebreide proces van peer review. Maar het is slechts één document, en we moeten nog steeds veel méér te weten zien te komen over ons vermogen om de opwarming van de aarde aan banden te leggen. Dat is de reden dat top-wetenschappers de bevindingen van het rapport al aan het bespreken zijn; hun reacties zullen ook in top-tijdschriften worden gepubliceerd. Dat is hoe wetenschappelijk onderzoek in zijn werk gaat, en waarom we de klimaatwetenschap – en zijn urgente waarschuwingen – kunnen vertrouwen.
Volgend jaar zal het Intergouvernementele Panel over Klimaatverandering zijn eigen meta-analyse publiceren over alle wetenschap die verband houdt met de doelstelling van 1,5°C, in wat belooft de meest alomvattende opsomming van dergelijk onderzoek tot nu toe te zijn. Maar we kunnen niet op die analyse wachten voordat we in actie komen.
De leden van het CVF hebben al toegezegd hun steentje te zullen bijdragen, en hebben op de Klimaatveranderingsconferentie van de VN in Marrakech vorig jaar beloofd de transitie naar 100% hernieuwbare energie zo snel mogelijk te zullen voltooien. Onze emissies behoren al tot de kleinste ter wereld, maar onze klimaatdoelstellingen zijn de meest ambitieuze ter wereld.
Of de wereld erin zal slagen de klimaatverandering te beteugelen zal uiteindelijk echter afhangen van de bereidheid van de grootste huidige en historische uitstoters van broeikasgassen om hun morele en ethische verantwoordelijkheden na te komen en krachtdadige stappen te ondernemen. Het onder de 1,5°C houden van de opwarming hóeft nog geen geofysische onmogelijkheid te zijn. Maar om dit doel te bereiken moeten we ervoor zorgen dat het ook niet als een politieke en economische onmogelijkheid gezien wordt.
Vertaling: Menno Grootveld