Em defesa do limiar de 1,5 ºC para as alterações climáticas
MANILA – A Terra está hoje mais de 1 °C mais quente do que na época pré-industrial, e os terríveis sintomas da sua febre já são visíveis. Só este ano, furacões consecutivos devastaram ilhas nas Caraíbas, inundações decorrentes de monções levaram à deslocação de dezenas de milhões de pessoas no sul da Ásia e deflagraram incêndios em quase todos os continentes. Afastar o planeta da beira do abismo não pode ser mais urgente.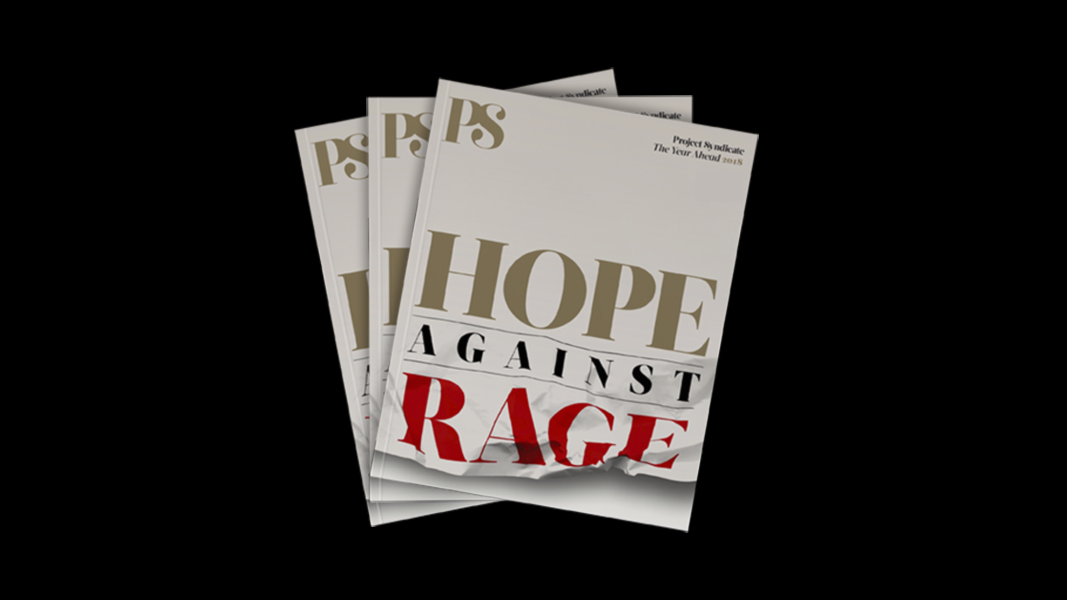 The Year Ahead 2018
The world's leading thinkers and policymakers examine what's come apart in the past year, and anticipate what will define the year ahead.
Quem vive na linha da frente das alterações climáticas - em arquipélagos, pequenas ilhas, planícies costeiras e planícies de rápida desertificação - não se pode permitir o luxo de esperar para ver quais serão as consequências de mais um grau de aquecimento. Já se estão a perder muitas vidas e meios de subsistência. As pessoas estão a ficar desenraizadas, e os recursos vitais estão a tornar-se cada vez mais escassos, sendo que as pessoas que estão a sofrer as consequências das alterações climáticas são também as que menos contribuíram para que estas ocorressem.
É por isso que as Filipinas utilizaram a sua presidência do Fórum da Vulnerabilidade Climática (FVC) - uma aliança dos 48 países que acarretam com o fardo das alterações climáticas - para lutar no sentido de assegurar que o acordo climático de Paris de 2015 visasse explicitamente limitar o aquecimento global a 1,5 °C acima dos níveis da época pré-industrial. Para nós, 1.5 °C não constitui simplesmente um número simbólico ou "ambicionado" para ser encaixado nos acordos internacionais; trata-se de um limite existencial. Se as temperaturas globais aumentarem acima desse nível, os lugares a que chamamos a nossa terra - e muitas outras terras deste planeta - tornar-se-ão inabitáveis ou desaparecerão por completo.
Quando introduzimos a meta de 1,5 °C em 2009, enfrentámos uma forte resistência. Os negacionistas das alterações climáticas - aqueles que se recusam a acreditar na ciência do aquecimento global induzido pela acção do homem - continuam a considerar qualquer esforço para impedir o aumento da temperatura do planeta como inútil e desnecessário. No entanto, mesmo os defensores bem-intencionados e os decisores políticos opuseram-se muitas vezes à meta de 1,5 °C, argumentando que, de acordo com a ciência, o homem já tinha emitido gases com efeito de estufa suficientes para tornar tal objectivo praticamente impossível de alcançar.
Nesta frente, porém, a ciência não é tão clara como parece. Segundo um estudo recente publicado na revista Nature, o "orçamento de carbono" restante do mundo - a quantidade de equivalentes de dióxido de carbono que podemos emitir antes de exceder o limite de 1,5 °C - é um pouco mais elevado do que se pensava anteriormente.
Esta descoberta não é motivo para sermos condescendentes, como alguns comentadores (que não pertencem à área das ciências) parecem pensar. Tal não significa que os modelos climáticos anteriores tenham sido excessivamente alarmistas, ou que podemos adoptar uma abordagem mais flexível para travar o aquecimento global. Em vez disso, o estudo deve inspirar - e inclusivamente apelar - a acções mais imediatas, deliberadas e agressivas para garantir que as emissões de gases com efeito de estufa atinjam um determinado limite dentro de alguns anos e que sejam alcançadas emissões líquidas nulas até meados do século.
Em que consistiriam essas acções? As emissões globais deveriam sofrer uma redução anual de 4-6%, até chegarem a zero. Entretanto, as florestas e os terrenos agrícolas teriam de ser recuperados, para que pudessem pôr em prática a captação e fixação de maiores quantidades de dióxido de carbono. A descarbonização completa dos nossos sistemas de energia e transportes no prazo de quatro décadas exigirá um esforço hercúleo, mas não é impossível.
Além das consequências ambientais, tais esforços iriam gerar enormes benefícios económicos, impulsionando a classe média nos países desenvolvidos e tirando centenas de milhões de pessoas da pobreza no mundo em desenvolvimento, inclusivamente através da promoção da criação de emprego. A transição energética irá gerar ganhos de eficiência substanciais, melhorando simultaneamente a resiliência das infra-estruturas, das cadeias de aprovisionamento e dos serviços urbanos nos países em desenvolvimento, em particular os países situados em regiões vulneráveis.
De acordo com um relatório publicado no ano passado pelo Programa das Nações Unidas para o Desenvolvimento, a manutenção do limiar de 1,5 °C e a criação de uma economia com baixo teor de emissões de carbono poderia traduzir-se num aumento de 12 biliões de dólares PIB mundial, em comparação com um cenário no qual o mundo se agarra às políticas actuais e às promessas de redução das emissões.
O estudo, que afirma que a meta de 1,5 °C é alcançável, foi levado a cabo por peritos conceituados em matéria de clima e publicado numa revista de destaque após uma exaustiva avaliação inter pares. No entanto, é apenas um estudo; ainda há muito mais para aprender sobre a nossa capacidade para limitar o aquecimento global. É por este motivo que os investigadores mais proeminentes já estão a discutir e a debater as suas descobertas; as suas respostas serão igualmente publicadas em revistas de destaque. É assim que funciona a investigação científica, e é por isso que podemos confiar na ciência climática - e nos seus alertas urgentes.
No próximo ano, o Painel Intergovernamental sobre as Alterações Climáticas irá publicar a sua própria meta-análise de toda a ciência relacionada com a meta de 1,5 °C, no que promete ser o resumo mais abrangente deste trabalho de investigação. No entanto, não nos podemos dar ao luxo de esperar por esta análise para agir.
Os membros do FVC já se comprometeram a fazer a sua parte, prometendo na Conferência das Nações Unidas sobre Alterações Climáticas, realizada em Marraquexe no ano passado, concluir a transição para a utilização de 100% de fontes de energia renováveis logo que possível. O nosso nível de emissões já se encontra entre os mais reduzidos do mundo, mas os nossos objectivos climáticos são os mais ambiciosos a nível mundial.
Contudo, o sucesso da redução das alterações climáticas a nível mundial dependerá, em última instância, da vontade dos maiores emissores, do presente e do passado, de gases com efeito de estufa de cumprir a sua responsabilidade moral e ética no sentido de empreender acções enérgicas. A manutenção das temperaturas globais abaixo de 1,5 °C pode não ser ainda uma impossibilidade geofísica. Contudo, para atingir o objectivo, devemos garantir que também este não seja tratado como uma impossibilidade política e económica.