Amortyzacja Szoku Związanego z Transformacją Energetyczną
SZTOKHOLM - Wojna Rosji z Ukrainą zszokowała cały świat. Ceny ropy oraz ceny żywności gwałtownie wzrosły powodując niestabilność polityczną. Ostatnim razem, gdy ceny żywności były tak niestabilne, zamieszki wybuchły w całym świecie arabskim oraz od Burkina Faso do Bangladeszu. Tym razem szok energetyczny i żywnościowy występuje na dodatek na tle pandemii COVID-19. Kiedy skończą się te wstrząsy?
Nie będzie im końca. Możemy więc wybrać albo rezygnację i rozpacz, albo program polityczny mający na celu budowanie społecznej i politycznej odporności na przyszłe wstrząsy. To są nasze opcje i lepiej zacznijmy traktować je poważnie, ponieważ wstrząsy prawdopodobnie będą coraz gorsze. Oprócz kryzysów geopolitycznych, sytuacja kryzysowa związana z klimatem przyniesie jeszcze większe zakłócenia, w tym gwałtowne powodzie, mega-susze, a być może nawet jednoczesną klęskę urodzaju w kluczowych regionach produkujących zboże na całym świecie. Warto zauważyć, że Indie, drugi co do wielkości producent pszenicy na świecie, zakazały ostatnio eksportu w ramach reakcji na niszczącą falę upałów tej wiosny.
Ale rzecz w tym, że zmniejszenie podatności na wstrząsy - na przykład poprzez rozpoczęcie rewolucji energetycznej i żywnościowej - będzie również destrukcyjne. System energetyczny jest podstawą gospodarek uprzemysłowionych i musi zostać przebudowany, aby w ciągu kilku dekad wycofać się z paliw kopalnych. Ogromne gałęzie przemysłu, jak przemysł węglowy i naftowy, będą musiały się skurczyć, a następnie zniknąć. Rolnictwo, transport i inne sektory będą musiały ulec radykalnej zmianie, aby stać się bardziej zrównoważone i odporne.
Wyzwanie dla polityków jest więc jasne: opracować sprawiedliwe polisy, które chronią ludzi przed nieuniknionymi wstrząsami.
Jednym z pomysłów o dużym potencjale jest Fundusz Obywatelski, który opierałby się na prostym równaniu opłaty i dywidendy. Firmy emitujące gazy cieplarniane lub wydobywające zasoby naturalne wnosiłyby opłaty na rzecz funduszu, który następnie zostałyby podzielony na równe płatności pomiędzy wszystkich obywateli, tworząc "ekonomiczną poduszkę" w okresie transformacji oraz później.
To nie jest tylko pomysł. W 1976 roku republikański gubernator Alaski, Jay Hammond, założył Stały Fundusz Alaski (Alaska Permanent Fund), który pobiera od firm opłatę za wydobycie ropy, a następnie wypłaca wpływy po równo wszystkim obywatelom tego stanu. W 2021 roku każdy uprawniony mieszkaniec Alaski otrzymał 1114 dolarów - nie jako "zasiłek socjalny," ale jako dywidendę z państwowego dobra (w tym przypadku ograniczonych zasobów ropy naftowej). Największą dywidendę wypłacono w 2008 r. za rządów republikanki Sarah Palin, kiedy to każdy mieszkaniec Alaski otrzymał 3 269 dolarów.
Introductory Offer: Save 30% on PS Digital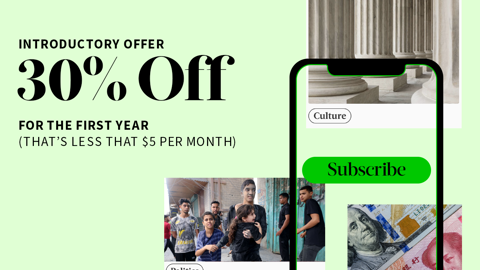 Introductory Offer: Save 30% on PS Digital
Subscribe now to gain greater access to Project Syndicate – including every commentary and our entire On Point suite of subscriber-exclusive content – starting at less than $5 per month.
W 2017 roku James A. Baker i George P. Shultz - dwaj byli republikańscy sekretarze stanu - zaproponowali podobny plan dla całych Stanów Zjednoczonych, szacując, że opłaty za emisję dwutlenku węgla przyniosłyby każdemu amerykańskiemu gospodarstwu domowemu dywidendę w wysokości 2000 dolarów rocznie. Dzięki poparciu 3,5 tys. ekonomistów ich plan ma szerokie poparcie nie tylko wśród firm i grup obrońców środowiska, ale także (co jest bardziej niewiarygodne) po obu stronach sceny politycznej.
Ekonomiczna kalkulacja jest tutaj prosta. Opłata za emisję dwutlenku węgla prowadzi do zmniejszenia emisji poprzez podniesienie ceny zanieczyszczania środowiska. I chociaż firmy przeniosłyby te koszty na konsumentów, najbogatsi zostaliby najbardziej dotknięci, ponieważ są zdecydowanie największym, najszybciej rosnącym źródłem emisji. Najbiedniejsi natomiast zyskaliby najwięcej na dywidendzie, ponieważ 2 tys. dolarów znaczy o wiele więcej dla gospodarstwa domowego o niskich dochodach niż dla gospodarstwa domowego o wysokich dochodach. W ostatecznym rozrachunku większość ludzi wyjdzie na plus.
Biorąc jednak pod uwagę, że szoki cen żywności i energii najsilniej uderzają w grupy o niskich dochodach, dlaczego dywidenda ma być powszechna? Powodem jest to, że polityka na taką skalę wymaga zarówno szerokiego, jak i trwałego wsparcia, a ludzie są o wiele bardziej skłonni poprzeć program lub polisę, jeśli jest w niej przynajmniej coś dla nich.
Co więcej, fundusz obywatelski to nie tylko sposób na ograniczenie emisji i zapewnienie bezpieczeństwa ekonomicznego dla przejścia na czystą energię. Sprzyjałby on również innowacjom i kreatywności, zapewniając wsparcie dla przedsiębiorców i osób podejmujących ryzyko, których będziemy potrzebować, aby przekształcić nasze systemy energetyczne i żywnościowe.
Fundusz obywatelski mógłby również zostać rozszerzony o inne globalne dobra wspólne, w tym górnictwo i inne gałęzie przemysłu wydobywczego, tworzywa sztuczne, zasoby oceanów, a nawet wiedzę, dane i sieci. Wszystkie te dobra są wspólne - stanowią własność wszystkich - i są eksploatowane przez firmy, które powinny być zobowiązane do płacenia za negatywne efekty zewnętrzne, które powodują.
Oczywiście powszechna dywidenda podstawowa nie jest panaceum. Musi być częścią większego planu budowania społeczeństw, które są bardziej odporne na wstrząsy, w tym poprzez większe wysiłki na rzecz redystrybucji bogactwa za pomocą progresywnego opodatkowania i wzmocnienia pozycji pracowników. W tym celu Earth4All - inicjatywa, której współprzewodniczę - rozwija zestaw nowatorskich propozycji, które uważamy za najbardziej obiecujące ścieżki budowania spójnych społeczeństw, które są w stanie podejmować długoterminowe decyzje z korzyścią dla większości.
Nasz najważniejszy wniosek jest być może najbardziej oczywisty, ale też łatwo go przeoczyć. Niezależnie od tego, czy zrobimy minimum, by sprostać wielkim wyzwaniom, czy też wszystko, co w naszej mocy, by zbudować odporne społeczeństwa, zakłócenia i wstrząsy są częścią naszej przyszłości. Przyjęcie zakłóceń jest więc jedyną opcją, a Fundusz Obywatelski staje się oczywistym amortyzatorem.
Z angielskiego przetłumaczyła Marz McNamer