Hoe kunnen we de schok van de energietransitie opvangen?
STOCKHOLM – De oorlog van Rusland tegen Oekraïne heeft schokgolven over de hele wereld gezonden. De olieprijzen zijn de hoogte ingeschoten en de voedselprijzen zijn de pan uit gerezen, met politieke instabiliteit als gevolg. De laatste keer dat de voedselprijzen zo sterk schommelden, braken er rellen uit in de Arabische wereld en van Burkina Faso tot Bangladesh. Deze keer doen de energie- en voedselcrises zich voor tegen de achtergrond van de COVID-19-pandemie. Wanneer zullen de schokken ophouden?
Dat zullen ze niet. We kunnen dus kiezen tussen berusting en wanhoop, of het opstellen van een beleidsagenda om sociale en politieke veerkracht op te bouwen tegen toekomstige schokken. Dat zijn onze opties, en die kunnen we maar beter serieus nemen, want de schokken zullen waarschijnlijk nog groter worden. Bovenop de geopolitieke crises zal de klimaatnoodtoestand nog grotere ontwrichtingen met zich meebrengen, waaronder woeste overstromingen, megadroogtes en mogelijk zelfs een gelijktijdige mislukking van oogsten in belangrijke graanproducerende regio's overal ter wereld. Het is vermeldenswaard dat India, 's werelds op één na grootste tarweproducent, onlangs de export heeft verboden als onderdeel van zijn reactie op een verwoestende hittegolf dit voorjaar.
Maar dit is het punt: de kwetsbaarheid voor schokken verminderen, bijvoorbeeld door energie- en voedselrevoluties door te voeren, zal ook ontwrichtend zijn. Het energiesysteem is het fundament van de geïndustrialiseerde economieën, en het moet grondig worden herzien om binnen enkele decennia geleidelijk een einde te kunnen maken aan het gebruik van fossiele brandstoffen. Enorme bedrijfstakken zoals steenkool en olie zullen moeten inkrimpen en vervolgens verdwijnen. En landbouw, transport en andere sectoren zullen radicaal moeten veranderen om duurzamer en veerkrachtiger te worden.
De uitdaging voor politici is dan ook duidelijk: een rechtvaardig beleid ontwikkelen dat mensen beschermt tegen de onvermijdelijke schokken.
Een idee dat veel potentie heeft is een Citizen's Fund, dat gebaseerd zou zijn op een rechttoe-rechtaan vergelijking tussen heffingen en dividenden. Bedrijven die broeikasgassen uitstoten of natuurlijke hulpbronnen ontginnen, zouden vergoedingen moeten betalen aan dat fonds, dat vervolgens gelijke betalingen zou uitkeren aan alle burgers, waardoor een economische buffer zou ontstaan tijdens een periode van transformatie en daarna.
Dit is niet zomaar een idee. In 1976 richtte de Republikeinse gouverneur van Alaska, Jay Hammond, het Alaska Permanent Fund op, dat bedrijven een heffing oplegt voor de winning van olie en de opbrengsten vervolgens gelijkelijk uitkeert aan alle burgers van de staat. In 2021 ontving elke in aanmerking komende Alaskaan 1.114 dollar – niet als een ʻbijstandsuitkering' maar als een dividend van een gemeenschapsgoed van de staat (in dit geval een eindige voorraad olie). Het grootste dividend ooit werd uitgekeerd tijdens het gouverneurschap van de Republikein Sarah Palin in 2008, toen elke Alaskaan een meevaller van 3.269 dollar genoot.
Subscribe to PS Digital Now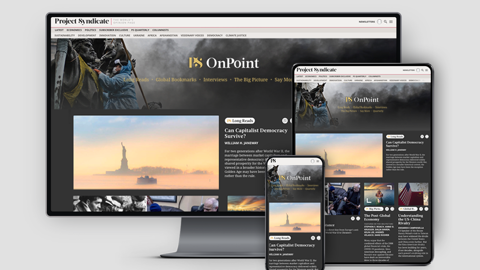 Subscribe to PS Digital Now
Access every new PS commentary, our entire On Point suite of subscriber-exclusive content – including Longer Reads, Insider Interviews, Big Picture/Big Question, and Say More – and the full PS archive.
In 2017 stelden James A. Baker en George P. Shultz, twee voormalige Republikeinse ministers van Buitenlandse Zaken, een soortgelijk plan voor de hele Verenigde Staten voor, op basis van de schatting dat heffingen op de koolstofuitstoot een dividend van tweeduizend dollar per jaar zouden opleveren voor elk Amerikaans huishouden. Met de steun van 3.500 economen heeft hun plan brede aantrekkingskracht, niet alleen bij bedrijven en milieu-activisten, maar ook (en dat is nog ongelooflijker) in alle politieke geledingen.
De economische logica is eenvoudig. Een heffing op koolstof drijft de uitstoot terug door de prijs van vervuiling op te drijven. En hoewel bedrijven deze kosten zouden doorberekenen aan de consument, zouden de rijksten het hardst worden getroffen, omdat zij verreweg de grootste en snelst groeiende bron van emissies zijn. De armsten zouden ondertussen het meest profiteren van het dividend, omdat tweeduizend dollar veel meer betekent voor een huishouden met een laag inkomen dan voor een huishouden met een hoog inkomen. Uiteindelijk zouden de meeste mensen er beter van worden.
Maar waarom zou je, gezien het feit dat schokken in de voedsel- en energieprijzen meestal de laagste inkomens het hardst treffen, het dividend dan universeel maken? De reden is dat een beleid van deze omvang zowel brede als blijvende steun nodig heeft, en mensen zijn veel eerder geneigd een programma of beleid te steunen als er tenminste ook iets voor hen in zit.
Bovendien is een Citizen's Fund niet alleen een manier om de uitstoot terug te dringen en een economisch vangnet te bieden voor de transitie naar schone energie. Het zou ook de innovatie en creativiteit stimuleren, door een steunbodem te bieden voor de ondernemers en risiconemers die we nodig zullen hebben om onze energie- en voedselsystemen om te vormen.
Een Citizen's Fund zou ook kunnen worden uitgebreid naar andere mondiale collectieve goederen, zoals de mijnbouw en andere extractieve industrieën, kunststoffen, de hulpbronnen van de oceanen, en zelfs kennis, gegevens en netwerken. In al deze gevallen gaat het om gedeeld gemeengoed – eigendom van iedereen – dat wordt geëxploiteerd door bedrijven die zouden moeten betalen voor de negatieve externe effecten die ze veroorzaken.
Natuurlijk is een universeel basisdividend geen wondermiddel. Het moet deel uitmaken van een groter plan om samenlevingen op te bouwen die beter bestand zijn tegen schokken, onder meer door grotere inspanningen om de rijkdom te herverdelen door middel van progressieve belastingen en het mondiger maken van werknemers. Daarom ontwikkelt Earth4All, een initiatief dat ik mede leid, een reeks nieuwe voorstellen die wij zien als de meest veelbelovende manieren om coherente samenlevingen op te bouwen die beter in staat zijn langetermijnbeslissingen te nemen ten gunste van de meerderheid.
Onze belangrijkste bevinding is misschien wel de meest voor de hand liggende, maar kan ook makkelijk over het hoofd worden gezien. Of we nu het absolute minimum doen om de grote uitdagingen aan te pakken of alles wat we kunnen om veerkrachtige samenlevingen op te bouwen, ontwrichting en schokken zullen deel uitmaken van onze toekomst. Het omarmen van disruptie is dus de enige optie en een Citizen's Fund wordt dan een voor de hand liggende schokdemper.
Vertaling: Menno Grootveld